Hong Kong tackles the world in rugby
Updated: 2014-04-03 07:36
By Richard Harris (HK Edition)
| | | | | | | | | |
| --- | --- | --- | --- | --- | --- | --- | --- | --- |
|   | | Print | | Mail | | Large Medium  Small | 分享按钮 | 0 |
The climb down from the steep stairs, followed by the long walk down the tunnel under the Happy Valley Racecourse used to feel like the longest in the world. Not because I didn't like playing rugby on the sports grounds, far from it, but because as an asthmatic of 13 or 14 years, carrying a huge school bag, it exhausted me for the match ahead!
The middle of Happy Valley was a sandy dustbowl when dry and a sandy mud bath when wet. Today of course it is well looked after and the AstroTurf on the rugby pitch is a pleasure to play on; though a hard fall still reminds you it is concrete underneath.
In the 39 times the Hong Kong Rugby Sevens has been held in the city, I have attended probably 33 of them. It is an incredibly popular event with the Western community, but sadly it barely touches the rest of Hong Kong. This is partly because it is extremely difficult to get tickets and partly because Hong Kong people aren't particularly sporty. This is a pity because they would be proud to see how highly Hong Kong is regarded by the rest of the world.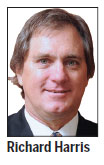 It may bypass most of the city, but it is one of the most important events in our calendar. For one weekend a year, Hong Kong is in newspapers around the world. People fly in from the United States, New Zealand, Chile and the United Kingdom; several countries in Europe, including Russia; several in Africa, including Zimbabwe; and several from Polynesia, including the Cook Islands.
Rugby is one of freest games in the world. A player with his hands on the ball can do anything except throw the ball forwards. The aim is to touch the ball down over the opponent's goal line, hindered only by the tackling power of seven beefy opponents. It may seem that it is only for very large men to play but each team has a place for small players who run fast. This encourages quick thinking by small players. Rugby has been described as a hooligan's game played by gentlemen, but the Women's Sevens has improved immeasurably in the last five years. This makes it an extremely exciting spectator sport; well worthy of inclusion in the 2016 Olympics.
The most exciting thing about rugby in Hong Kong is its impact on thousands of children who play from the age of four. Rugby has a Corinthian Spirit - invoking the highest standards of sportsmanship and respect. Boys and girls of all ages play annually in front of the Seven's crowd. It makes you proud to see the strong values the children have learned - such as confidence and independence.
Any child can play, as rugby is one of the least elitist of sports. You can physically beat seven bells out of an opponent and have a drink with him afterwards. A team could contain a plumber, a carpenter, a banker, a prison officer, an accountant, a soldier and an army officer, a dentist, a doctor and a nurse. The Hong Kong Police program called Operation Breakthrough takes rough boys off the street - using the game to train them; they learn to obey rules and also learn loyalty, teamwork and discipline. They also gain sportsmanship, skill and energy.
There may be those not involved in the Sevens who don't understand the Corinthian Spirit of give and not take. The sneering classes might think that rugby is just an imported game. They should be reminded that the People's Liberation Army team last week won the Kowloon Rugbyfest - held just before the Sevens. Ahead of the Olympics, China has some very fine players developing as a result of money generated by the Hong Kong Rugby Sevens and invested into coaching north of the border.
But describing a pastime which impacts on few in Hong Kong is to miss the point. Rugby puts Hong Kong on the world stage in a way that millions of dollars of marketing money could not do. Through this sport we become a truly a global hub. This is an ambition, which we need to have for our future economic survival.
To be a world city, Hong Kong needs a proper 80,000-seat stadium so that tickets are available for Hong Kong people to see how their city has become so well known. We need to be world class in so many other areas. We have the potential to be a truly global center at the gateway of China - the third global hub behind London and New York. It won't happen by accident. But maybe by understanding and leveraging this hugely successful global event we can develop other commercial activities which will benefit our city's future.
The author is chief executive of Port Shelter Investment Management.
(HK Edition 04/03/2014 page9)