Reduce air pollution immediately
Updated: 2014-03-28 05:25
By Fung Keung(HK Edition)
| | | | | | | | | |
| --- | --- | --- | --- | --- | --- | --- | --- | --- |
|   | | Print | | Mail | | Large Medium  Small | 分享按钮 | 0 |
The World Health Organization reported on March 26 that 7 million people worldwide died in 2012 as a result of exposure to air pollution. Strokes and ischemic heart disease (a kind of cardiovascular disease) were the top two causes of these deaths.
In 2012, 3,096 deaths caused by air pollution in Hong Kong were estimated by the Hedley Environmental Index developed by the University of Hong Kong (HKU). Last year the situation showed no signs of improvement. About 3,100 deaths related to air pollution were estimated, according to the Hedley Environmental Index.
Steps must be taken immediately by the city's government to reduce air pollution to save lives.
As a start, the number of cars on the road must be cut to reduce pollution. It is not uncommon to see people choking on carbon dioxide from car exhaust.
New car taxes, which currently range from 35 percent for cars valued at HK$150,000 to 100 percent, depending on the cars' retail value, can be amended to a flat 100 percent for all kinds of cars to discourage people from purchasing private vehicles. For those who already own cars, an electronic road-pricing scheme, which means the more you drive, the more tolls you pay, should be introduced to encourage people to take public transport to work.
The logic is a no-brainer. Fewer vehicles on the street mean cleaner air for the 7.1 million Hong Kong people to breathe. Thank heavens, we all want to live longer and don't want to be plagued by heart or lung disease caused by the "dirty air" we inhale when we grow old.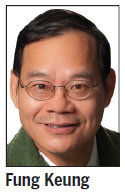 According to a recent research by Friends of the Earth, an environmental-protection group, the air pollution index in Hong Kong which exceeded the reading of 100 (deemed harmful to people's health) totaled 184 days in 2013 (i.e. every other day of the calendar year). Such a high percentage of so-called "toxin days" in this beautiful city we call home is simply not acceptable.
People - our friends, colleagues and relatives - die from air pollution every day (about nine a day). In fact, apart from human lives, we suffer other losses as well. An HKU study showed that 716,000 hospital visits in 2012 were related to air pollution, which also caused an economic loss of HK$39.4 billion. Why do we have to tolerate this? The money could have been used to alleviate people from poverty or to improve education.
There is no room for complacency as Hong Kong's air pollution situation is worsening. The number of days when the air pollution index exceeded 100 (harmful to health) totaled 51 in 1999, rising to 109 in 2009 and 184 last year. As numbers don't lie, our government should drag its feet no more in introducing an "electronic road-pricing scheme" and increasing the minimum tax for new cars to 100 percent from 35 percent.
These are simple and easy steps to take, which could save thousands of lives a year.
A Chinese University of Hong Kong's School of Public Health professor, quoted in a local newspaper, said Hong Kong's air pollution was mainly outdoor, and not indoor. That gives further credence to the proposal to reduce the number of cars on the road.
The Environmental Protection Department should be praised for initiating several new measures to fight air pollution, including the phasing out or 82,000 diesel commercial vehicles from March 1. However, no matter how good long-term plans are, they can hardly solve immediate problems. The government is well-advised to immediately adopt the measures proposed above.
People are dying every day from air pollution. We must breathe. We have no choice. So dear government officials: Please have mercy on us.
The author is coordinator of the B.S.Sc in financial journalism program at Hong Kong Baptist University.
(HK Edition 03/28/2014 page9)