How could we develop a knowledge-based economy?
Updated: 2014-03-24 06:16
By Li Kui-wai (HK Edition)
| | | | | | | | | |
| --- | --- | --- | --- | --- | --- | --- | --- | --- |
|   | | Print | | Mail | | Large Medium  Small | 分享按钮 | 0 |
Hong Kong is trying to pursue a knowledge-based economy (KBE). One broad definition of a KBE is the use of knowledge to produce economic gains. This means knowledge is treated as a resource for growth and development, like education. It can become an economic product or an asset which will yield a return. Unlike other physical resources such as capital and labor, however, knowledge can be shared and can grow. The wide use of the Internet, for example, has encouraged the application of knowledge through easy access to information.
However, a KBE cannot be built in a short time. It takes a long gestation time and it involves balancing a number of supply and demand factors. Let's consider some facts. When human capital is measured in terms of the number of years of schooling, people in Hong Kong on average receive about 12 to 13 years of education. This is lower than the average of 14 to 16 years in many developed economies. In quantitative terms, the government in the last decade has promoted post-secondary education through associate degrees, post-secondary vocational training and increasing the number of places at universities. Today, the proportion of the post-secondary education recipients has reached about 30 percent of all secondary school leavers. In addition, one could estimate that another 10 percent of post-secondary school leavers will leave Hong Kong for university education overseas.
The university system in Hong Kong has adopted a four-year curriculum. Secondary school students, instead of finishing Form 7, can now enter university after finishing Form 6. But this may work against the spirit of a KBE. The four-year curriculum actually adds another year to the system. University education is consequently longer, but it is not necessarily deeper.
It is also unfortunate that around 60 percent of secondary school leavers now receive one year less of education because they are not doing Form 7. In other words, the education quality of secondary school leavers is less than it was before. This is certainly not a "knowledge-based" approach. Rather it is a disservice to our future generations as a large portion (perhaps 60 percent) of our young population will be less educated. Their future employment prospects and earning ability will also be affected.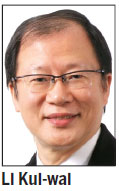 It is interesting to note also that while Hong Kong's birth rate is falling, the immigration quota for family reunions from the mainland is 150 daily. There are about half a million domestic helpers working in Hong Kong. (There are also business and professional people coming from overseas, but they are a minority.) So Hong Kong is receiving a large number of low-skilled people. Although they may comprise the future workforce, it will take at least a generation before immigrants can contribute significantly to Hong Kong's economy. We will have to decide how much public money will need to be spent to re-orientate them towards the KBE.
Another consideration is "employment matching". Are our university graduates getting the kind of jobs they are trained for? Science and technology students may end up taking marketing and finance-related jobs. One could argue that Hong Kong has experienced an investment "vacuum" since the Asian financial crisis in 1998. Hong Kong people invested massively across the border, but their losses were not replaced with physical investments - other than speculation in stocks and property. Economic narrowness is restricting the development of a KBE. While our leaders in Hong Kong and the mainland called for greater competitiveness and a broader economic base, little action has been taken to achieve this. A proper mindset has yet to be cultivated among investors - especially young entrepreneurs.
Recently a "help-the-poor" campaign has become "overly popular". At the same time, business people are still not creating enough jobs or investment to diversify the economy. Perhaps, people in Hong Kong are still living in the shadow of the Asian financial crisis. We lack the right mindset. We complain when we experience failure and difficulty. We look too much to the government for help instead of being self-reliant. We are more prepared to receive than to create. We are falling behind because of these reasons - not because our neighbors are surging ahead. One recent statistic shows that the tourism industry in Hong Kong generated only about 5 percent of GDP. Indeed, many services are low-value-added activities. They may help reduce unemployment, but they provide little opportunity for job promotion and upward social mobility.
To create a KBE, we need to have a long-term policy on upgrading education and human capital. We have to have a consistent population policy which improves the supply side of the KBE. On the demand side, there is a need to broaden the economy, especially in high-value added, skill-oriented industries. Investment should be attracted to these activities. However, a mindset addicted to property and stock market speculation should be eradicated.
The author is associate professor of the Department of Economics and Finance at City University of Hong Kong.
(HK Edition 03/24/2014 page1)