Good on cold wet days or a hot summer afternoon - ham
Updated: 2014-03-14 06:21
By Maggie Beale (HK Edition)
| | | | | | | | | |
| --- | --- | --- | --- | --- | --- | --- | --- | --- |
|   | | Print | | Mail | | Large Medium  Small | 分享按钮 | 0 |
A tasty and versatile alternative to chicken and beef stews, ham hocks are relatively downplayed in some cuisines but star in the hearty fare of Germany and Central Europe.
In Hong Kong, we can also find ham hocks - pork knuckles - in the frozen sections of food stores where they are priced quite economically. Sometimes they are sold two-to-a-pack. One can be used immediately and one put in the freezer for later use, or you can make ham and related dishes the focus of meals for that week!
Ham hocks come from the bottom part of a pig's leg where it joins the foot (another tasty ingredient). Mostly bone, hocks are a boon for the single person. There isn't a lot of meat on a hock, there's much less meat than the "ham" (leg). Though they contain too little meat to make a meat course for a family, they're still useful for making stock and sauces and for boosting the flavor of other dishes, an alternative to a bouillon cube.
Once defrosted, the hocks can be used to make a couple of dishes, slow cooked to make a cold ham to have with a salad or served hot with a sauce and roasted potatoes.
*When defrosted, soak to remove the salt and rinsed, put a hock - or two - into a large pan with 1 onion, 1 carrot, a leek, 3 cloves of garlic, 2 stalks of celery, a sprig of thyme and 5 Juniper berries (or a glass of gin) and pour in enough cold water to cover the meat. Allow the water to boil, turn down to simmer, skim off any scum, put a lid on and cook for 2 hours+ until the meat is very tender. Allow to cool enough to handle and remove the bone from the meat. Reserve the stock.
At this stage the meat can be sliced when cold, skin removed, and combined with shredded beetroot, sauted cabbage and some homemade pickles for a tasty dinner - just the thing to sustain you through a good book or some extra paperwork.
*This recipe/treatment can also be used to make a full-sized ham for a buffet or as the main course for a large group meal, but of course, the cooking time will be much longer - 20 minutes for each 1 lb (450 gms).
To use the stock, add a cup of fresh peas, cook for 10 minutes and serve with a few slivers of the ham for a tasty ham and pea soup. Or, thicken the stock with a little cornflour and 1 Tbsp thick cream and serve over fettuccine (egg noodles) with grated cheddar cheese and a dash of finely ground black pepper.
For a roast ham: preheat the oven to 190 C (375 F - moderate), make several light cuts across the fat of a pre-boiled ham (see above) in a criss-cross pattern and put into a roasting pan. Coat the ham with a mixture of Dijon mustard and thick honey, add a sprinkle of white pepper and stud 10 cloves into the skin of the ham. Cloves are tiny, dried flower bulbs shaped like little nails used to add subtle aromas to meat and onions. When ground up or powdered they are too strong. Roast for 15 minutes until the glaze sets and caramelizes, baste if the glaze slides off and watch out for burning! Remove from the heat and leave to set for 5 minutes before slicing. Serve with red cabbage pickle.
Slice half a red cabbage thinly and sprinkle with 2 Tbsp salt, place in a non-reactive bowl with a heavy lid on and put in the fridge overnight/24hrs. Boil together cup malt vinegar, 3 Tbsp sugar, tspn fenugreek seeds or chopped dill and 3 Tbsp water for 5 minutes, stir and pour over the cabbage. Let sit for 1 hours, drain and serve.
You can also enjoy with potato dumplings as they do in Bavaria and Moravia; make dumplings from 1 kg potatoes boiled and mashed, 1 or 2 eggs as needed, 200 gms wholemeal flour, 150 gms semolina and a pinch of salt. Mix all together to a firm dough, divide into four and roll each into a ball or fat sausage shape. Put into boiling water, lower the heat and cook for 15 minutes, remove with a skimmer and set aside. Cut the dumplings into slices as you serve with butter or applesauce and the hocks.
Make Applesauce by cooking 3 apples peeled and sliced, 1 tspn lemon juice, 1 Tbsp sugar, 3 Tbsp water and tspn cinnamon for 6-7 minutes in a saucepan over medium heat. Use Granny Smith or Macintosh apples and puree the finished sauce if necessary.
An alternative glaze for a ham can be made by combining 3 crushed garlic cloves, grated zest and juice of 1 large orange - or 3 Tbsp kumquat jam, cup honey, 1 Tbsp brown sugar, 1 Tspn chilli sauce, 1 tspn 5-spice powder, 2 Tbsp soy sauce. This can be served with rice, noodles or as part of a multi dish meal.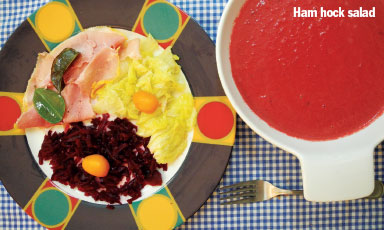 (HK Edition 03/14/2014 page7)