Politics seeking any port for an artificial storm
Updated: 2014-02-21 05:58
By Nigel Collett(HK Edition)
| | | | | | | | | |
| --- | --- | --- | --- | --- | --- | --- | --- | --- |
|   | | Print | | Mail | | Large Medium  Small | 分享按钮 | 0 |
Hong Kong's coastline is littered with jetties and piers. Everywhere anyone conceivably wants to go, one can reach by sea. Sensible, really, as Hong Kong is a mass of islands and still has places you cannot get to easily by other means. Along with the rest of the population, the military have always used them. The British Army built many of them, as projects to help isolated communities, but also for its own convenience. It had to be able to reach everywhere in Hong Kong, and neither road nor helicopter would suffice to ensure this. The British military ran a network of ferries and crafts with schedules linking the major sites, particularly the military headquarters in HMS Tamar.
When the new naval base at Stonecutters Island was built, some of this was rendered unnecessary, but it was always recognized that there was an absolute need to be able to connect the military on Hong Kong Island with the rest of the city by sea.
The PLA has inherited this. Its needs and responsibilities are exactly the same. Its Hong Kong Headquarters remains on the Island connected by tunnel, air or sea to Kowloon and the New Territories, where most of the garrison is based. If the tunnels are blocked and there are insufficient helicopters able to fly, the garrison has to use the sea. There are two simple reasons for this: the need, in all circumstances, to move men and material onto Hong Kong Island from Kowloon or beyond, and the need to send them back out to the rest of the garrison. It means that PLA Headquarters has to have access to a berth.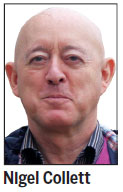 All this was recognized in the run-up to the 1997 handover, so the Chinese and British governments agreed in 1994 that whatever happened to the waterfront by Tamar, there would remain 150 meters of land that would provide a berth for the garrison. The Hong Kong government had no say in this and has none now. The PLA has inherited both a requirement and a right handed down in an agreement concluded by the two sovereign nations.
Now that the plans for this berth are being implemented, an outcry has arisen that is as exaggerated as it is embarrassingly ill-founded. Stirred up by a few local opposition groups, which are, by some absurd logic, alleging a second era of colonialism on the part of their own government, the international press has taken up the cry. Hong Kong harbor is about to see, so the Wall Street Journal imagines, a new PLA base in the heart of Central. According to the Daily Telegraph, there will even be a new PLA port. Common sense has, it seems, evaporated and there is in some minds alarm at what is seen as a dastardly plan afoot to rob Hongkongers of their harbour front, and maybe even worse, their freedoms.
So what is it that the PLA wants to build that is so terrifying an assault on our liberties? It is, as the plans say, a berth, a pier or quayside where boats can come alongside. What could that look like? To answer that, think of the much-beloved Queen's Pier that was so manfully protected by defenders of the harbor. No matter that this was a symbol of colonial oppression without parallel, the place where British governors came ashore at the start of their incumbencies and where royalty inspected British troops. By the time it was sadly ripped down, it was part of the Hong Kong we all knew and loved. We wanted to keep it.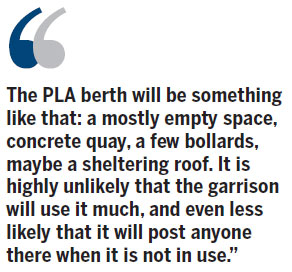 Well, the PLA berth will be something like that: a mostly empty space, concrete quay, a few bollards, maybe a sheltering roof. It is highly unlikely that the garrison will use it much, and even less likely that it will post anyone there when it is not in use. It may, perhaps, restrict access from the sea to prevent private boats using the quay, and no doubt when they are using it themselves they will ask the public to stand clear. There is nothing here to spoil the skyline or impair people's enjoyment of a walk down the esplanade. There is nothing here that we have not been used to all our lives.
What on earth are we getting so worked up about? Truly, this is politics seeking any port for an artificial storm.
I end with a small suggestion. If the PLA could accept it, why not replace the facade of the old Queen's Pier at the military berth? There would be a need for a new name, but no doubt we could argue happily about that without falling foul of our fears and without maligning a garrison that has been so scrupulous in its desire not to offend Hong Kong that it is scarcely visible. Hong Kong should be grateful that it has one of the best behaved garrisons imaginable. We should understand the needs of the military, not obstruct them needlessly and especially not when they offer no harm to the public whatsoever.
The author is a Hong Kong-based writer and businessman who served for 20 years in the British Army, seven of which were in Hong Kong, including one based in HMS Tamar. As a lieutenant colonel, he commanded a Gurkha battalion in Hong Kong.
(HK Edition 02/21/2014 page9)