Bad karma for feng shui
Updated: 2014-01-10 06:48
By Timothy Chui (HK Edition)
| | | | | | | | | |
| --- | --- | --- | --- | --- | --- | --- | --- | --- |
|   | | Print | | Mail | | Large Medium  Small | 分享按钮 | 0 |
Most feng shui studios were hard hit by the sordid disclosures about how a self-declared feng shui master won the heart of Asia's richest woman with feng shui and sex, and yet some masters of the art continue to flourish in the city that takes pride in having both feet on the ground and where people usually disdain superstition. Timothy Chui writes.
The Jordan office of geomancer Peter So Man-fung is not as tidy as one might expect considering his business is all about harmony and correct placement. Unsold copies of feng shui books he has authored sit haphazardly on lacquered shelves. Stacks of papers with images of people's faces and palm prints await his judgment about what the future holds.
"All that Tony Chan stuff was just a scam," So declared. "It's the untalented finding a gimmick so outrageous that they have people in awe and elevate themselves to the supernatural level," he said.

The feng shui business was hard hit in the clownish debacle that unfolded after feng shui poseur Tony (now Peter) Chan presented his fraudulent claim as chosen heir to the estate of Nina Wang, Asia's wealthiest woman. Chan confessed to winning Wang's favor by posing as a master of the art and conducting rituals he read in an old book. Chan's filing of a forged will for probate got him 12 years in jail.
The fallout from Chan, not to mention those other scoundrels who duped some aspiring young fashion models into having sex on the presumption it would be good feng shui, was huge. Thanks to the bad publicity, business at local feng shui studios dropped 20 percent in 2011, International Taoist Feng Shui and Metaphysics Association (ITFSMA) founder Szeto Fat-ching said.
Business hasn't recovered since, Master Chunghui, vice-chairman of the ITFSMA, told China Daily. The association, focused on enforcing standards in the art, represents more than 100 members among the city's 10,000 or so practioners, Chunghui said.
The bad news for feng shui practitioners comes as no surprise to Cecilia Chan, head of social work and social administration at the University of Hong Kong. Feng shui is a luxury service, she says, like beauty consultations for wealthy, pampered women with time on their hands.
"The industry is sensitive to bad publicity. There's no standardization or monitoring. Anyone can claim to be a master. That leads to abuse, including fraud. It's led to criminal cases. Some people tried to standardize practice but there was no consensus. They couldn't even agree on a self-governing mandate that held any significance," Chan said.
Szeto and Chunghai's failure to rally their fellow masters doesn't mean the business is scuttled.
Demand for the feng shui talents of Peter So Man-fung, the city's highest-profile feng shui practitioner, and other masters at his level, remains strong.
A plaster head of Anubis, Ancient Egyptian Lord of the Underworld, pokes out behind So's desk. There's a smattering of Buddhist relics; a handful of coins, taped under a floor mat for good luck. So, who has the reassuring manner of a family physician, spoke derisively of Chan and his lover, Nina Wang, 22 years his senior, wandering around Hong Kong, digging 80 feng shui holes and filling them up with coins and jade and bits of gold for good luck. "Hocus pocus," So said dismissively.
Hard to cheat
So is simply dressed: a black, silk, long-sleeved shirt with Mandarin collar; matching trousers; black shoes with brass trimmings. He often tents his hands, then to emphasize a point, gestures with his palms downward as if enchanting a coffee mug in front of him.
"Its hard to cheat people and remain successful in feng shui because relationships last a long time and your track record speaks for itself," he said.
So, who refers to himself as a consultant, helps clients design their buildings, and orient their building interiors to draw good fortune. He reads faces and palms, combining observation with data about the time and date of birth to predict the future. He's booked six months in advance and boasts 1,000 customers a year, each of whom deposits an HK$8,000 retainer for a 45-minute meeting. He's grossing HK$8 million a year - just from feng shui, if his figures are right. He is one of the most recognizable feng shui figures in Hong Kong; built slightly, his hair is pulled back in a ponytail, that's become his signature and the thinning widow's peak seen on the covers of all his books.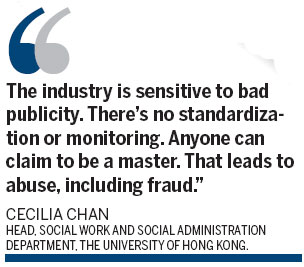 "All my customers are referrals. There is no signage downstairs to show you where my office is," he said, although he is readably found through Google. He claims no favoritism for the rich and famous, but his clientele has included the likes of Faye Wong and Jacky Cheung Hok-yau.
A site visit he can manage to attend within a month. He makes careful observations of the site and its surroundings, consulting a Chinese compass covered with inscriptions. The device helps calculate how furniture should be rearranged, what needs repainting, what colors the drapes or the bed sheets should be, which direction the person should lie while sleeping, where a sofa should face and which window offers the best view for placing a desk.
So credits himself with bringing the art of feng shui, previously the domain of the super rich, to the everyday man through the medium of quasi-self help booklets available at convenience stores around town.
He says he sells about 150,000 copies a year, excluding his popular fortune almanacs which have begun sprouting up ahead of the lunar new year at magazine racks. They take prominence ahead of glamor, gossip and special interest publications.
So agrees a large proportion of the population does not believe in feng shui or fortune telling, and that many of his clients seek him out in pursuit of some sort of eleventh-hour deliverance.
"There are sick clients who can't find cures from Western or Chinese doctors and so feng shui becomes a sort of last resort for them," he said.
He speaks quickly and vaguely sometimes. At other times his words seem carefully measured and succinct. Unmarried with no children, he describes himself as cold and without compassion, despite having an easy smile.
Pragmatic people
"I cannot allow myself to get too caught up emotionally, because I'm dealing with many sick, dying people or people in dire straits," So said.
Even the most skeptical of people can be captivated by the mystic arts given the right mindset, according to HKU's Cecilia Chan.
"Hong Kong people are pragmatic people, but, in lieu of any rational means to tackle their problems, they look for alternatives. These include feng shui, Chinese medicine and fortune telling," she said.
"Feng shui masters give them support against supernatural forces which make people feel more comfortable. There's little self-disclosure," Chan said, noting, "Hong Kongers are not comfortable talking to therapists. It's a Chinese tradition that you shouldn't wash your dirty laundry in public. It's a shame-based culture with elements of karma. For example if you're sick, you probably did something wrong in a past life," Chan said.
"Feng shui is on par with beauty consultancy but people don't like to advertise their belief in it. There is a stigma to being labeled superstitious," she said.
The way feng shui has sold itself as a quasi-mystical practice has done little to earn it any real legitimacy, but it remains a practice observed by the eccentric, the rich, the government and ordinary people trying to hedge their bets and turn their luck around.
Contact the writer at tim@chinadailyhk.com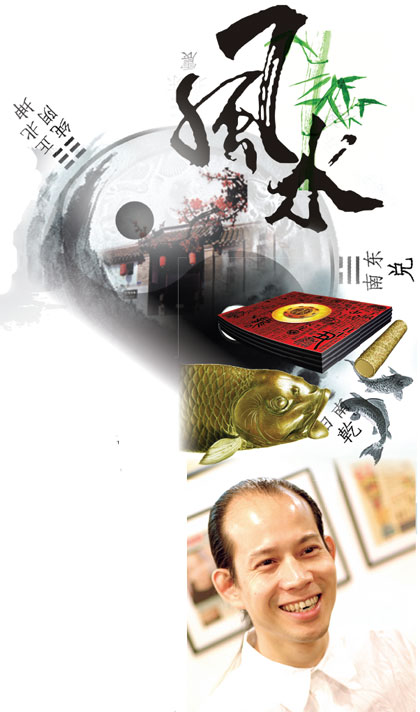 Hong Kong's highest-profile, still-practicing feng shui master Peter So Man-fung makes millions a year from authoring Lunar New Year almanacs, fortune readings as well as rearranging homes and offices.
(HK Edition 01/10/2014 page4)