Hong Kong must do more to stop people committing suicide
Updated: 2013-12-18 08:09
By Fung Keung (HK Edition)
| | | | | | | | | |
| --- | --- | --- | --- | --- | --- | --- | --- | --- |
|   | | Print | | Mail | | Large Medium  Small | 分享按钮 | 0 |
My mind has been disturbed since the sudden death of a friend earlier this month. Wilfred Lai Ming-fai, head of Polytechnic University's Communication and Public Relations Department, jumped to his death from the building where he worked. He left a sad note saying he had no life but work and hoped his death would make Hong Kong employers' more aware the need to achieve a healthy work-life balance for employees.
A day later, a Hong Kong-based newspaper conducted a survey, comparing Hong Kong people's feelings of happiness with seven mainland cities, including Beijing, Shanghai, Guangzhou and four others. The survey found that only 40 percent of Hong Kong citizens were happy with their lives, lower than the 70 percent found among people in Beijing and Shanghai.
Hong Kong employers should try to make the lives of their employees happier and easier. On average, Hong Kong workers have a 48-hour work week, compared with 41.5 hours for workers in the mainland. A shorter working week might reduce companies' profitability slightly, but it will be well worth it. An unhappy workforce might actually reduce productivity.
In general, Hong Kong people are overworked and underpaid. In the same newspaper survey, only 22 percent of employees in Hong Kong said they were satisfied with their incomes.
Stress at work has driven many people to commit suicide as an easy way out. Official figures from the Hong Kong government's Suicide Prevention Services showed that the services had received in the 2012-2013 fiscal year more than 34,000 telephone calls from the public for help - a record high in the past three years.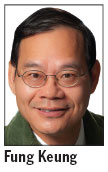 Not just employers, but everybody should try to stop people from walking "the road of no return". After my friend Mr Lai's death, I immediately e-mailed all my friends in the public relations field, telling them to call me before they do anything stupid and I'd promise to sing them Beyond's legendary song Zhen De Ai Ni (I truly love you), which is a touching song about a mother's love for her children. I urge people to listen to this song if they feel suicidal. I am sure they will change their minds after listening to it.
Like Lai, 80 percent of people surveyed said they felt pressure at work. The percentage is higher than the mainland cities' average of 48 percent. The future doesn't look good for Hong Kong in this regard. Only about 25 percent of people surveyed here said their standard of living had improved in recent years, lower than 66 percent for people in the mainland.
And just 44 percent of Hong Kong people said they got on well with their families and maintained good relationships with friends and colleagues at work. This low percentage compared to a high 81 percent of mainlanders who got on well with others.
It would be a great blessing if local and foreign companies in Hong Kong employ an extra hand in their human resources department whose main job is to advise management on how to strike a work-life balance, how to make employees happier and how to improve relations among colleagues.
For those who are frustrated and depressed, remember that helping hands are always around. There are three non-governmental organizations (NGOs) in Hong Kong providing suicide prevention hotline services. The telephone numbers are: 2382 0000 (Suicide Prevention Services 24-hour Suicide Prevention Hotline), 2896 0000 (The Samaritans 24-hour hotline) and 2389 2222 (The Samaritan Befrienders Hong Kong 24-hour hotline).
The Social Welfare Department also allows the Hong Kong Federation of Youth Groups to operate the "Youthline" (telephone number: 2777 8899). This offers immediate counseling to vulnerable young people.
Let us all work together in making Hong Kong people happier.
The author is coordinator of the Financial Journalism program at Hong Kong Baptist University's School of Communication.
(HK Edition 12/18/2013 page1)