Ice and snow forecast for street drugs
Updated: 2013-12-13 06:41
By Andrea Deng(HK Edition)
| | | | | | | | | |
| --- | --- | --- | --- | --- | --- | --- | --- | --- |
|   | | Print | | Mail | | Large Medium  Small | 分享按钮 | 0 |
People close to Hong Kong's drug culture say the market is moving upscale among the affluent, able to access home delivery of growing amounts of cocaine (known as snow) and methamphetamine (ice), and all but out of reach of the law. Andrea Deng writes.
In a busy eatery next to the Airport Express counter at the glossy International Finance Centre, Mel and Bob, expatriates from Australia and America, sat discussing the cocaine scene in Hong Kong. Ten meters from their corner table there's a uniform cop on patrol.
"I've done cocaine in maybe 40 different countries and I've never seen the setup they have here - the transportation system, the delivery system," said Bob. He's a recovering cocaine abuser. He's also a business consultant, and for that reason, he spoke to China Daily only on condition of anonymity.
These days, Bob volunteers for Cocaine Anonymous. It helps users trying to break the addiction. He's updated with all the latest trends - from talking to the people who come looking for help.
"A lot of people talked about delivery. I've seen it happen in Kennedy Town. A van pulls up. A gweilo (white guy) jumps in. The van travels about a hundred meters. (White guy) jumps out and runs up the stairs of a building."
"People who're really having a problem (with cocaine) are people who're not doing it socially. Usually, they're doing it alone and they have high consumption. These hardcore (cocaine) abusers get it delivered," said Bob.
"I heard reference to Kennedy Town as a hub for the guys who are packaging and pushing the stuff. I've heard it's more dominant on the Western side," he said.
"Aberdeen as well," Mel added. He's another recovering abuser/businessman in Hong Kong.
"It's very reflective of the culture here - the convenience factor, the ease of it, keeping it low-profile. You have to order a certain amount to get it delivered. (The dealers) are not gonna deliver a gram. Five or 10 or 15, maybe," said Bob.
Both men say more abusers are doing it "socially". "It's common. We're talking about people going out and having fun - doing a two or three day blast over the weekend, stop for a week - do it again," said Bob.
They mentioned Lan Kwai Fong, Wyndham Street, and Chungking Mansions as major spots where recreational users buy cocaine. Bob said the dealers are usually foreign nationals: Mexicans, Russians, Nigerians, Ghanaians, Colombians. On Lockhart Road in Wan Chai, where there're lots of bars, prostitutes selling coke.
Bankers, they say, are the big abusers. They've got the cash and really, the issue is affordability. Cocaine sells for HK$1,000 a gram on average. Those looking for help from Cocaine Anonymous come from all walks of life: the music industry; students, business consultants, a violin maker, an ex-Gurkha.
"We've seen guys weeping, guys in charge of thousands of people," said Mel.
"We've seen a lot of 25-35-year-olds. They're usually always male. They're desperate because cocaine has kicked their asses - 'Ugh. .... I gotta stop,'" said Bob, mimicking those who sought help by clinching his head.
Growing numbers
In response to China Daily's enquiry, the Hong Kong Police Force revealed that there has been an increase in the number of arrests involving cocaine. From January to October, 539 people were arrested involving cocaine, 24.5 percent more than the same period last year, according to information from the Police Public Relations Branch (PPRB).
In August, a 63-year-old Hong Kong man was arrested at Beijing's airport in possession of a suitcase holding 24.6 kilograms of cocaine. The man had a stopover in the capital on his way from Brazil to Hong Kong.
The police also recorded more arrests of persons involving methamphetamine, or "ice". There were 1,070 arrests from January to October this year, a 37.9 percent increase over the same period last year.
The number of arrests does not necessarily prove a corresponding increase in the number of drug abusers. The authorities have explained the figures - holding that the increased arrests reveal that anti-drug strategies are becoming more effective, especially where dangerous drugs are involved.
Others close to the drug scene are not so sure - and dispute the self-assessment by police explaining the increase in drug arrests. For one thing, many drug abusers have moved out of the public glare and are using drugs in their homes, where their illegal activities are difficult to detect.
Robin Jolly, a retired superintendent with the police force, said that "reported figures on drugs do not show the true picture because so much goes on that is never reported."
"From talking to friends who are still in the force: if you raid a disco, the drugs are just dropped on the floor. Users don't even waste the time to go to the toilet to flush them (the drugs). There are so many drugs on the floor they can be heard being crunched underfoot while people are walking. Most of it is ketamine. Drugs are so easy to move around. They're small, unobtrusive, clean," he added.
"They (young drug abusers) don't think it's a problem. They think it's socially acceptable to be taking drugs (such as ketamine). They don't see it as addictive. They don't see it as harmful to their health. Some of them would try to justify their drug use saying, it's less harmful than alcohol - until you become addicted, of course," said Jolly.
Evan Wilcox, a membership service manager with the Canadian Chamber of Commerce in Hong Kong, who specializes in border and state security issues, wrote an article recently reflecting an undercurrent that more Hong Kong people are abusing drugs, in line with a global trend.
Wilcox cited studies in the US that a worldwide drop in the price of drugs has caused "a marked increase in consumption". "A large market of novice and recreational users means a less discerning consumer base," he wrote.
High-end consumers
Cocaine is not the most popular drug in Hong Kong, and probably never will be. Still, based on the observations of the two recovering abusers, Mel and Bob, the potential damage of this hidden subculture, especially among professionals, could be enormous. With "home delivery" readily available for large quantities of the drug, detection becomes that much more difficult.
"They can almost get to do it with impunity, It is very difficult for the police to get into this sort of group. They're invariably 'using' in places police can't lawfully enter without a warrant," said Jolly.
"In terms of cocaine users, they're not gonna tell us anything, in order to protect their social circles. Even when we catch somebody - which is sometimes by luck - as soon as they go back to the police station, there is a lawyer waiting for them," he added.
It ultimately comes down to cracking down on the supply chain. Nevertheless, seizure might become increasingly tougher as traffickers hammer out all sorts of ways to sidetrack law enforcement. And possibly, dealers are getting more and more difficult to identify.
"We have people in our Cocaine Anonymous group who know the biggest dealers in Hong Kong - Irish, English, Nigerians and Mexicans. They're very much ordinary (in appearance), you'll never know. Have they been busted? No. I haven't heard of any big bust of dealers," said Bob.
Jolly also noted that dealing with suspected foreign nationals who might be dealing in the drug hotspots might prove challenging for the Hong Kong police.
"In my day, the average police constable on patrol, uniform or plainclothes - in very general terms - would be intimidated by a foreign national, white, black, because of the language barrier. It would be unfair for me to criticize police officers of today. But I suspect the culture is the same," said Jolly.
"I suggest you take a look for yourself (in Chungking Mansions) and put yourself in the shoes of a police officer. I think you would find that challenging some of the guys (Colombians and Nigerians) who are loitering in the area would be quite 'daunting'," Jolly said.
The retired superintendent noted some comments that police were targeting racial minorities for stop, question and search strikes. That raised the immediate implication of racial discrimination.
"To my knowledge and experience, this is simply not true. If anything, the opposite is true but the PPRB will never admit to this simple fact!" he said.
Contact the writer at andrea@chinadailyhk.com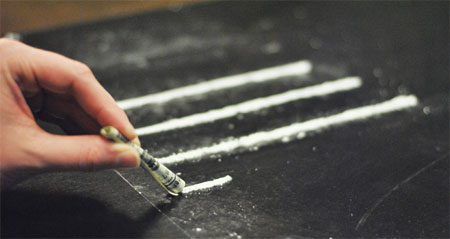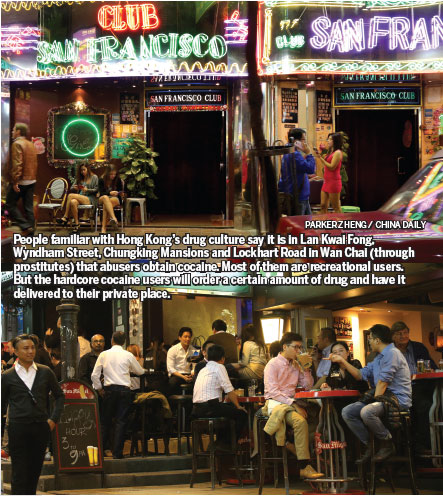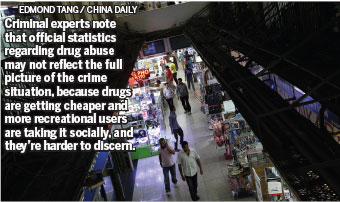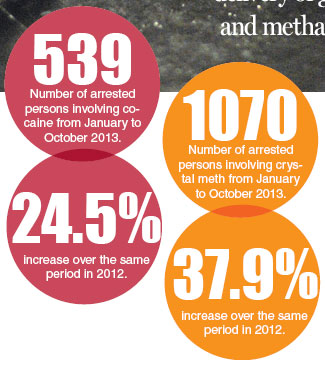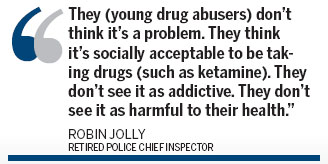 (HK Edition 12/13/2013 page4)