Will the bubble burst?
Updated: 2013-11-22 07:16
By Sophie He(HK Edition)
| | | | | | | | | |
| --- | --- | --- | --- | --- | --- | --- | --- | --- |
|   | | Print | | Mail | | Large Medium  Small | 分享按钮 | 0 |
Investment banks are starting to predict Hong Kong's housing bubble will soon burst, sending a shockwave that will see a 20 to 30 percent drop in property prices by the end of 2015. The banks cite cuts in the primary market and an increase in the housing supply. Sophie He reports.
Deutsche Bank analysts Tony Tsang and Jason Ching, offered up what is by far the gloomiest prognostication, predicting residential prices could fall up to 50 percent in the current cycle, with a price decline of 15 to 20 percent in the coming 12 months. "However, prices could see a more material decline of up to 50 percent from peak to trough in the cycle," the report said.
"In line with previous cycles, when pricing direction was ultimately determined by the primary market, we see the recent high profile price cuts in the primary market as a clear sign of a change in pricing direction."
The Deutsch Bank analysts were referring to price cuts by Sun Hung Kai Properties which put the remaining units of The Cullinan at Kowloon Station up for sale at 14 percent below market.
Tsang and Ching predicted a more meaningful follow on decline in secondary market prices in the coming months emerging from the price cuts in the primary market.
Developers are in a better position, as they can provide incentives, rebates and second mortgages, whereas private home owners can compete only by way of direct price cuts.
Home prices forecast
Deutsche Bank is not the only institution taking a jaundiced perspective on Hong Kong's property market. Raymond Ngai, a property analyst at Bank of America Corp's Merrill Lynch unit, also predicted property prices will drop 5 percent more this year and another 15 percent in 2014.
"The housing market has peaked," Ngai told a press conference in Hong Kong. "The 20 to 25 percent drop will probably bring prices back to the level around 2011, but even at that, many people would still find it difficult to buy properties."
Barclays Plc joined UBS AG and Bank of America Corp in forecasting a Hong Kong property slump, predicting home prices will fall at least 30 percent by the end of 2015 as income growth stalls and supply increases.
UBS AG said that it expects prices to decline 5 percent in 2013 before dropping 15 percent to 20 percent next year.
A "downward spiral of home prices is likely" as developers and homeowners adjust expectations, Barclay's analysts Paul Louie and Zita Qin wrote in a report. They assigned a "negative" rating to the Hong Kong property sector, predicting that office prices would also drop - by about 20 percent.
Barclays' forecast is also more dismal that predictions by several brokerages that have downgraded Hong Kong property this month. Barclays forecast anticipates the biggest plunge in property prices since 1998. "The magnitude of the fall has been underestimated," the Barclays analysts wrote.
Hong Kong home prices have more than doubled since the start of 2009, fueled by record-low interest rates, lack of supply and a heavy influx of mainland buyers. The overheated market prompted the government to impose extra taxes on non-resident buyers and tighten lending restrictions. Since March, prices have fallen about 3 percent. Transactions are at their lowest in almost two decades. The downward trend accelerated after the government announcement in February imposing the toughest measures so far, to curb concerns that the real estate market wouldn't calm down.
Chief Executive Leung Chun-ying, who has pledged to increase land supply since coming to office in July, 2012, said in January the private sector may sell 67,000 homes in the next three to four years. Hong Kong developers completed 48,936 homes from 2008 to 2013, the lowest in any five-year period since data became available in 1985.
Home transactions in the third quarter have fallen to the lowest level since the government began making the data available in 1996. Leung doubled the stamp duty on all property transactions above HK$2 million ($258,000) in February. He also has imposed a 15 percent extra tax on non-resident buyers and raised minimum down-payment requirements for some mortgages.
However, there are doubters. Some experts and scholars argue the much anticipated "price decline" may never come.
Vincent Cheung, national director, Greater China, at Cushman & Wakefield, told China Daily that he sees no sign of any meaningful price decline in Hong Kong's housing market.
"The reason is very simple: there is no factor that we can see from the current economic environment in Hong Kong that would lead to a drastic decline in home prices," said Cheung.
He acknowledged that the Hong Kong government has implemented many measures to curb the over-heated housing market. He acknowledged the Buyer Stamp Duty (BSD) and the Special Stamp Duty (SSD) have proven highly effective. With their combined tax rate as high as 23.5 percent, many property investors have been deterred indeed. Transaction volume in Hong Kong's residential property market has decreased significantly since the policy was implemented.
"Despite the drop in transaction volume, there has been no meaningful pricing decline in the housing market," said Cheung, explaining that people are still purchasing houses because there are no "cheaper investments" in the city.
Cheung said that as the US dollar weakened, the pegged Hong Kong dollar fell with it, coupled with the relatively high inflation rate, people in the city are reluctant to hold cash, and don't want their cash in banks either, because of the low interest rate.
Discount on price
"Although people have to consider the extra tax they need to pay when investing in properties, from what I know, developers have been offering to pay part of the Stamp Duty for the buyers."
He pointed out that buyers and developers will sign independent contracts on the portion of Stamp Duty they are willing to pay, so the "discount" will not be reflected on the selling price of the property. Due to the lack of transparency on deals of that kind, it is very difficult for individual property owners to "follow up" by offering same level of discounts.
Cheung said he believes that for the next two to three months, the houses with selling prices between HK$5 million and HK$30 million may see a 3 to 5 percent of decline in price, but for the apartments priced at under HK$5 million, there is unlikely to be any decline.
Many people believe the US will adjust its quantitative easing policy and likely increase interest rates by then, which will increase the borrowing costs in Hong Kong and push down the property market.
Cheung warns that is not necessarily the case. He explains that when people get a mortgage loan from the bank, aside from the interest rate, the bank will also charge a "commission fee", currently around 2 percent of the loan.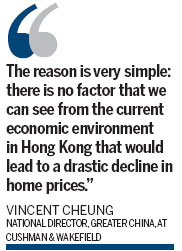 "There was a time when the commission fee was as low as 0.7 percent, so there is certainly room for banks to lower their fee rate," he said, adding that even if the US increased its interest rate, banks in Hong Kong have the ability to offset the impact if the transaction volume in the property market were still low.
He also said that people should not "get their hopes up" that the property price will be lower in a few years. The Hong Kong government has been actively boosting the land supply.
"From the point that a developer purchased a land site from the government to the point where a residential building was built, the development period could be very long," said Cheung, adding that the government started to actively boost land supply around two years ago, the effect may not be seen for several years.
Besides, the borrowing costs have been low in recent years, which means developers are not in hurry to sell the apartments to pay back the bank, and they will be reluctant to launch new projects when the transaction volume is low since that would mean they'd be competing with themselves.
"The investment banks may release those research reports according to their own agenda," Professor Chong Tai-leung of the Chinese University of Hong Kong's Institute of Global Economics and Finance told China Daily. He adds that the research reports may also be biased, since employees who work for investment banks usually live in high-end apartments, and it is true that recently, prices of high-end houses have dropped 5 to 10 percent.
Echoing Cheung's words, Chong said that it is unlikely there will be any decline in selling prices of apartments under HK$5 million.
"I believe Hong Kong's residential real estate market will be polarized in the future, which means that price will decline in the luxury or high-end property market, while the prices will continue to rise for apartments worth less than HK$5 million," said the professor.
Chong said that the US may consider increasing interest rates when its unemployment rate decreases to 6.5 percent (from the currently over 7 percent) and its inflation rate falls back to 2 percent. He believes that it will be very difficult for the US to lower the unemployment rate from the current level.
"The above 7 percent unemployment rate maybe a structural situation in the US, as for those who are actively looking for job, they should have got one by now."
"I will not be surprised if the US maintains its near 0 interest rate until 2018, the low interest rate environment has been going on for decades in Japan," he said.
Chong also agrees with Cheung that the property price will not decrease just by "increasing supply", as the construction costs in Hong Kong are very expensive. Putting aside the other costs, the wages of construction workers alone have been increased significantly. The more they develop, the more they will have to spend, so it will be extremely hard for developers to cut the prices.
Besides, the competition in Hong Kong's real estate is not sufficient. The market is occupied by a few very large developers, which will make it even harder to see any meaningful price reduction, he said.
Contact the writer at sophiehe@chinadailyhk.com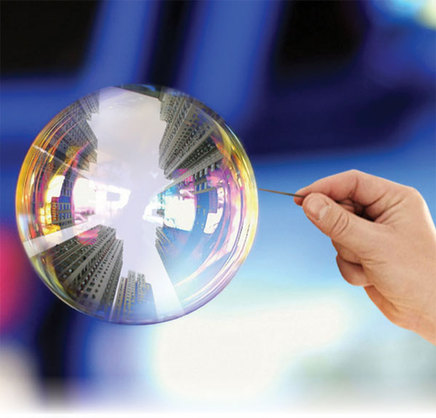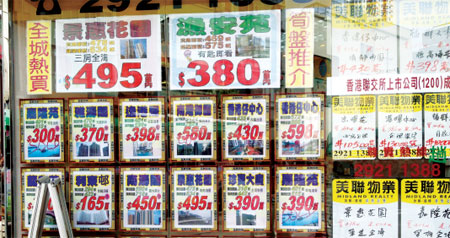 (HK Edition 11/22/2013 page1)