Recipes from long ago are well worth keeping in your repertoire
Updated: 2013-10-25 06:53
By Maggie Beale (HK Edition)
| | | | | | | | | |
| --- | --- | --- | --- | --- | --- | --- | --- | --- |
|   | | Print | | Mail | | Large Medium  Small | 分享按钮 | 0 |
Certain flowers make a welcome addition to a nutritious diet: Take the artichoke for instance. An edible relative of the common thistle, globe artichokes are rich in potassium, magnesium and vitamin C. In the local markets right now, long-stemmed artichokes are the flowers of a handsome plant.
Cultivated as a food, the edible portions of the plant are the stems and the flower buds before they blossom into impressive purple blooms. Once they blossom, however, although they're very pretty, they are not edible.
The plants usually bear several flowers; the uppermost flowers are the ones we are seeing in the market here at present.
The uppermost, top flowers usually have the long stems still attached, these are edible. Just cut them off, leaving an inch or so still attached to the flower, peel the stems and cook separately in a pasta sauce or with others vegetables.
The simplest way to prepare and serve globe artichokes is one I remember from my childhood visits to France. The thorns soften with cooking and pose no threat to the person eating the artichoke, so the globes can be washed, and boiled or steamed in a basket in 2 inches of salted water for 15-25 minutes (depends on size) then allowed to cool. They are delicious served with a vinaigrette or butter sauce. Just dip the soft ends into the sauce and bite/pull off the soft, pulpy bits with your teeth, discarding the rest. Keep going until you reach the innermost heart. This has an inedible fuzzy part (called the "choke") covering the artichoke heart. With a knife or spoon, scrape it out and discard it. The remaining bottom of the artichoke is the heart. Cut into pieces and dipped in sauce to eat - it's the prized part.
The sauce can be very simple; olive oil with salt and balsamic vinegar or lemon juice stirred in, or herbed vinaigrette or lemon dressed mayonnaise. I have seen others eat globe artichokes with ketchup but that's not to my taste.
Should you find it economical to buy several artichokes at the same time, they do keep well when sprinkled with a little water, wrapped in airtight plastic bags and placed in the refrigerator for up to one week.
You can also steam/boil artichokes in advance, keeping them in a box in the fridge for 3-4 days until you're ready to use them in salads or as an appetiser with a dipping sauce - you can also use them in a stir-fry.
They can be used as is, or you can cut off the thorny ends of the outer leaves and discard the top 1/3, then trim the stalks but leave part still attached. As you trim each one, drop it into a large bowl of acidulated water (water to which has been added the juice and body of a large lemon) to avoid discoloration. Cook as above.
Alternatively, after steaming or boiling them, slice the artichokes in half, lengthwise. Discard the choke, (it looks like a bunch of tiny hairs) brush the artichoke with olive oil and place under the grill or on the BBQ, turning them over once to grill on both sides. Or partially steam the trimmed globe for 10 minutes, insert a few cloves of garlic between the leaves, sprinkle with lemon juice and olive oil, wrap in heavy duty aluminium foil and roast in a preheated 220C (425F) oven for 25 minutes.
Highly prized, baby artichokes grow farther down the stems. They haven't developed the inedible chokes and so they can be eaten whole, once cooked. For an ambrosial dish for four people, make a baby artichoke sauce for pasta: In a deep frying pan, add 4 Tbsp olive oil, 1 head garlic trimmed and chopped and saut for 2 minutes, add 16 baby artichokes and fry for 5 minutes more. Add cup white wine and 16 cherry tomatoes cut in half and a small bunch of flat Italian parsley and cook 5-6 minutes longer until the artichokes are slightly soft. Add salt and pepper and a chopped chilli pepper or 1 Italian fresh peperoncino (the pickled kind don't work with this dish) and a dash of fresh lemon juice, allow to meld together for 1 minute before adding cooked pasta (1 or 1 packets before cooking) such as spaghetti or fettuccini to the sauce (not the other way round) and stir it for a minute or two to coat well. Personally I don't think there's any need to add cheese as this dish has its own delicious flavors.
Although it doesn't have the subtle flavors of fresh baby artichokes, you can use a tin of "artichokes in olive oil" to make this sauce, not Marinated Artichokes. You can add Parmesan cheese to this version along with a little heavy cream.
While I don't recommend wine with artichokes dressed in vinaigrette - serve them with a mayonnaise instead if you don't want to forego the wine. But roast artichokes or baby artichokes with pasta can be matched with a dry Australian Riesling, an Italian Orvieto or a red such as an Italian Barbera from the Piedmont region, or a Merlot.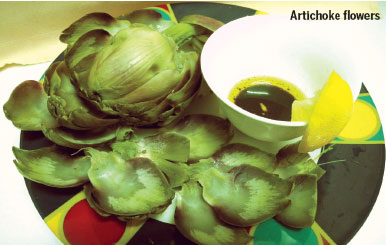 (HK Edition 10/25/2013 page7)