Choose Georgia as offshore base
Updated: 2013-10-09 06:46
By Thomas Chan (HK Edition)
| | | | | | | | | |
| --- | --- | --- | --- | --- | --- | --- | --- | --- |
|   | | Print | | Mail | | Large Medium  Small | 分享按钮 | 0 |
In a globalized world with borderless competition, small and big countries build offshore bases to advance their economic and trade interests. Recently we have seen Singapore moving towards becoming an offshore financial center, not only for the Association of Southeast Asian Nations (ASEAN) countries, but for those driven away from the previous tax havens in Europe, in particular Switzerland, and Chinese capital, either legally coming as investment or illegally through the newly established local casinos. Cyprus has become the main offshore financial center for Russia. Japan has declared Myanmar its last frontier and bank-rolled the modernization of its ports and Yangon, as well as its stock exchange. Our neighbor, Macao, has leased Hengqin from Zhuhai prefecture to expand the space of development for its university and firms.
If Hong Kong is going to reassert its role as Asia's world city, it should make a strategic choice to establish an offshore base(s) for its globalized services. It should do so in tandem with, but not in competition against, Guangzhou, and even Shanghai. Hong Kong should work with its sister cities in the Pearl River Delta and on the mainland to conquer the world together.
The obvious place to target is Georgia in the Caucasus, though few Hong Kong people know it. Situated at the "edge of empires" for thousands of years, Georgia borders Russia, Iran and has access to Turkey and other East European countries across the Black Sea. It is on the old and the new Silk Road leading eastward across the Caspian Sea to the Central Asian countries, and Xinjiang in China. Central Asia will become the playing field of China (and Russia) as the overstretched US is scheduled to withdraw its troops from Afghanistan in 2014.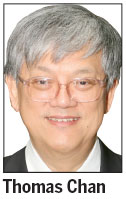 Russia is one of the (re)emerged countries with huge natural resources and with government determination to be strong, politically and economically again. China has befriended Russia, and Hong Kong has been wooing companies from Russia to use local financial services, hence the mutually waived visa requirements and direct flights. Central Asia, including the Caucasus countries, is also rich in oil and natural gas, the starting and transiting point for cross-country oil and gas pipes. China is developing Central Asia with Russia. In the south, Iran is emerging strongly but peacefully again, and likely to become the leader of the Islamic world challenging Saudi Arabia.
Georgia is the most politically liberal and least corrupt place in the Caucasus, and is both business friendly and tourism friendly (now towards the Russians). Given its high unemployment, it should be a good location for processing and transshipment of Chinese goods to Russia, Eastern Europe and the Middle East, and through them, to the larger markets of Europe and Africa. Chinese merchants have been using cities in Central Asia for re-exporting to Russia and Europe. They could be used by Tbilisi- and Georgia-based Hong Kong firms for overland routing of Chinese goods given the rapid improvement of railways by the Chinese and local national governments. Central Asia, Russia and even Azerbaijan in the Caucasus, and Iran have become rich because of the oil and gas production supplied to China and Europe. The world in the coming decades will be dictated by emergent markets together with China, as international organizations such as the World Bank have projected.
Tbilisi has advantages for Hong Kong: a small city in a small country with low operating costs for business. The country has great growth potential given its improved relationship with Russia, for exporting its wine and food and welcoming Russian tourists. It also has oil and will receive huge amounts in transit fees for the oil pipeline from Baku in Azerbaijan to Turkey, which is the alternative route built by the EU to bypass the existing Russian gas supply route. With government help, Hong Kong firms can dominate the business scene in the Caucasus: setting up regional headquarters for trade, investment, business and financial services and helping to build the local stock exchange and financial markets, serving oil and gas rich neighboring countries. In Tbilisi, Hong Kong will have no competition. Japan, Korea and Singapore are not aware of its strategic position.
Chinese investment in Georgia has increased fast in the last two years and the nation is now the second largest investor in 2013. Hong Kong's financial services' firms can service Chinese mainland firms going to Georgia and the region. China's presence also offers essential political support and protection for Hong Kong's investment there. Hong Kong can benefit from the anticipated flood of made-in-China cars into Central Asian markets, followed by its smartphones. China will increasingly see the region as an important market for its emergent high value-added industries.
Unless Hong Kong has become too inward looking and regressive, there is great advantage in building a strategic offshore base in Tbilisi. It can bring firms from Guangzhou and the Pearl River Delta. Now may be the time to take a bold step forward and outward. The Leung Chun-ying administration must have the vision.
The author is the director of the Public Policy Research Institute and head of the China Business Center at Hong Kong Polytechnic University.
(HK Edition 10/09/2013 page9)