A large rubber duck in the harbor brings to mind duck for dinner
Updated: 2013-10-04 07:12
By Maggie Beale(HK Edition)
| | | | | | | | | |
| --- | --- | --- | --- | --- | --- | --- | --- | --- |
|   | | Print | | Mail | | Large Medium  Small | 分享按钮 | 0 |
Cold water fish is a staple of many cuA duck is a waterfowl with a good layer of fat between the skin and the meat and there are several different types of edible duck available; the domesticated mild and meaty Pekin, the good for roasting Muscovy and the gamy Mallard or the large hybrid Moulard.
If you love the taste and texture of duck but find a whole duck too much for one person, and you don't have an oven, don't despair. You can cook a duck leg or two at home quite successfully.
Wash, chop and place onion, 1 carrot, 1 stalk (piece) celery and 5 garlic cloves in a heavy-based saucepan along with 25 cl (1 cup) red wine such as pinot noir or Spanish tempranillo, 1 Tbsp brandy, zest and juice of 2 oranges, and 2 Kaffir lime leaves. Bring to the boil, then remove from heat and set aside to cool. Pour over 1 or 2 duck legs, turning them a few times, then cover with tin foil and refrigerate overnight.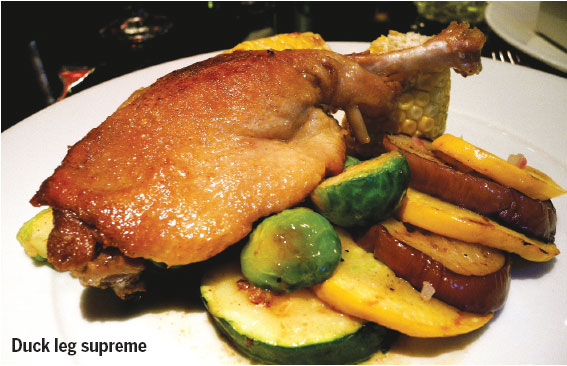 Remove the bowl from the fridge, take out and reserve the marinade and the vegetables separately. Remove the duck legs and pat dry with paper towels. Heat 1 Tbsp cooking oil in a wok or frying pan to medium heat and fry the duck legs for 3+ minutes each side until the skin turns golden in color, turning frequently as the skin changes colour. When ready, remove the duck and set aside. Drain away all but 1 Tbsp of fat and use this to fry the vegetables (from the marinade) in the frying pan for 3-4 minutes until golden, stirring gently to prevent sticking, set aside. This will become the base for a separate dipping sauce.
In a saucepan, to the reserved marinade add 1 cup (25cl) water and bring to the boil. Add the duck leg/s and cover with a lid or tin foil. Cook on medium low heat for 1 hours until the duck is tender.
In the meantime wash and slice 1 aubergine into quite thick rounds and sprinkle with salt, set aside for 20 minutes to leach out the bitter vetch. Rinse well and pat dry. Fry 2 cloves garlic in 1 Tbsp cooking oil (I use a light olive oil), add the rinsed aubergine slices and fry for 6-8 minutes, turning once, set aside.
Slice 1 capsicum (pepper) - red or yellow - remove the white pith and discard the seeds. Fry the capsicum in the same oil in which you cooked the aubergine - after the aubergine is cooked and set aside. For a variation, or if you just like more veggies, you can add Brussels sprouts and corn on the cob too.
Brussels sprouts are related to cabbage - they even look like miniature versions - and they have an attractively sweet, nutty flavor when cooked properly. To cook, trim the ends, halve the very large ones and cook in a covered saucepan for 7-8 minutes in just enough water to cover along with 1 Tbsp butter and a good sprinkle of sea salt. Sprouts cook very quickly, and if overcooked they go mushy and unpleasant, so test them frequently by stabbing with a fork, remove just as soon as there's little resistance.
Corn on the cob looks great as a side vegetable when cut into two or thee pieces and boiled in water to cover with a good pinch of salt until tender. Remove when ready and add a knob or two of salted butter and a grating of fresh black pepper before plating.
Remove the duck to a plate. Blend the reserved vegetables and the stock in a blender, adjust the seasoning (salt and white pepper) and serve in a bowl as the dipping sauce. If the liquid is very thin, then put it into a saucepan over medium heat and cook gently for 3-4 minutes until it reduces to a thick sauce. This dipping sauce will have lots of flavor from the marinade juices - and the alcohol of the wine and brandy. But you can add a little sliced chilli pepper or a shake or two of Green or Garlic Tabasco if desired.
A dish of fresh blueberries with a little vanilla ice cream is all you need after this tasty dish. But if you crave something more substantial try a blueberry and apple pie.
To get the best from this duck dish, serve with (ideally) a Pinot Noir from Burgundy or from New Zealand's Marlborough area, a classic Pinot Noir from Otaga, or for a slight change; from NZ's oldest winery Te Mata in Havelok North - try the Coleraine blend of Merlot and Cabernets Sauvignon and Franc. Or a Tempranillo wine from the DO Ribera del Duero region of Spain.
To keep any leftover wine, decant into a smaller sized, well-washed bottle, cork tightly and store in the fridge. It should keep for a few days.
(HK Edition 10/04/2013 page7)