Build up, not across
Updated: 2013-09-28 06:48
By Richard Harris (HK Edition)
| | | | | | | | | |
| --- | --- | --- | --- | --- | --- | --- | --- | --- |
|   | | Print | | Mail | | Large Medium  Small | 分享按钮 | 0 |
Since I have been alive, the population of this planet has doubled from 3 billion to 7 billion people. And I have only been responsible for two of them. According to London's Institution of Mechanical Engineers, in 2100 (a reasonable target for those being born today) the World's population will reach 9 billion. The population of Hong Kong has quadrupled since my birth and even then it was one of the most densely populated places on earth.
This is not the case in Hong Kong however. By some estimates the population is already effectively 8 million, if you count those living on the mainland with some rights to living and working here. Combine this with the 16,000 children with permanent residency status because they were born in Hong Kong and cross the border every day to go to school. In 10 to 15 years they will start marrying, reproducing, and will almost certainly want to live in Hong Kong. Add to that the clever students from the mainland, of which there are many, who study in Hong Kong; after a degree, a master's and a year of work they are almost eligible for permanent residency. Add to that the generous permanent residency rules, which permit that status after a mere seven years, and you have a recipe for continued massive urbanization of our city.
Hong Kong is a people magnet. It is rich, powerful and hungry for labor. It is much easier to make money in Hong Kong, despite its high cost of living than the mainland, and the work is likely to be more comfortable. All financial island territories are the same. They are small, pressured clusters of human beings who live together, make money off the rest of the world and in return put up with a low standard of living, and high costs for everything.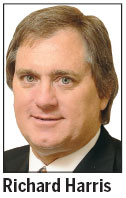 So to repel a damaging influx of people, island territories such as Jersey have very strict immigration rules enacted as far back as 1949. Only "high value" persons (extremely wealthy) may become resident immediately and then only if approved. Those with work on the island must apply to the Ministry of Housing for permission to rent and can only buy after 10 years in Jersey. In Guernsey, a foreigner can only buy property that is so designated unless they have lived there for 20 years.
Hong Kong is only just waking up to the fact that local housing must come first by recently imposing a special stamp duty, which favors permanent residents. This is not a betrayal of the free market principles on which the city was founded - this is about the appropriate future of our own people. Wealthy mainlanders and foreigners are so numerous that our way of life is indeed under threat.
For Hong Kong is not a city of 7-going-on-10 million people, all of whom demand living, transport and entertainment space. Only the rigorous imposition of immigration controls will mitigate this crisis growth, disappointing many but protecting the majority. A city like Hong Kong also needs an inflow of young, hungry and poor employees to service the working professionals; they may be allowed to work here but without the same residency rights. This might develop an upstairs-downstairs society but is in line with our rules regarding domestic helpers.
It is certainly wishful thinking to believe that the government will enact such measures. So the schoolchildren that wait in long lines at Lo Wu and Huanggang each day to cross the border are evidence that Hong Kong property is likely to remain an excellent long-term investment regardless of the interest rate manipulations undertaken by the US Federal Reserve and others.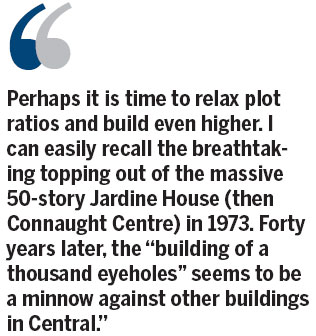 The problem of supplying enough property in a tiny territory to satisfy the demand occupies a great deal of government time. Understandably the property ownership cartel that the government has allowed to build up both before and after 1997 does not make that thinking any easier.
We will have to be creative, which is all you can say about the recent kite-flying by Secretary for Development Paul Chan Mo-po about building in country parks. Former chief secretary Sir David Akers-Jones now claims that the former colonial government created the country park boundaries by accident - not something that has a credible ring. That the idea thankfully has been shot down, not least by Chief Executive Leung Chun-ying - a rare victory over the developers - leaves alone the very best of Hong Kong's beauty for our children. Rather than kite-flying, I call for practical long-term planning and some quick and bold decisions.
There are of course still plenty of reclamation sites; Hong Kong is rich and can afford to build into the sea. However, the biggest spotlight should be on town planning policy. Perhaps it is time to relax plot ratios and build even higher. I can easily recall the breathtaking topping out of the massive 50-story Jardine House (then Connaught Centre) in 1973. Forty years later, the "building of a thousand eyeholes" seems to be a minnow against other buildings in Central.
Hong Kong has always been a crowded place to live; expensive and sometimes uncomfortable, but this is no excuse for letting things be. We are better than that because we are a successful city.
The author is chief executive of Port Shelter Investment Management.
(HK Edition 09/28/2013 page6)