Hong Kong in need of population growth policy upgrade
Updated: 2013-09-27 07:04
By Li Kui-wai(HK Edition)
| | | | | | | | | |
| --- | --- | --- | --- | --- | --- | --- | --- | --- |
|   | | Print | | Mail | | Large Medium  Small | 分享按钮 | 0 |
There is a new dimension to discussion in Hong Kong resulting from the debate on the development of open areas in the countryside to meet housing demand. Despite the division of government departments between land development, housing, education provisions and so on, a comprehensive policy is needed in Hong Kong in making cross-departmental decisions.
The population problem has been an ever-present concern, but no policy exists that projects the population growth in Hong Kong. A number of issues have been affecting the data. Since 1995, a daily quota of 150 new immigrants has been permitted to come to the city for family reunions. Many of these new immigrants will require social welfare and consume our public utilities, such as housing, education and health. Recent discussions have related the immigrant issue with the massive amount of Individual Visit Scheme travel, through which mainlanders flock to Hong Kong on a daily basis, many coming just to shop for daily necessities, than as tourists.
Other factors have increased Hong Kong's population. For the last three decades, Hong Kong families have recruited maids from the Philippines, Indonesia and other Southeast Asian countries. These housemaids are not that highly educated nor skilled. In short, together with the daily immigration quota, Hong Kong receives a steady inflow of lesser-skilled people who take low-paid jobs, or wait for welfare assistance.
In comparison, the highly skilled group of immigrants is fewer. But how attractive is Hong Kong to those with expert skills? Scientists and technologists may not find the city attractive place for technological development. Hong Kong definitely loses out to Singapore in attracting highly skilled professionals, as neither the government nor industrialists want to expand technological innovation.
And there is the problem of housing provision. When immigrants are mostly unskilled and their earning ability low, they will not enter the private market for housing. On the other hand, property prices have risen for some years, making the city one of the most expensive to live in. New immigrants become discontented, and government must provide more welfare, not just for low earners, the elderly, the sick and unemployed, but also for new immigrants. In other words, Hong Kong people suffer from an uncoordinated population policy.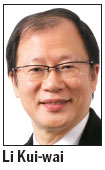 Can the population in Hong Kong expand to 10 million or more? The pace of increase is another concern. It would indeed be welfare-imposing and resource-demanding if the population in Hong Kong rises too rapidly. Should Hong Kong have more say in the screening of immigrants through the daily quota system? Inward immigration should be a Hong Kong internal affair. Equally, what can the government and investors do to promote and attract more talents to Hong Kong in order to boost our "knowledge-based" economy? Similarly, should housewives in Hong Kong employ maids from other Asian countries? There is a social cost involved, as one sees on weekends when maids occupy the public areas in Central, Admiralty, Causeway Bay, Tsim Sha Tsui, etc.
Public policy in Hong Kong needs to be revised, strengthened and well-coordinated. The mentality of land provision in Hong Kong is stuck in the 1970s when the population was 5 million. Environmentalists pursue a protectionist attitude of not developing new areas and maintaining undeveloped land. On the other hand, the government's piecemeal land provision approach of ill-considered and badly coordinated single developments do not project a sustainable future for Hong Kong. There is a need for land reclassification and re-zoning in view of the contemporary needs resulting from the growing population.
In conclusion, a population policy involves not only a single immigration policy or policy on the inflow of professionals or housemaids, but a host of related public policies on land provision, housing supplies, job promotion and employment opportunities, and welfare provision that goes beyond simple elderly assistance, education provision and the supply of relevant teachers at various local districts, in addition to the needed quality control. The government and public at large have been worrying about the less-able group of the population, surely to the benefit of the welfare advocates. There should be more attention on the capable group. What can the young and capable population do? Is the economic capacity large enough to incorporate their contributions in Hong Kong? Let's start rethinking our population policy creatively for the benefit of Hong Kong.
The author is an associate professor of the Department of Economics and Finance at City University of Hong Kong.
(HK Edition 09/27/2013 page9)