Alibaba's caveat
Updated: 2013-09-20 15:29
By Oswald Chan (HK Edition)
| | | | | | | | | |
| --- | --- | --- | --- | --- | --- | --- | --- | --- |
|   | | Print | | Mail | | Large Medium  Small | 分享按钮 | 0 |
HK could lose its biggest IPO if mainland e-commerce giant cancels likely $70b listing. Should the city show or open the door to Jack Ma's coveted treasure? Oswald Chan reports.
Open sesame or close sesame? Its been a painful decision for Hong Kong's financial regulators, a choice between upholding Hong Kong's sterling reputation and high standards for IPOs, or cutting a little slack, even caving in, to accommodate Hangzhou-based Alibaba Group Holding Ltd, the mainland's premier e-commerce company. The timing couldn't have been more critical. The city desperately needs Alibaba's potential $70 billion listing to kick-start the local IPO market, which has been lackluster since 2011, following a series of share sales that underperformed the market.
It's not like Alibaba founder and Chairman Jack Ma and the local bourse are strangers. One of his entities, Alibaba.com, went public on the exchange in 2007. But that was then, this is now, and Hong Kong's regulators and Ma have been going at it nose to nose. Finally, an exasperated Ma delivered an ultimatum: Alibaba would not go public on any exchange that insisted the company change its corporate structure.
A spokesman from Alibaba's Hong Kong office tells China Daily: "The company has not set its IPO timetable, has not decided on the IPO listing venue and also has not appointed an IPO underwriter."
Ma made his feelings known in a letter to staff on Sept 10. "We are not concerned about where to go public," he wrote, of what would be the tech industry's largest listing since Facebook's $16 billion IPO in May 2012; and if San Francisco-based social-media platform Twitter Inc, which announced plans to list in New York this week, doesn't IPO first. Banks estimate the value of an Alibaba IPO could even top $70 billion. "But we do care that whatever location we choose, must support this type of open, innovative, responsible culture that values long-term development," Ma wrote.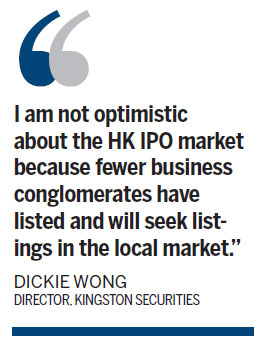 That culture is Ma's indirect reference to the Alibaba Partnership, formed in 2010, which places the company under the control of 28 executives who manage day-to-day operations. They include Ma, Executive Vice-Chairman Joe Tsai and Chief Executive Jonathan Lu among others. Shareholders are allowed to vote to choose individual directors, but the company's board retains outright authority to nominate candidates for directorships. Therefore, the company's top execs control who sits on the board.
That setup is based on what's called a dual-class share structure, which is at variance with Hong Kong Stock Exchange listing rules. Listing regulations require equitable treatment for all shareholders. Alibaba, on the other hand, is demanding that the company be allowed to maintain a structure that gives top management complete control over the company board. Ma's more about caveats than caving in.
All of which makes perfect sense for Alibaba, if not the local bourse. Ma and assorted honchos may yet abandon the plan to sell the company's shares in Hong Kong and instead switch its listing to New York, where the dual structure is permissible, and has been utilized by leading tech firms such as Google, LinkedIn, Groupon, Yelp and Zynga.
The concept of a dual-class share structure is different from "ordinary" and "preferred" shares for company stockholders. Ordinary and preferred shares encompass two different share categories with different voting rights, entitlements and risk exposure. Dual-class shares, on the other hand, are two classes of shares that are identical in their entitlements, in which one class of shareholder is limited to only one vote per share. Thus, the company's founders and top executives have the ability to control the majority shareholder voting power with a relatively small amount of equity in the company.
Such power is evident at Facebook. Post-IPO, Mark Zuckerberg owns just 18 percent of the company, yet controls 69 percent of the voting shares, giving him total dominion. Like it? Who wouldn't? The theory goes that the right power in the right hands in dual-class structures protects against potential takeovers, preserves innovation and long-term creative gain, i.e., value, versus the short-termism of large institutional investors whose benchmark is present-day price. Individual small investors, who care more about dividend payment levels and the capital appreciation of company shares than voting rights, also prefer the dual-class structure.
"We believe that only a group of people who are passionate about the company and are mission-driven, will be able to protect the company from external pressure from competition and temptation to seek short-term gains," Ma wrote to his staff. "Many companies quickly deteriorate into mediocre commercial entities after they have lost their founder culture."
Jack Ma owns a 7.4 percent stake in Alibaba Group, with Yahoo and Softbank together accounting for more than 70 percent of its ownership. Yahoo founder Jerry Yang and Softbank founder and CEO Masayoshi Son both sit on Alibaba Group's board of directors. But Ma, like Zuckerberg, pulls the strings.
Close sesame
However, not everyone's on Jack Ma's side in the city.
"If Hong Kong Exchanges and Clearing Ltd (HKEx) allows Alibaba to list in Hong Kong with its proposed dual-class share structure, it would set a bad precedent," says Billy Mak, associate lecturer at Hong Kong Baptist University's finance and decision sciences department.
"The bad precedent is that owners of currently listed companies may be prompted to issue dual-class shares to maintain their majority control of their company, while at the same time selling their large bulk of ordinary shares to cash-in their investments," Mak says.
"This kind of asymmetric shareholding structure is detrimental to the interests of local retail investors. If more companies are gearing up to issue more dual-class shares, the city's stock market will become very unstable," Mak adds.
But not every company is like Alibaba. Not even close. Ma's corporate cave isn't a single entity, like Facebook, but a portfolio of 25 e-commerce giants, employing more than 24,000 people in more than 70 offices in China, India, the US and the UK. Alibaba is a cavernous company of interconnected and complementary e-commerce websites which includes such heavyweights as Taobao Marketplace (like e-Bay), one of the world's 20 most popular Internet sites, eTao (like Groupon), Alipay (like PayPal), AliExpress (like Amazon), and Tmall.com - China's leading shopping hub for brand-name products - and more. Covering consumer e-commerce, online payment, business-to-business marketplaces and cloud computing, Alibaba Group is a seamless e-commerce ecosystem leading the evolution of mobile Internet development and dwarfing the stature of its Western counterparts. Taobao and Tmall's combined gross revenues in 2012 exceeded $163 billion, against Amazon's $61 billion, Google's $50 billion, eBay's $14 billion and Groupon's $2.33 billion. Go figure. Alibaba is massive. Alibaba is master of the universe.
Although the dual-class share structure is relatively common in the US, critics say it leads to poor corporate governance. They say dual-class shares open the door to related-party transactions, self-dealing, preferential treatment of shareholders and potential entrenchment of management against any corporate takeover bid.
Return on investment also comes under attack. Studies have shown companies which adopt dual-class share structures tend to underperform over time, when compared to those with single-class structures. The argument holds that firms with stronger shareholder rights have higher values, higher profits, increased sales growth and lower capital expenditure.
Baptist University's Mak is adamant that Hong Kong's regulators should maintain their stringent standard for regulating IPOs, to protect the city's reputation as an international financial center.
"Because of the stringent standards, corporate fraud cases seldom emerge after corporations are listed on the Hong Kong stock market. Hong Kong should not show leniency to Alibaba just because the proposed listing will enhance the IPO volume in Hong Kong, and boost the overall capitalization level of the e-commerce sector on the Hong Kong stock market."
Not everyone agrees. Simon Lee, a senior lecturer at Chinese University of Hong Kong's business administration faculty, offers a different perspective.
"The city's bourse needs to uphold the corporate governance standard, but it should also be flexible to satisfy Alibaba's demand to maintain its dual-class share structure after listing. Otherwise, it will crimp the competitiveness of Hong Kong as a major listing venue," Lee says.
Dual-class share structure used to be rare and confined largely to family-run enterprises or media companies where they could be justified as protecting the company's public mission. Since US technology giant Google adopted the dual-class structure for its IPO in 2004, this type of share arrangement has become a popular choice among technology companies.
"Alibaba needs managerial flexibility to maintain stable leadership amid the pace of rapid technological development, and that has to be facilitated by the dual-class share structure. Alibaba is a successful mainland e-commerce company and I don't think it wants to cheat investors through the dual-class share structure," Lee says.
He adds that the HKEx can make more stringent requirements regarding risk disclosure on investing company stocks with dual-class share structures, and if the local bourse permits, dual-class shares can be accepted in IPO activities.
"The HKEx can ask companies to disclose all information concerning their dual-class share structures so investors are fully aware of the potential corporate governance risk. After they know the risk, whether or not to invest is their responsibility."
And what of HKEx? Asked whether the exchange will mull a proposal to allow dual-class share structure in future IPO fund-raising activities, an HKEx spokesman tells China Daily that "HKEx will not comment on individual cases or media reports."
Contact the writer at oswald@chinadailyhk.com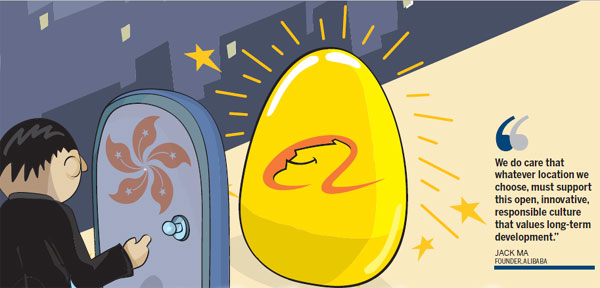 (HK Edition 09/20/2013 page1)