Investor protection laws should not impede Alibaba's HK listing plan
Updated: 2013-09-13 07:15
By Andrew Mak(HK Edition)
| | | | | | | | | |
| --- | --- | --- | --- | --- | --- | --- | --- | --- |
|   | | Print | | Mail | | Large Medium  Small | 分享按钮 | 0 |
The Financial Times on both Sept 8 and 9 reported that Hong Kong was about to lose a listing opportunity for a big e-commerce giant: Alibaba. For an anticipated flotation at $60 billion this sounds serious enough. The Financial Times said the events could see our city lose the listing to New York.
The arguments went as follows. Jack Ma, Alibaba Group founder, said customers are number one, employees number two, and shareholders are number three at critical times. What that meant was Alibaba is trying to ensure that in difficult times investors will not be able to derail the company from its chosen path. The question is about minority shareholder or investor protection and Hong Kong as a financial center. The Alibaba Partnership at present is made up of 20 top executives. They are in charge of running the business day-to-day. The partnership was formed in 2010 to preserve the culture of Ma and the other founders long after they have left the business. However, the objective for Alibaba to keep control over its board is said to be in conflict with the determination by some people in Hong Kong to defend principles of investor protection.
The sad result, it is suggested, would be that Hong Kong will lose the biggest and brightest listing it has had the opportunity to secure since insurance group AIA, while the Hong Kong Stock Exchange would miss a highly lucrative client. This is a bit of an exaggeration although it serves against any suggestion of complacency for our stock exchange.
What is rumored to have been proposed by Alibaba was that the Alibaba Partnership control the board by having the right to nominate a simple majority of directors, although shareholders would vote on each individual name. The reason for this was that the partnership has been highly influenced by Google's defence of its control of shareholder voting rights.
However, from a regulatory point of view, what is regrettable is the suggestion that, allegedly, in Hong Kong, corporate governance still dramatically lags behind its regulator's principles in this small city, which has a limited pool of independent directors, and whose stock market remains dominated by a tight group of aging tycoons.
Such criticism would appear to be rather outdated. The recent Hong Kong company law reform would bear witness to this. The new Company Ordinance will carry a new regime with long and complicated documents that is comparable to the English Companies Act.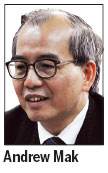 One matter may be of interest to the Alibaba management. While stability in management is called for, the US experience over such "dual-class control structures" is mixed. In the case of Google, the shares seem to have performed strongly and the company has the freedom to pursue multiple strategies from the highly successful Android phone software to the rather amusing Google Glass wearable device. For companies such as Groupon and Zynga, which have been relatively less successful, a dual-class share structure has been seen as an impediment to much needed change.
I am sure that no one knows better than the Alibaba management what they want. However, Hong Kong is the natural home for the Chinese mainland's biggest private companies and it is equipped with the best corporate governance regime of which it has always been rightfully proud. Hong Kong has a strong and highly respectable judicial system which has no hesitation in defending the rule of law.
In some quarters, it may be suggested that our Securities and Futures Commission (SFC) is a bit of a dinosaur, too big to consider any proposal that does not seem to be heading towards investor protection. However, whether true or not, when it comes to the judicial review of decisions of the regulators, the experience has been that our court system has never failed to strike the right balance of the protection of management and the minority investor interests. This is why Hong Kong is often seen to be just as easy a place for a flotation as New York. Perhaps this can make Alibaba's management think twice.
The author is a HK barrister and chairman of the Hong Kong Bar's Special Committee on Planning and Policy.
(HK Edition 09/13/2013 page9)