Reflections through yesterday's looking glass
Updated: 2013-09-13 07:12
By Li Yao(HK Edition)
| | | | | | | | | |
| --- | --- | --- | --- | --- | --- | --- | --- | --- |
|   | | Print | | Mail | | Large Medium  Small | 分享按钮 | 0 |
As Chinese culture extends its influence, gaining popularity around the globe, a Hong Kong publisher is playing a vital role. In a massive, ongoing undertaking, he has invested a huge sum to make the Siku Quanshu, the ancient Chinese encyclopedia, available in digitized form. Li Yao reports.
It was the brainchild of Emperor Qianlong, Siku Quanshu, or The Complete Books of the Four Imperial Repositories. Qianglong, who sat on the imperial throne during the Qing Dynasty (1644-1911), set himself the task of preserving and restoring Chinese culture. In 1773, he began work to carry out his unparalleled ambition to compile the world's largest encyclopedia. It was to be the signature achievement of his reign.
The encyclopedia contains a myriad of records revealing how people lived in bygone days; their aspirations, yearning, worries and day to day trials. Even the way people sought entertainment and the hobbies of former times show how little people have changed.
Thousands of scribes, toiled for over 10 years, brush pens in hand, copying, word by word, some 3,000 works selected for the grand compilation.
The emperor was pleased with the completed work and demanded the preparation of six more copies.
The copies were distributed to important libraries, and there, became swept up in the tide of history. Some were burnt, some were pillaged in the wars and rebellions that plagued the nation during years of upheaval. Some were damaged while being relocated.
The copy that Qianlong sat reading survived and resides today in the National Palace Museum in Taipei. The other three surviving copies are kept in Beijing, Lanzhou and Hangzhou.
Today, accessing the hand-written copies is a rare privilege for a few scholars. But the complete encyclopedia may be viewed online. Digital Heritage Publishing, a Hong Kong company, developed an electronic version that is available through subscription. As China studies have gained momentum globally, the electronic Chinese encyclopedia has drawn subscriptions from 794 universities and research institutes in 20 countries. The number is continuing to grow with new subscribers just recently from Belgium, New Zealand, Israel and Malaysia.
Gabriel Yu, the publisher, has invested HK$50 million in the digitizing effort. He hired 200 programmers to create a pool of 80,000 Chinese characters that can be recognized and typed on computers. The technique, optical character recognition, converts scanned images of the handwritten texts into computer-encoded data entries. It allows electronic searches and common word processing features, highlighting, bookmarking, copying, pasting.
The sheer volume of the historical collection is overwhelming. No one ever has claimed to have read the complete body of works. There's no question of its value for academic research. Scholars don't have to pore over library catalogues to find material on given topics.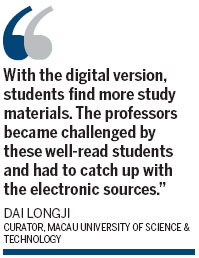 Dai Longji, curator at the Macau University of Science and Technology, said the digital Siku Quanshu is popular among professors and students.
"Students are more tech-savvy. With the digital version, they find more study materials. The professors became challenged by these well-read students and had to catch up with the electronic sources," Dai said.
Steve Ching, the Librarian at the City University of Hong Kong, will soon open a learning commons for studies in ancient Chinese texts. There, Ching promises a quiet space and an engaging atmosphere that he hopes will encourage professors and students to sit and savor the works of ancient sages.
Ching believes not only professors studying history, Chinese language and philosophy are likely to be interested. Teachers and students from engineering, business, agriculture and medical schools are also encouraged to use the facility. The encyclopedia includes titles in all those fields.
Richard Wong, a second-year law student, makes frequent reference to the digital Siku Quanshu. Wong practices Chinese calligraphy, and believes his work requires a thorough understanding of the original roots of his calligraphy interpretations.
He's especially fond of Sun Tze's Art of War. The parallels between the past and the present day fascinate him. "In war, there are no fixed situations, as water has no constant shape. Those who can adapt to the changing conditions of the enemy and win may be considered legendary in warfare," Wong cited a famous line of Sun Tze's work. "It sounds so familiar in today's business world. It tells us how to deal with market competitors," Wong said.
Contact the writer at liyao@chinadaily.com.cn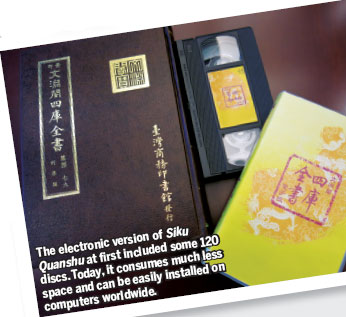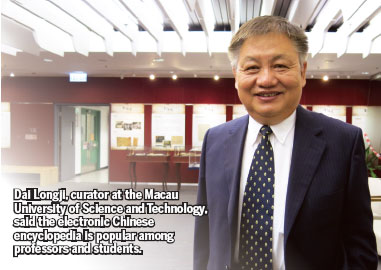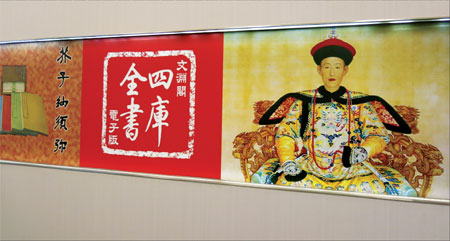 (HK Edition 09/13/2013 page4)