Now we're talking
Updated: 2013-09-06 06:46
By Lin Jing (HK Edition)
| | | | | | | | | |
| --- | --- | --- | --- | --- | --- | --- | --- | --- |
|   | | Print | | Mail | | Large Medium  Small | 分享按钮 | 0 |
'Chat apps' are threatening to steal ground from social media and e-commerce platforms with China setting an agenda for the West to follow. Lin Jing reports.
China's netizens have taken liberties with the electronic paradigm to the extent that they now represent the greatest - and fastest growing - number of "chat app" users. Chat apps - for those still routing messages the old-fashioned and expensive way by SMS - not only allow face-to-face conversations over a smartphone, they also have third-party messaging services that don't use a carrier's SMS delivery system but instead push messages through the mobile device's data connection, allowing users to avoid paying SMS fees. Called over-the-top (OTT) apps, they are creating a seismic shift across the electronic realm and even threatening the dominance of social media and e-commerce platforms, as well as telecom operators, which for years have relied on SMS revenues.
And China isn't just leading the chatter, it's setting a new global agenda. Analysts say the sudden spread of chat apps could augur the first premium mobile devices that challenge the dominance of Facebook and Google as users increasingly shift to MONET - the mobile Internet. China, and its flavor of the moment messaging app WeChat, is winning the race. And what happens next in China, experts say, will happen in the West.
Of the 36.6 billion messages sent per day throughout 2012, 19 billion were sent from mobile chat apps, while 17.6 billion were via conventional SMS. Internet specialists predict mobile messaging app users will send 50 billion messages per day, compared to 21 billion text messages.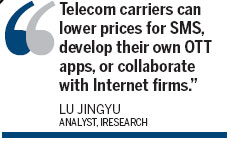 As a result of the threat to their SMS income streams, telecoms companies can't climb into bed fast enough with the mobile messaging app business. On Aug 19, NetEase teamed up with the mainland's biggest fixed-line telecommunications operator China Telecom. The joint venture, Zhejiang Yixin Technology Co, will develop and expand its newly launched mobile messaging application Yixin.
Yang Jie, general manager of China Telecom, says Yixin combines the resources of both parent companies and will offer differentiated services on its app; for example, Yixin supports sending voice messages to any mobile or fixed-line numbers for free, a big plus over WeChat. The latter provides stickers to buy inside the application, but on Yixin, the stickers are free. The biggest challenge facing Yixin may be how to make its app more commercially profitable.
The latest venture presents a bold challenge for WeChat, China's most popular mobile messaging app at present.
China Unicom
In July, WeChat entered into partnership with China Unicom, the mainland's second largest telecom carrier, which launched the first subscriber identification module card, customized for WeChat.
The card went on sale, Aug 8, in Guangdong. The SIM card provides online top-up services, higher traffic volume and faster Internet access to WeChat users.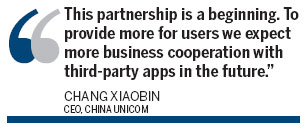 Chang Xiaobin, Unicom CEO, said that the non-exclusive cooperation with WeChat will increase his company's client base, even though it won't financially profit from the deal.
"The partnership is only a beginning." There's more to come, he says. "To provide various services to our users, the company expects more business cooperation with third-party apps in the future."
However, WeChat has loftier ambitions still. Parent company Tencent has demonstrated its influence, accumulating hundreds of millions of users on QQ, the instant messenger service developed in 1999.
In its first-half earnings report for 2013, the monthly active usage (MAU) of WeChat reached 236 million, a 177 percent year-on-year increase.
The company also stepped up marketing of WeChat in international markets, such as the US and Europe. By June, the app had 50 million registered overseas users with its popularity still growing.
Celebrities have been riding the WeChat wave too; Selena Gomez, John Cusack, Paris Hilton and most recently soccer royalty Lionel Messi have all signed up to burnish their images on China's chat app bandwagon. Data from iResearch shows monthly time spent on WeChat reached 440 million hours in May, ranking it first among all social networking site (SNS) apps, and followed by Sina Weibo at 170 million hours.
WeChat is no longer just an SNS app, but a platform for media and business. Starbucks, an early corporate debutant on WeChat, asked its mobile users to tell them what mood they were in by sending an emoticon. In turn, the coffee chain responded with a song matching individual users' moods. Durex used WeChat for an interactive marketing campaign in which bashful users could contact Durex staff to ask sensitive questions via the chat app.
Corporate marketing departments, eager to reach China's gargantuan customer base, are waking up to WeChat which makes it easier to track an advert's effectiveness because each WeChat account links to just one person's phone number. Where Facebook is mass and its ad success hard to measure, WeChat users get to share the corporate love and feel more intimate.
Aiming to go beyond mere messaging, WeChat is hoping its next stage of development will exploit digital advertising, mobile payment and gaming potential. Last month's launch of WeChat 5.0 comes with a host of new features, allowing users to integrate bank accounts with the app and buy online. Users can also download and play mini games and share results with their WeChat friends.
The changes are regarded as a further step for WeChat to tap into its already huge user base. E-commerce platform Yixun.com, also part of Tencent group, supports purchases from WeChat buyers. Users can select goods on Yixun.com, and choose "pay via WeChat". They enable their WeChat app function to scan the QR code generated, and pay through their integrated bank account.
The rise of OTT
Lu Jingyu, analyst with iResearch, a Beijing-based Internet consultancy, says it's inevitable that OTT services will replace voice calls and SMS, while telecom operators must learn to adapt to the shocks generated by Internet companies.
"There are several strategies telecom carriers can choose: lowering their price for voice calls and SMS services, developing their own OTT applications, collaboration with Internet companies, or develop OTT apps with other leading carriers," says Lu.
He says that compared to the fee for WeChat, Yixin's free service will give it an advantage.
There's much at stake. The 31th Statistical Report on Internet Development in China issued by China Internet Network Information Center (CNNIC), states there were 564 million Internet users in China by 2012, up 5.09 million from 2011. Mobile users number 420 million, a 6.4 million increase from the previous year. Of those, 83.9 percent, or 352 million, are mobile messenger users, up from 290 million.
Smartphones have become indispensable tools of daily life in Hong Kong too, which has the highest regional penetration rate. Ninety-six percent of the city's users enable smartphones to browse the Internet every day, followed by Japan (94 percent), Singapore (93 percent), and Korea (92 percent).
Given the prize, foreign players have been circling China's chat pool. California-based WhatsApp, developed by two former Yahoo! veterans, had 250 million monthly active users globally by June. Originally the app charged users for every download. Yet, the design and features of this app remain quite simple. LINE, developed by NHN Japan, entered the market in May 2011and has 200 million users globally. What differentiates LINE from other apps is its hilarious cartoon emoticons and pictures. These are so popular the company even produces toys for sale in convenience stores. LINE generates its revenue from sales of games and other products. From April to June, the group made $132 million, up by 348.9 percent from last year. Though successful in Asian markets like Japan, Korea and Taiwan, its share on the Chinese mainland remains small.
Yixin's challenge
While such brands test the water, the industry - and most especially China's largest e-commerce company Alibaba - is closely watching Yixin's challenge to the ubiquitous WeChat. As a new player, can Yixin lure enough users from WeChat? Ding Lei, founder and CEO of NetEase, said Yixin is a strategic move into the mobile SNS sector for the company. He added that the domestic mobile instant-messaging market is far from saturation and Yixin will offer more choices.
Yixin hopes its free services and products will help it gain ground on competitors. However, the app is still in the primary stage of development and lacks the robust entertainment features of WeChat. But the app allows users to send free SMS and free voice mail to a cell phone, even if the receiver is not installed with Yixin. It is an encouraging feature, considering WeChat users cannot contact a person still using a normal cell phone.
Cao Di, senior analyst with iResearch, says that for instant messengers, smooth communication and sophisticated social networks are more important than anything else.
"If users cannot reach their friends in a timely manner, or could not find their social contacts in the new app, the app will lose its charm, no matter how fancy the many emoticons are, or whether it is free or not."
Price-sensitive mobile users may treat Yixin as a free voice mail app, a WeChat supplement, adds Cao.
Meanwhile, the the noise ratio's rising.
Contact the writer at linjingcd@chinadaily.com.cn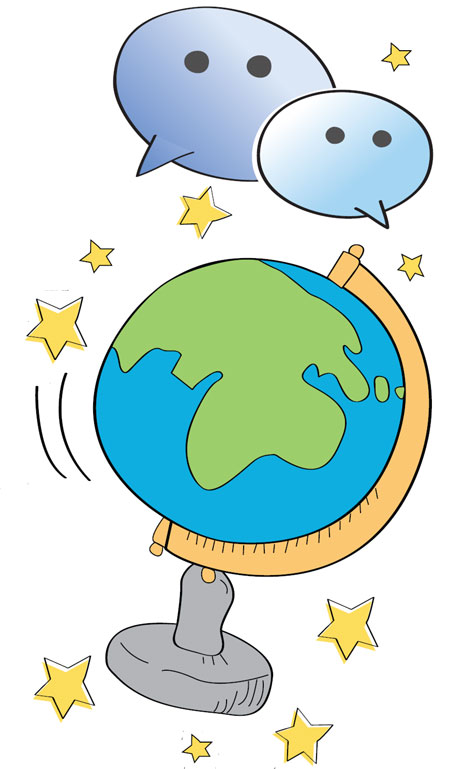 (HK Edition 09/06/2013 page6)