Low interest blamed for sperm bank depletion
Updated: 2013-08-30 07:44
By Timothy Chui (HK Edition)
| | | | | | | | | |
| --- | --- | --- | --- | --- | --- | --- | --- | --- |
|   | | Print | | Mail | | Large Medium  Small | 分享按钮 | 0 |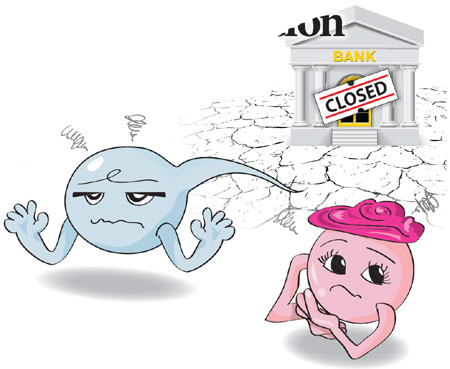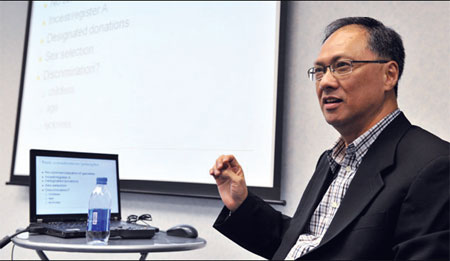 Chairman of the Council on Human Reproductive Technology Gregory Leung wants to resurrect anonymous sperm donation in Hong Kong after the city's last bank went bust in 2008.
Donations of sperm and ova have all but dried up at the city's fertility banks, as experts claim Hong Kong's restrictive laws are making matters extremely difficult for infertile couples wanting to have a baby. Timothy Chui reports.
A married couple want to have a baby. The wife is barren, so rather than giving up hope of a family, the couple knock on their neighbor's door, and in the age-old tradition of neighbors ask, politely, ahem, may we borrow one of your eggs? The woman agrees to donate one of her eggs to be fertilized by the father-in-waiting, and a live baby makes its entre some nine months later. All's well and bliss prevails, until the "natural" parents, being, the natural father and the donor mother, come to a mutual accord, "that was so good, let's do it for real" and enter into an affair of the heart. The two authors of this contretemps consider cutting out the man's wife, extinguishing her rights as parent to the child. True story. It didn't happen here, fortunately enough. It did happen in Singapore and it could happen in Hong Kong.
If the donor had been anonymous, this regrettable denouement probably never could have happened, but as a result of the prevailing Hong Kong law, more than 90 percent of sperm and egg donors are known to the couple that wants to have the baby.
The law came into effect five years ago, and experts in the field say it's a nightmare - even in the absence of horror shows like the one in Singapore.
In Hong Kong, donors usually are friends or relatives of the couple that wants to have a baby. The problems, arising from in vitro fertilization (IVF), likely arise after the baby is born. Strained or awkward family relationships make their appearances - and are capable of stirring up enough fervor and intensity to tear apart friends and families, the head of Hong Kong's in vitro fertilization regulator told China Daily. Donors, the biological fathers and mothers, often feel deprived of their natural rights when not given a say in the child's upbringing, and any attempt they make to play an active role may prove most unwelcome.
Ugly rows seen
Rows over how to raise a child between a wife and her mother-in-law can be ugly enough. Imagine for a moment, however, the sister-in-law who provided the ovary that allowed the child's parents to side step biological impairments and legal limitations to bring a child into the world, outside the normal course of things. That can get even uglier.
"The welfare of the child is our major concern. We made it happen. He or she would not have come into this world [without us,]" chairman of the Council on Human Reproductive Technology Gregory Leung Wing-lap said.
He's the one who supervises the doctors who help infertile couples conceive, and he thinks anonymous sperm and egg donations would go a long way toward preventing post-IVF family trauma. But, there's no motivation for local donors other than bonds of family or friendship. Payments to medical donors are prohibited under Hong Kong law - to protect the needy from exploitation. And if a willing donor were so indiscrete as to advertise in the local papers, he could be prosecuted.
There are channels for those willing to make free donations but none of the city's licensed clinics really can be bothered to get involved.
The UK and Canada also outlawed payment for anonymous donations in 2005. The US is one of the few remaining countries to sanction payments, which has made it the global leader in sperm exports, ahead of some continental European nations.
In New York City, male donors can collect up to $50 dollars for viable sperm samples - enough for a part-time job. Women get paid around $8,000 per donated egg because the procedure to extract eggs is more time-consuming, invasive and involves minor surgery.
Hong Kong had a collection of sperm banks in the 1970s, offering a few hundred dollars per viable sample - equivalent to around HK$2,000 today, adjusting for inflation. The clinics operated within a legal grey area. It took nearly three decades before the city's local reproductive technology law was drafted, debated and put in place.
Hong Kong's last anonymous sperm bank, run by the Family Planning Association, closed in 2008, shortly after the restriction on donor payments came into effect.
"My understanding is Hong Kong males are just not that generous. They just do not want to donate sperm," Leung said.
Leung wants to create a new sperm and egg depository because he thinks there's going to be a huge demand not long into the future. Leung admits his vision may be stillborn because of the law prohibiting payment to donors - and he had a hand in drafting that legal framework when he was with the Health and Welfare Bureau.
"There were two sides to the debate. One thought: since the technology is there and with so many infertile couples, why not give them a chance? The other side believed it involved something that was unnatural and against God's will. These opposing viewpoints, as well as the ethical and legal ramifications, resulted in the formulation of a very tough law," he said.
The spirit of the law is, in essence: "We won't stop you, but we won't do anything to encourage you. The government takes a neutral stand," Leung said.
"The second principle was we did not want to see commercialization. We did not want people to sell eggs and sperm. We didn't want people to start selling body parts. It's an inheritance from the British days. The British belief was that if you started charging for blood, there would be no more blood donations. Taken further, it would become a system where only the rich had access," he said.
Pigeon holing couples
Nearly all IVF cases involved known donors after the law was implemented and sperm banks gone, he said.
Leung adds, we are pigeon holing couples into selecting known donors and the associated complications further down the road because there are no avenues for anonymous gamates.
Over the past five years, more than 200 couples, including mainlanders, have undergone IVF treatment -working with donors who are friends or family members. The service is also open to foreign couples whose marriages are recognized under Hong Kong law.
Forget about receiving IVF in Hong Kong if you are in legally recognized civil union in your home country, a legally married homosexual couple or any financially independent, professionally successful woman who is more focused on having a baby before it's too late than finding the perfect man.
In the meantime, millions of dollars of potential medical tourism business is being lost to Taiwan, Singapore and Thailand, according to experts.
A handful of specialists who carry out IVF in their practices feel great antipathy toward the council and the law which the physicians regard as archaic and reactionary, Leung confesses.
Specialists who asked not to be publicly identified told China Daily dozens of eligible couples are referred out of the local health care system every month and another half dozen are rejected because they do not satisfy the local marriage requirement.
"Hong Kong's recognizing only married couples' rights to IVF was socially backward and limited the number of prospective clients," one long-time practitioner said.
The marriage requirement was by no means strictly enforced. A couple not qualified under Hong Kong law was able to work around the rule by putting their names on a marriage certificate they downloaded from the Internet and printed.
"Taiwan has a great egg donation program as well as Thailand. I send all my clients there. In Taiwan, there is an official nutritional fee of around HK$20,000 for egg donations. They have tonnes of eggs there. We've got to be realistic," he said.
Visitors coming to Hong Kong for IVF treatment could pump around HK$150,000 into the local economy, not including travel costs and counseling costs.
"The whole world is moving towards medical tourism. Chinese patients are starting to prefer Singapore. Hong Kong's system is turning away money. The rules were set up 15 years ago and there is a huge potential market," he said.
"China still has a one-child policy. The fines are 200,000 yuan net, not including penalties such as school placements, and if the husband works in government he will lose his job. If someone on the mainland wants to have a second child, don't you think they would beg, steal and borrow to raise HK$200,000 to get IVF in Hong Kong and have their child here?" he asked.
"It's a vicious cycle. If more people are allowed to have IVF performed in Hong Kong it will prompt more people and their money to come here," he said.
Contact the writer at tim@chinadailyhk.com

(HK Edition 08/30/2013 page3)