Emergence of S Korea from financial crisis a lesson for HK
Updated: 2013-08-27 06:48
By Li Kui-wai(HK Edition)
| | | | | | | | | |
| --- | --- | --- | --- | --- | --- | --- | --- | --- |
|   | | Print | | Mail | | Large Medium  Small | 分享按钮 | 0 |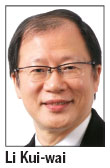 The South Korean economy literally went bankrupt during the Asian financial crisis as the country's reserve was exhausted. In general, welfare assistance in South Korea is much weaker than that in Hong Kong. But today, South Korea is a leading economy with strong technological leadership in some areas, notably in the electronics and microchip industries. In the past, Korean industrial products, such as electronics and motor cars, were always regarded as inferior to Japanese products in their design, quality, and brand names. Today, Japanese industrial producers have to "fight back" in order to recapture their lost market share.
How did the South Korean economy transform and excel in world markets? The outbreak of the Asian financial crisis was a big blow to a number of industries, which had been protected through government subsidies and assistance for a long time. Typically, large export-oriented corporations were supplied with low-cost bank loans. The "too big to fail" belief was shattered by the crisis. South Korea was faced with the problem of "excess capacity", where its large industrial capacity did not coincide with sufficient demand in both domestic and foreign markets.
At the peak of the financial crisis, many large corporations were sold to foreign business, and the injection of foreign investment, partially due to the fall in exchange rates, rescued them. Simultaneously, and in addition to continuous technological progress, efforts were made in both the design and marketing of South Korea's manufactured brand-name products. Massive advertising campaigns appeared in emerging economies in Asia and other continents, boosting the image of their products worldwide. Product design was aggressively promoted, replacing the "Japan-look" with a more contemporary aesthetic that could compete with Japanese products.
Other than in manufacturing, South Korean businesses also revived. In the 1980s, Hong Kong movies and Cantopop were so popular in overseas Chinese communities and South Korea. Today, through the export of movies, TV series and music production, Korean culture has in turn captured much of the Hong Kong and Asia market, competing strongly with traditional market leaders.
What lessons can the Hong Kong economy learn from South Korea? First, welfare support has remained quite low, partly because of the large government debt and the threat of war. The outcome is that South Koreans fend for their own economic welfare and survival. Poverty and inequality exist, but the focus has been on job creation, enrichment in human capital and technology. The industrial capacity has remained large, not only in popular products such as mobile phones and computers, but also in heavy industries such as shipping. Together with the export of popular culture, new industries and services have developed, such as cosmetics and beauty.
Compared to the Hong Kong economy, which has focused mainly on finance and property, the South Korea excels in a number of industries and services, thereby diversifying economic risk and allowing the younger generation to have a wider range of possibilities.
The threat of war has its advantage as citizens tend to acquire a "siege mentality" or "prepare for a rainy day" attitude, meaning that economic stability and prosperity could become temporary should war or instability breaks out. Thus, maintaining a peaceful time and making economic progress is seen as a common goal. In the 1980s, demonstrations, especially by university students, were common and widespread. With improvements in their political arena over the years, typically with a more democratic and open government, social discontent subsided, while efforts geared to build a better economy increased.
The mainland economy has grown tremendously since the 1980s. It is time for Hong Kong investors to think more for the city, especially in the manufacturing sector. Recently, Hong Kong celebrated the 10th anniversary of the Closer Economic Partnership Arrangement (CEPA), which allows Hong Kong to export tariff-free to the mainland more than 1,700 goods' items. How extensively have Hong Kong manufacturers made use of such an export advantage? Would the mainland customs department be more open to Hong Kong exports, as permitted by CEPA? The South Korean lesson for Hong Kong is one of economic diversity, continuous progress and being prepared for a rainy day.
The author is an associate professor of the Department of Economics and Finance at City University of Hong Kong.
(HK Edition 08/27/2013 page1)