Rules on favors to lawmakers
Updated: 2013-08-24 08:09
By Hong Liang(HK Edition)
| | | | | | | | | |
| --- | --- | --- | --- | --- | --- | --- | --- | --- |
|   | | Print | | Mail | | Large Medium  Small | 分享按钮 | 0 |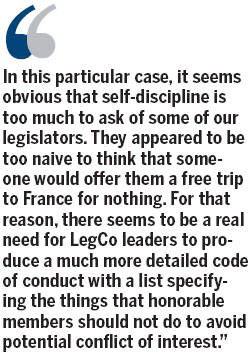 Any conscientious reporter would know that it's wrong to accept favors that could one day affect the objectivity of his or her reporting and writing. In fact, most of the major newspapers and agencies have explicit rules forbidding their editors and reporters from accepting gifts in any form or invitations to go on junket trips.
Unfortunately, this simple rule of discretion doesn't seem to apply to the politicians in Hong Kong. South China Morning Post reported that eight members of the Legislative Council, the law-making body, of different political stances went on a six-day trip to France organized and paid for by Cathay Pacific.
The trip took place at a time when Cathay, Hong Kong's flagship carrier, is lobbying to block the application for an air operator's license by budget airline Jetstar Hong Kong, owned by a consortium consisting of Shun Tak Holdings of Hong Kong, Qantas Airways of Australia and China Eastern Airlines. Accompanying legislators on the trip were a member of the powerful Executive Council, the policy-making body, a former chief executive of the Airport Authority and a present member of the authority's board.
Although some of those who went on the trip explained that they have no direct involvement in processing applications for air operator licenses, the potential conflict of interest seems most obvious. As journalists, we are, perhaps, more sensitive to such issues partly because the practice of buying editorial influence by showering favors on editors and reporters, especially those in the business sections, is so widespread in this part of the world.
Such a practice, so morally repugnant to news professionals, seems to fall into the grey area of the law. I once had a man arrested by the Independent Commission Against Corruption (ICAC), and convicted in court for offering me HK$200, quite a big sum in those days, for dropping the report on his company's irregular dealings. That was a blatant and extreme example of someone trying to influence the press by attempted bribery.
In most other cases, the approach is much more subtle. But we know it when we see it. There is absolutely no excuse in saying that we can accept favors that are given for no specific purpose or reason. That excuse is a sham because any sensible person knows that nobody offers a favor without expecting some return now or sometime in the future.
I am sure many Hong Kong people must be surprised to learn that the Legislative Council (LegCo) has no policy regarding such matters. Albert Ho Chun-yan, one of the legislators who went on that trip, said that LegCo had no decision-making power related to aviation. But he added that it was a good time for the council to review the policy on lawmakers taking sponsored trips.
But so far, there is no word from the council that it has initiated such a review which seems most pressing because the people of Hong Kong expect their lawmakers to observe an ethical standard that is at least as stringent as that applied to the journalistic profession. Although I don't personally agree with it, most people believe that legislators carry heavier responsibility than journalists and people in many other professions. For that reason, legislators should observe a more stringent ethical standard to avoid potential conflicts of interest.
In this particular case, it seems obvious that self-discipline is too much to ask of some of our legislators. They appeared to be too naive to think that someone would offer them a free trip to France for nothing. For that reason, there seems to be a real need for LegCo leaders to produce a much more detailed code of conduct with a list specifying the things that honorable members should not do to avoid potential conflict of interest.
I can still vaguely remember one of my primary school teachers who had composed a verse to remind us to clean our hands before eating, be polite to each other and refrain from running in the corridors or shouting in the playground. Perhaps our legislators need an easy-to-remember verse, so they can be reminded to behave in the proper manner.
The author is a veteran current affairs commentator.
(HK Edition 08/24/2013 page1)