Innovation, the cure for poverty
Updated: 2013-08-23 07:18
By Joseph Li (HK Edition)
| | | | | | | | | |
| --- | --- | --- | --- | --- | --- | --- | --- | --- |
|   | | Print | | Mail | | Large Medium  Small | 分享按钮 | 0 |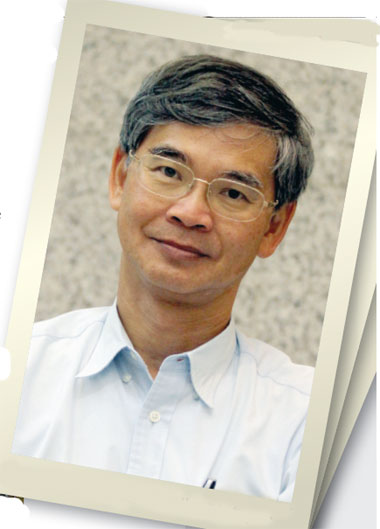 Law Chi-kwong says the poverty situation over the past two years has deteriorated despite easing a bit after the implementation of the minimum wage in 2011. Parker Zheng / China Daily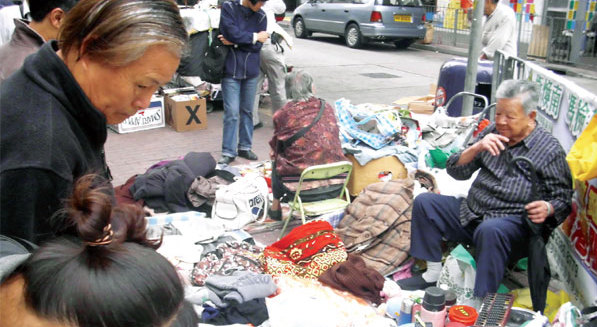 Nearly 1.3 million people live below the poverty line. Even when the different types of social welfare are considered, that number is still as high as one million.
Community Care Fund Chairman Law Chi-kwong reviews the poverty situation in Hong Kong, comparing it to a few years ago and assessing progress by the Commission on Poverty. He praises the commission, calling it a useful, flexible, cross-policy platform that brings together wisdom from non-government organizations and the business sector to alleviate poverty. Joseph Li spoke to him.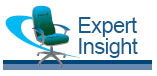 Law Chi-kwong says poverty in Hong Kong is growing worse, underscoring the need to re-establish the Commission on Poverty, of which he now sits as a member.
Law, who served on the commission's predecessor from 2005 to 2007, also chairs the commission's Community Care Fund Task Force.
To date, the Community Care Fund (CCF) has spent over HK$2.5 billion on 19 assistance programs designed to help underprivileged people who fall beyond the scope of social welfare programs and have slipped through the social safety net. They fall into several categories such as, elderly, disabled, single-parents, patients with chronic illnesses, new arrivals and ethnic minorities.
Pilot schemes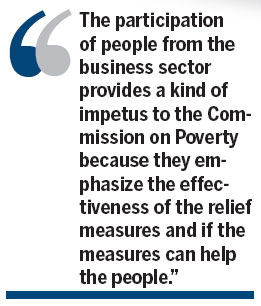 Some social service programs start out as pilot schemes before being transferred to the regular programs. Often implementation hinges on the availability of resources. Although the new poverty commission has been working for less than a year, Law says it is functioning well.
"The poverty situation is worse than the period between 2005 and 2007," Law said in an exclusive interview with China Daily. "Although the situation eased a little with the implementation of the minimum wage in 2011, statistics over the past two years indicate signs of deterioration." The international benchmark for measuring "poverty" is an income level less than half of the median household income. He estimates nearly 1.3 million people live below the poverty line. Even when the different types of social welfare are brought into consideration, that number is still as high as one million.
Law attributes poverty to deep-rooted economic and social problems. He also contends that certain government policies are not conducive to alleviating poverty and lifting people above the poverty line. So it is a good thing to have a new forum to discuss problems, identify the causes of poverty and seek solutions among representatives of government departments, non-government organizations and the business sector.
"At the meetings, it is sometimes good to put pressure on government departments because it is not easy for these departments to think and work alone," he laughed, adding, "Media opinions are a kind of pressure but we give the government departments more direct pressure when we see them face to face."
He cited an example. At a recent meeting of the CCF Task Force, discussions focused on financial assistance to seriously disabled persons - assistance that would allow them to rent equipment, buy consumables and pay living expenses. The Social Welfare Department objected to paying additional money for living expenses to people aged over 60, since those people already are covered by existing services. Members then asked the department to determine the number of people receiving benefit and the estimated expenditure before taking the next step.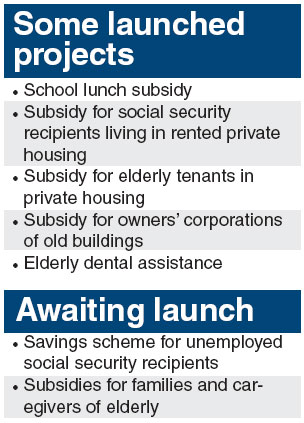 "The officials showed signs of reluctance because extra work was entailed," Law said. "Members asked if three months were enough time to find the answer and at first refused to commit. In the end, they spent only a week to trace the relevant information."
Business sector's role
Law also highlighted the business sector's role in the fight against poverty. Apart from giving donations, enterprises have become more deeply involved in organizing activities, deploying staff to act as volunteers and mentors for internship programs. They also arrange training, visits and placement opportunities for children/young people from low-income families.
In particular, he heralded the participation of businessmen Lau Ming-wai and Michael Tien Puk-sun, which, Law said, provided a kind of impetus to the Commission on Poverty.
"Lau Ming-wai is very zealous with his work. Since he looks at problems from the business sector's point of view, his input can help make our policies more complete. Even though he does not know the welfare issues well, the way he asks questions brings new dynamics to our work. The thinking of the government and NGOs is more complicated. The business sector's thinking is simpler and more direct as they always emphasize the effectiveness of the relief measures and whether the measures can help the people.
"Take the example of cash assistance to tenants living in sub-divided units in industrial buildings, Michael Tien is adamant that the government should assist them. His target is very clear that you (the government) must get the job done once the target is identified," Law said with enthusiasm.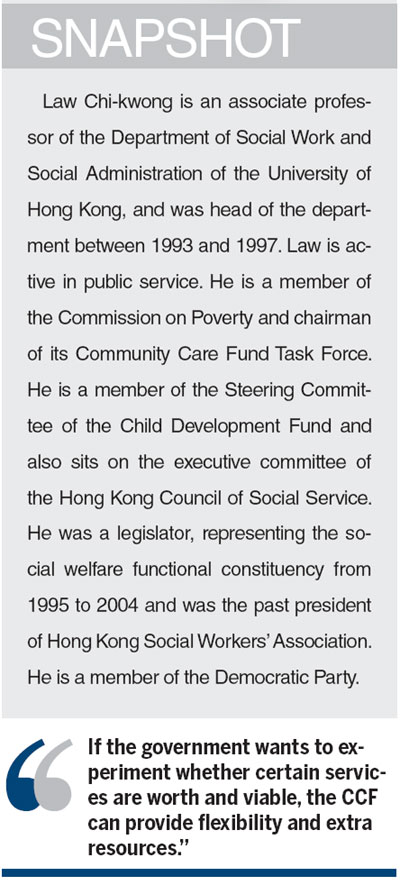 (HK Edition 08/23/2013 page8)