Work out an election system that serves Hong Kong well
Updated: 2013-08-20 06:35
By Ho Lok-Sang(HK Edition)
| | | | | | | | | |
| --- | --- | --- | --- | --- | --- | --- | --- | --- |
|   | | Print | | Mail | | Large Medium  Small | 分享按钮 | 0 |
Over the past year, Hong Kong has been embroiled in antagonistic confrontations. Chief Executive (CE) Leung Chun-ying has had a hard time pushing through his policy ideas. Some scholars blame that on his not having a political party background. If he had a party affiliation, then he would be able to get support from his party members in the Legislative Council (LegCo) for his policies, so goes the logic.
I find this logic spurious at best. If a policy is good, it is every LegCo member's responsibility to support it. If a policy is bad, then even members who shared the same political party affiliation as did the CE should not support it. I see little logic in "bundled voting" in a true democracy. Isn't it true that the democratic spirit should encourage every member of LegCo to have the freedom and courage to vote according to his conscience and best judgment?
Unfortunately, while LegCo members fail to take policy questions for what they are, and instead keep pestering the CE, many members of the public rally their support for or their protest against the CE, instead of focusing attention on real policy issues.
Fortunately, this criticism does not apply to the "Occupy Central" group, many of whom are investigating how to implement universal suffrage in 2017 for the CE election. My disappointment with them is only with their approach of threatening to disrupt the social and economic life of Hong Kong people if they could not have their way.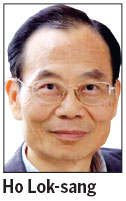 The "Occupy" group really has no reason to doubt the central government's sincerity in implementing an electoral system that serves Hong Kong well. Of course it is in the interest of the whole country that Hong Kong people are happy and that the economy continues to proper. If an electoral system is really good, why would the central government block it? The only requirement is that the system has to comply with the Basic Law and there should be little risk of threatening the "One Country, Two Systems" principle.
It is in this spirit that I come up with the following proposal. It picks up an idea by legislator Ronny Tong Ka-wah who suggests that we should look for mechanisms which can ensure that whoever wins out is not an extremist and is agreeable to both Beijing and the Hong Kong public.
My proposal consists of two parts. First is that there should be legislation requiring that the candidate, as well as the CE-elect, must respect the "One Country, Two Systems" principle. Should there be any evidence to the effect that he/she violates this pledge, the courts in Hong Kong can disqualify the candidacy, or terminate his/her tenure as CE should he/she have assumed office. Since it is the city's courts that will disqualify the candidacy or terminate the appointment rather than Beijing, there will be no fear of Beijing being seen as interfering with Hong Kong people's elections.
Second, I suggest that each voting member will have two votes, each of which can be used to signal positive or negative support for a candidate. The voter can use his two votes to support a candidate that he likes strongly, or divide the two votes among two favored candidates, or cast both votes to neutralize other people's support for a candidate that he dislikes vehemently. Suppose we have a candidate that is supported by 50 percent of the voting public, but the other 50 percent are vehemently against him. Those who are against his candidacy will effectively neutralize those who are for his candidacy. This means a candidate who gets say 40 percent support in the first round, but no negative support, may win out in the first round over the "extreme candidate".
The first provision is to ensure that the candidate will respect the institutions on the mainland in the spirit of "One Country, Two Systems". This will arrest Beijing's concern that he will become a troublemaker for mainland affairs.
The second provision will ensure that whoever wins out will be acceptable to most people in Hong Kong. Candidates in this category are likely to have milder and more reasonable views.
If we have these two provisions, then it is quite probable that any pre-screening for candidates for the CE post, if still deemed necessary, will be minimized. It is important for Hong Kong people to understand that Beijing has as much interest as Hong Kong people to appoint a CE who will do a good job serving Hong Kong, because as our first CE Tung Chee-hwa said, "When Hong Kong does well, the country does well; when the country does well, Hong Kong does even better."
The author is director of the Center for Public Policy Studies, Lingnan University.
(HK Edition 08/20/2013 page9)