From one edge to another
Updated: 2013-07-27 08:21
By Nicholas Brooke(HK Edition)
| | | | | | | | | |
| --- | --- | --- | --- | --- | --- | --- | --- | --- |
|   | | Print | | Mail | | Large Medium  Small | 分享按钮 | 0 |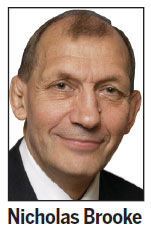 Hong Kong has long enjoyed a solid reputation for being among the most competitive cities in the world, owing to its traditional strengths, which include low taxation, strong rule of law, independent judiciary, intellectual property protection and the "One Country, Two Systems" framework. However, the world is changing, and Hong Kong is now being challenged by other metropolitan centers that want to catch up. Even though the Blue Book on Urban Competitiveness, jointly issued by the National Academy of Economic Strategy, Social Sciences Academic Press and the Competitiveness Research Centre, placed Hong Kong on top of its list of the most competitive cities in China once again -the eleventh consecutive year - the city can ill afford to grow complacent.
Though the SAR is synonymous with being a financial hub and popular travel destination, have traditional industries such as these helped or hindered its competitiveness? Viewed at a macro level, it would appear that Hong Kong certainly has the potential to be much more than it already is. The World Economic Forum's Global Competitiveness Report 2012 placed Hong Kong ninth among 144 economies, noting that the city had insufficient capacity to innovate. The report also remarked that further improvement in higher education and innovation would be necessary to sharpen the the city's competitive edge. The limited number of scientists and engineers presently available in Hong Kong was apparently thought to be stunting the city's ability to innovate. Similarly, the International Institute for Management Development's (IMD) World Competitiveness Yearbook 2013 placed Hong Kong third below the United States and Switzerland as the world's most competitive economy. Among the reasons cited for the two-place demotion included the lack of economic diversity and the need to catch up on the innovation and technology front.
The Chinese Academy of Social Sciences, a major think tank in the Chinese mainland, also noted that while Hong Kong topped 293 cities in the Blue Book on Urban Competitiveness, it was relying too heavily on the finance and property sectors, to the detriment of SME development. Furthermore, the Academy commented that Hong Kong's innovation and technology sector, as well as other local industries, were failing to develop and transform which, if left unchanged, would weaken the city's complementary relationship with its Pearl River Delta neighbors.
Despite the different reports, the message is clear; Hong Kong must seek a more diverse economy if it is to remain competitive, and in particular, allow innovation and technology to play a more significant role.
In respect of this specific economic pillar, the city has certainly gained ground on its neighbors in recent years, and even achieved critical mass in certain areas. However, to sustain momentum, innovation and technology requires not only financial support, but also a thorough audit of the industry and its players, leading to the establishment of a clear road map for future development. Before such a road map, Phase 3 of the Hong Kong Science Park offers one possible scenario of how progress might be realised. Given Hong Kong's invaluable ties with the Chinese mainland, it would be logical to establish satellite parks within the mainland itself. Like Phase 3 of Science Park, which focuses on green technologies, such locations would specialize in specific technology clusters. These satellites could potentially reap manifold rewards, including close proximity to production bases, lower start-up costs, talent exchanges and advantages related to the Closer Economic Partnership Arrangement (CEPA). Furthermore, the parks would complement the goal of creating an innovation corridor from which Hong Kong could bolster its position as a regional technology hub.
It is worth remembering that benefits derived from innovation and technology include job creation and enhanced quality of life, both essential for protecting the high standard of living to which Hong Kong people have grown accustomed. In addition to opening the way to new career paths, and thus encouraging young people to further their studies in science, technology and engineering, increased quality of life can help attract well-qualified professionals to Hong Kong, enhance productivity, reduce the cost of health care and mitigate social unrest. All of these positives are not only essential for raising our competitiveness, but also for creating a better Hong Kong, which is certainly a motivation in itself.
The author is chairman of the Hong Kong Science & Technology Parks Corporation.
(HK Edition 07/27/2013 page6)