It's development or nothing!
Updated: 2013-07-10 06:07
By Fung Keung(HK Edition)
| | | | | | | | | |
| --- | --- | --- | --- | --- | --- | --- | --- | --- |
|   | | Print | | Mail | | Large Medium  Small | 分享按钮 | 0 |
The government's plans to resume land around the Fanling golf course as well as farmland at Fanling North and Kwu Tung North deserve the public's unqualified support.
The farmland at Fanling North and Kwu Tung North in the New Territories, bordering Shenzhen, are suitable for public and private housing development. On completion, the 333 hectares of land can house 175,000 people. Land around the Fanling golf course, when developed, would provide housing for another 120,000 middle- and lower-class people.
The long-term strategic plans, drafted and pushed by Development Secretary Paul Chan Mo-po, could turn Chief Executive Leung Chun-ying's political fortunes around. Many young and middle-aged citizens alike have bitterly complained that they can't afford to purchase even a tiny flat and there seems to be no light at the end of the tunnel.
The two proposed development plans will offer nearly 300,000 people the hope of owning their homes or residing in a government-subsidized public housing apartment. The three tracts of land at Kwu Tung North, Fanling North and around the Fanling golf course are located close to each other.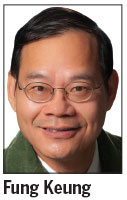 Government officials should be firm in making those projects a reality. They should be encouraged to turn a deaf ear to opposition from tycoons, many of whom play golf at Fanling, farmers and environmentalists.
Housing Hong Kong's needy should be the SAR government's top priority. If these housing projects go ahead, it will certainly win the hearts and minds of many grudging Hong Kong people, who so often complain that the politically hamstrung Leung administration has done or achieved so little since he took office 12 months ago.
Now it's time for the CE to show and convince Hong Kong people that he has not only a vision but also concrete plans to improve their living conditions.
Several pro-business lawmakers have said that turning the Fanling golf course into a residential complex is not conducive to Hong Kong's economic growth since many business deals are sealed as tycoons tee off there. This is nothing but red herring.
By developing the three sites together, the government can tell the world that it favors neither the rich (who play golf at Fanling) nor the grassroots citizens (who do farming at Kwu Tung North and Fanling North). This is a rare opportunity for the Leung administration to show the people that he's in charge. He should grab this godsend opportunity to fight back his critics.
It's ridiculous to suggest that if the Fanling golf course is gone, Hong Kong's economic growth will drop, as some pro-business legislators have insinuated. This is tantamount to suggesting that babies will die if they don't drink a certain brand of milk. The key is that "there are alternatives available". Businessmen can talk deals in Central's Hong Kong Club or, if they persist in contending that they can't talk business except while they are playing golf, there are other nice golf courses both in Hong Kong and Shenzhen. Travelling to Shenzhen is only an extra 10 minutes away from Fanling.
To the dozens of farmers in northern Fanling and Kwu Tung, the government can buy them out with attractive arrangements and compensation terms to enable them to live a happy life elsewhere. Any objections, if there are, should be muted. And, the argument by environmentalists that turning farmland into housing estates will ruin Hong Kong's ecosystem is just another decoy.
We'd better ask ourselves this question: When you're wandering on an empty street and have no place to stay overnight, would you have the mood to appreciate the street lights?
The answer is simple: Development or nothing.
The author is coordinator in the BSc in financial journalism program at Hong Kong Baptist University.
(HK Edition 07/10/2013 page9)