Tourism boom may not travel
Updated: 2013-06-08 05:36
By Jambon Chan(HK Edition)
| | | | | | | | | |
| --- | --- | --- | --- | --- | --- | --- | --- | --- |
|   | | Print | | Mail | | Large Medium  Small | 分享按钮 | 0 |
For the past few days, I have worked as a "tourist guide" to my friends from the Chinese mainland visiting Hong Kong. When they entered shops selling gold, clothes and computers, there was a twinkle in their eyes. "How cheap it is! Hong Kong is a shopping paradise!" they screamed again and again. In the end, they bought three new suitcases for their "captures".
Nowadays, Hong Kong is the "shopping mall" for the whole country. Mainland visitors' reasons for coming have been changing. In the early period after the handover, visiting Hong Kong was mainly due to four factors.
First, Hong Kong was governed by the British for more than a century, and mainlanders faced restrictions in visiting the city. Although Cantonese songs, movies, as well as television programs, were quite popular in the mainland in the 1980s, Hong Kong was still mysterious to most of the mainlanders. Therefore, they were eager to visit Hong Kong to explore.
Second, although the mainland has undergone rapid economic development, goods and services sold there were limited in terms of quantity, type and quality. Some mainlanders wished to shop in Hong Kong, although generally speaking, they thought the price level in Hong Kong too high.
Third, some mainlanders visited Hong Kong for short-term learning. And fourth, some visited their relatives since many Hong Kong people were born in the mainland.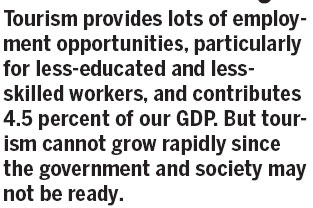 However, shopping has become the main purpose in recent years. There are also four reasons behind this: First, due to the differences in tax systems and exchange rates between Hong Kong and the mainland, which has seen an increase in the purchasing power of its citizens, more and more mainlanders think goods and services in Hong Kong are affordable; second, to many mainlanders, goods and services sold in Hong Kong enjoy a higher reputation, particularly in terms of quality; third, as Hong Kong is close to the mainland, with strong transportation networks and convenient cross-border procedures, mainlanders find it easy to travel to Hong Kong; fourth, as Hong Kong is an international city with a robust tourist industry, many products and services and fashions arrive in the Hong Kong market first.
If we look at these reasons carefully, we can see that they are closely related to "One Country, Two Systems". Otherwise, Hong Kong is just an ordinary mainland city. Whether Hong Kong can maintain its status as a tourist city depends on the existence of "One Country, Two Systems". Another thing we must note is that the visiting mode of mainlanders, especially those living in Guangdong province, has been changing from a few trips a year to daily visits.
Tourism provides lots of employment opportunities, particularly for less-educated and less-skilled workers, and contributes 4.5 percent of our GDP. But tourism cannot grow rapidly since the government and society may not be ready.
Fast-growing tourism produces some negative social impacts. The most important one is the direct conflict of interest between locals and mainland visitors. In recent years, when products such as baby formula are discovered to have problems in the mainland, or some products such as gold see price variations globally, mainlanders may purchase large quantities in Hong Kong suddenly. And the supply cannot meet the large and sudden demand.
When local people need to compete with mainland tourists for scarce goods and services, some of them may blame the tourists and the Hong Kong SAR government. In extreme cases, some may even suggest a restriction on mainland visitors. On the other hand, mainlanders would think that their purchases boost Hong Kong's economy and it is ridiculous to stop their visits. If this kind of problem happens repeatedly, and hostile sentiments accumulate, simple events may easily become big issues, which may have negative impacts on the relationship between people from both sides as well as cross-boundary policies.
The SAR government should regularly evaluate the development of tourism. It is advised to establish a mechanism for monitoring the supply and demand situation of requisite goods and services regularly. The agency involved should collect mainland market information, check available quantity and meet producers and service providers. These efforts can help the government react to any scarcity in supply promptly, effectively and efficiently.
The author is secretary-general of the Hong Kong Association of Young Commentators.
(HK Edition 06/08/2013 page6)