A tribute to centenarian Elsie Tu
Updated: 2013-06-04 07:12
By Lau Nai-keung(HK Edition)
| | | | | | | | | |
| --- | --- | --- | --- | --- | --- | --- | --- | --- |
|   | | Print | | Mail | | Large Medium  Small | 分享按钮 | 0 |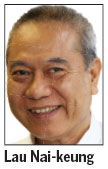 This piece was written on the 100th birthday of Elsie Tu. Her name might not ring a bell with our post-80s or post-90s, but for a lot of older people like me, Elsie is the only person worthy of the epithets "Hong Kong's Conscience" and "Mother of Democracy".
Born on June 2, 1913 in Newcastle, United Kingdom to a working-class family, Tu moved to Hong Kong in 1951 following a period as a missionary on the Chinese mainland. She became known for her strong antipathy towards colonialism and corruption, as well as for her work for the underprivileged.
In the 1950s and 1960s, Hong Kong was a lot poorer than it is today. That was a time when corruption was rampant, political representation and thus accountability were negligible, social welfare was close to non-existent, and most of the "white people" saw Hong Kong Chinese as inferiors. Elsie was one of the very few British who fought against the injustices of the British colonial government towards the Hong Kong people, and she fought the hardest.
In 1954, Elsie started Mu Kuang English School for poor Chinese children who otherwise could not afford an education with Andrew Tu Hsueh-kwei (who 30 years later became her husband). Without any money, they bought an army tent and began their first class with 30 students. Unable to afford hiring other teachers, Elsie and Andrew taught all the subjects for a while. Elsie even had to support the school by doing private tutoring and teaching in other schools. Every penny she earned went to Mu Kuang and to the students, and she lived a very simple life, mostly on bread and tea.
Elsie was not only a great educator, but also arguably the most devoted social activist of her time. In 1965, the Star Ferry applied for an increase of its first-class fare from 20 cents to 25 cents. This was widely opposed in Hong Kong. Elsie collected over 20,000 signatories opposing the plan, and flew to London in an attempt to arrest the plan. The increase in fare was given the go-ahead in March 1966 by the Transport Advisory Committee, where Elsie cast the only opposing vote. Public outcry to the fare increase sparked riots in April 1966. Elsie was persecuted by the government as a result, accused of instigating the riots, but never convicted of any charge.
During the 1960s and 1970s, Elsie was a fierce opponent of the corruption, then endemic in many areas of Hong Kong life, and the influence of the Triads. She also campaigned for better working and housing conditions for the poor. Though many in ruling circles disliked Elsie "rocking the boat", her efforts lead to the establishment of the Independent Commission Against Corruption in 1974.
Elsie was also one of the earliest democrats in Hong Kong. On her visit to London in 1966 she wrote a booklet named "Another Colonial Problem in the Making" complaining that Hong Kong people had absolutely no representation in the Legislative Council (LegCo), and lobbied for members of the English parliament to visit Hong Kong to see for themselves, since they did not believe that there were no elected representatives in LegCo!
With all her good work in Kwun Tong and her activism in city-wide matters, it was only natural that Elsie was re-elected term after term to the Urban Council (then the only public body with a partially publicly elected membership) since 1963. The impressive record was broken in the 1995 LegCo election by Szeto Wah, whose campaign targeted Tu's perceived "pro-Chinese" stance.
Elsie has devoted her life to the underprivileged and democracy, but the so-called democrats in Hong Kong treat her as if she is an enemy merely because, unlike them, Elsie does not want to interfere with politics on the mainland.
"In the run up to the 1997 handover of Hong Kong to China, Tu surprised many by finding favor with the Chinese authorities," her Wikipedia entry reads. "In post-1997 Hong Kong, although without a formal public role, Tu has consistently supported the Chinese government, being seen as a mouthpiece of Beijing, especially on contentious issues, to the disappointment of democracy advocates."
Can't a person who approves of the progress being made on the mainland still be a democrat? The answer is simple: Szeto Wah, Martin Lee and their gang have monopolized the authority to define who is and who isn't a democrat.
To hell with what the democracy czars say! Happy birthday Elsie, you are our family and our hero and we all love you! Please continue your good work for the people in Hong Kong. Good luck, good health, and God bless you!
The author is a member of the Commission on Strategic Development.
(HK Edition 06/04/2013 page1)