Who are the poor in our city, and why?
Updated: 2013-05-07 06:55
By Lau Nai-keung(HK Edition)
| | | | | | | | | |
| --- | --- | --- | --- | --- | --- | --- | --- | --- |
|   | | Print | | Mail | | Large Medium  Small | 分享按钮 | 0 |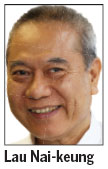 Oxfam Hong Kong recently published "Employment and Poverty in Hong Kong Families (2003-2012)," a report which claims that poverty among families of low-income workers has worsened in the last 10 years. The numbers are disturbing and worthy of consideration.
Between 2003 and the second quarter of 2012, the number of poor households (defined by Oxfam Hong Kong as a household whose monthly income is less than 50 percent of the median income for all households of corresponding size) in Hong Kong has increased from 403,800 to 451,000. This represents an alarming 11.7 percent growth.
However, in the same period, the number of people in these poor households increased by 4.5 percent, from 1,126,000 to 1,176,500. The poverty rate, defined by the number of persons in poor households over the total population, remains largely unchanged at 17.7 in 2003 and 17.6 percent in 2012. This means that poor households now have fewer members, which follows the general trend of decreasing household size in the city over the years.
One of the most alarming facts uncovered by the report is that in the second quarter of 2012, the monthly median income of the richest 10 percent of households was 26.1 times greater than that of the poorest 10 percent. Compared to 2003 where the top 10 percent of households had 23.3 times the income of the lowest 10 percent, the income gap has widened significantly.
An interesting question arises: why has the gap widened? From 2003 to the second quarter of 2012, median household income has gone up by 30.6 percent, from HK$15,700 to HK$20,500. Contrary to common belief, the share of income growth is not unfair for the middle class. The median household income increases for the 9th and 10th decile (the richest) groups are 25.7 percent and 25.0 percent respectively, both lower than average.
In the same period, the 4th to 7th decile groups (arguably "the middle class") saw their median household income raised by 28.2 percent, 32.1 percent and 27.8 percent, closer to the overall average and higher than the two richest groups.
If we look at the rate of household income growth for the 1st (the poorest) and 2nd decile, which are a pitiful 13.3 percent and 18.6 percent respectively, the reason for the widening gap becomes more evident.
Oxfam Hong Kong has made a number of policy recommendations as a result. They include using poverty reduction as the prime index for monitoring the impact of anti-poverty policies, subjecting the statutory minimum wage to annual reviews and providing a new Low-Income Family Allowance and promoting a positive public image of CSSA recipients. In addition to these general policies, a more in-depth study of who the poor are is also much needed.
It is useful to find out whether people in poor households are mainly elderly, single parents, or, say, young people without a university degree. These groups can be catered to much better with specific measures.
Oxfam's concern about the working poor can also be better addressed by a further study that tabulates poor households with occupations and industries. In this regard, a report of the Provisional Minimum Wage Commission (PMWC) published in October 2010 is worth referring to. The report defines hourly rates falling within the lowest decile of earnings as low pay, and low-paying sectors (LPS) as sectors employing a relatively large number or a relatively high proportion of low-paid employees within those sectors.
As such, the PMWC report found retail, restaurants, estate management, security and cleaning services as major LPS's in Hong Kong, and grouped other smaller LPS's into a fourth group as "others". In the second quarter of 2009, 30.6 percent of the employees within these LPS were low-paid, which was in sharp contrast to only 2.3 percent found in other sectors.
These findings suggest that the most effective anti-poverty measure might be an industry policy. In particular, it is high time we review the city's unsustainable tourism. In 2003, we received 15.5 million tourists who spent a total of HK$74.9 billion in Hong Kong. In 2011, 41.9 million tourists entered Hong Kong (up 170.3 percent), enriching us by HK$253.0 billion (up 237.8 percent). Some people obviously get rich through this tourist spending, but the rest of us get only crowded streets and low-paying jobs.
The author is a member of the Commission on Strategic Development.
(HK Edition 05/07/2013 page1)