Impact and implication of the dock workers strike
Updated: 2013-04-23 07:07
By John J. Liu(HK Edition)
| | | | | | | | | |
| --- | --- | --- | --- | --- | --- | --- | --- | --- |
|   | | Print | | Mail | | Large Medium  Small | 分享按钮 | 0 |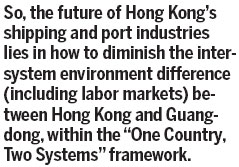 In a nutshell, a labor union plays a more effective role in a competitive market economy (i.e., under a "small government"), than in a central planning economy (under a "big government"). For example in the container port industry, Hong Kong port adopts a competitive market structure, while ports on the Chinese mainland and in Singapore are mainly centralized, where unions more or less play a symbolic role.
In the past, labor unions in Hong Kong were playing an effective role in resolving underpaid labor disputes at a fairer market level. However, there has been increasingly emerging an economy containing a mix of "small" and "big", especially as evidenced in those industrial sectors which are directly dependent on national infrastructure, such as shipping and the port industries. Indeed, the container port of Hong Kong has become more and more "mixed", with the majority of terminal operators in Hong Kong also owning, fully or partially, port terminals in Shenzhen and other ports on the mainland.
It remains debatable whether and how a labor union can play an effective role in a "mixed" economy, or specifically here in the port industry. Obviously, this emerging trend towards a "mixed" organization structure has profound impacts on industrial governance in general, to port governance in particular, and to the effective resolution of the dock workers strike specifically. As we can see already from the strike, it becomes more difficult and ineffective to resolve a labor dispute in a mixed industrial organization under a small government structure. One of the immediate complications is that a fair market level of labor pay under a mixed labor market is very difficult, if not impossible, to establish. This curtails the effectiveness, and even the justification, of the role that a labor union can play.
This emerging trend also has profound implications for infrastructure-dependent industries such as shipping and port businesses and trade supply chains, which have been taken as a traditional core of Hong Kong's economy. Here, infrastructure refers to national and international structural facilities and constructions, including transportation infrastructures and systems. On the other hand, Hong Kong has taken finance, real estate, tourism and trade as its real economic core, under a "small government" that only facilitates but does not directly participate in business activities. This strategic positioning has worked well so far for Hong Kong to grow its real core industries, while forcing its traditional core (i.e., shipping and the port sector) to adopt the aforementioned "mixed" organizational approach so as to avoid being further marginalized.
A major cause of the problem is that the infrastructure and system environment for the port industry is quite different between Hong Kong and Shenzhen (referred to as a high degree of inter-system environment heterogeneity), while this is not the case for the financial industry. For example, the average salary of a dock worker in Hong Kong is much higher than in Shenzhen (due to a high degree of environment heterogeneity for the port industry), while the salary of a bank loan officer is not much different on the mainland from Hong Kong, and is getting closer and closer to Hong Kong as the mainland is reforming its financial system towards international standards.
So, the future of Hong Kong's shipping and port industries lies in how to diminish the inter-system environment difference (including labor markets) between Hong Kong and Guangdong, within the "One Country, Two Systems" framework. I would consider that the movement towards a mixed port business structure by Hong Kong port operators (including HIT and MTL) is a plausible direction in diminishing the environment heterogeneity, but needs further big and bold steps in order to revitalize Hong Kong's traditional core in shipping and the port industries, which must be underpinned by the strong international finance system Hong Kong already has. One possible step is to expand Hong Kong's territory of success directly into Guangdong, as opposed to duplicating it separately from Hong Kong.
The author is a visiting professor and director of the Center for Transport, Trade and Financial Studies, City University of Hong Kong.
(HK Edition 04/23/2013 page1)