Why the city's movie business can't match Hollywood's industry
Updated: 2013-04-19 06:14
By Li Kui-Wai(HK Edition)
| | | | | | | | | |
| --- | --- | --- | --- | --- | --- | --- | --- | --- |
|   | | Print | | Mail | | Large Medium  Small | 分享按钮 | 0 |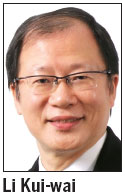 The 32rd Hong Kong Film Awards were held on Saturday. Hong Kong's movie world has quite a long history, and has become a brand name in Chinese and Asian communities all over the world. There have also been occasions when Hong Kong movies have caught world attention. However, like any other businesses and industries, film production in Hong Kong has seen both glorious days and inglorious slumps.
The 1980s was the golden era of Hong Kong movies, certainly in terms of the number of productions made. The growing popularity of the Internet and piracy has imposed huge challenges on the revenue side of the business. Television drama series and sitcoms have also diverted moviegoers from cinemas. There are always scapegoats people look for as reasons for failure. Which business or industry is not facing challenges and competition in one way or another? One can always look for external reasons, but what about the people and the businesses within the cinematic world in Hong Kong? Let's consider some of the economic reasons for the problems in Hong Kong's movie world.
The economic answer to the question of why Hong Kong cannot become Hollywood is that Hong Kong moviemakers consider movie production as a business, while Hollywood considers moviemaking as an industry. As a business, one is thinking of providing some financial input, having the movie made within a short time, then releasing it and counting the profits. Typically, if a moviemaking company injected, say, HK$15 million, the company expects to gain, say another HK$10 or 15 million in profit. This, then, is considered as a success. Like speculation in properties and stocks, moviemakers are considering film as another form of speculation in Hong Kong. One hears moviemakers saying they can make a project within a short time and/or capitalize on popular themes. The story of the kungfu master, Yip Man, has emerged recently in a number of movies. Another example is the popularity of certain gimmicks. When movies on gambling were popular, a number of films related to gambling were made within a short time.
There are other drawbacks in the production side of movies. Many celebrities use their financial ability to make movies, but often incur losses, as they are not business experts. Some movie celebrities basically "over supply" themselves, by singing, acting in movies, appearing in television programs, investing in moviemaking, interviewing on the radio, appearing in gossip magazines and newspaper columns, and in advertisements posted in shops and stations; they even get drafted into family-planning advertisements. In other words, local people can hear, see and watch the same person so often, so easily and in so many different media channels. You'd have to be a diehard fan of the celebrity to follow all their exploits. Would I pay extra to see and hear the same person again? Young celebrities think that the pattern of talent development (singing, acting in television and movies) is a path to success. Thus, many singers take up film acting in Hong Kong. But unless the person is very talented, they merely end up "over supplying" the market, resulting in diseconomies of scale.
Triad involvement has been a complaint leveled against moviemaking, as easy money can quickly be made. Some actors have repeatedly won best actor awards over many years, often consecutively. The kinds of movie being made are somewhat narrow, as foreigners think that Chinese historical movies and kungfu movies are our only specialties. Celebrities are basically entertainers, and many have not received a high education. Yet, their private life has aroused controversy, and some even made biased and unsophisticated political comments.
Through personal influence, the SAR government began subsidizing moviemaking. One wonders why the taxpayers have to aid the celebrities. Moviemaking by and large is a private business, and competition is a way to move ahead. Whether certain movies can sell to the mainland or world market should not be a government decision. Otherwise, other industries will seek the same degree of assistance from the government.
The economics of Hollywood is that Hollywood considers moviemaking an industry that consists of investors, developers, researchers and innovators. Although highly competitive, Hollywood promotes art experts, and training and development are provided to various sectors in the industry in order to prolong the business life of moviemaking. In the contemporary world, good movies are statues that serve as historic monuments. By contrast, Hong Kong moviemakers are indicators of good and bad stock, directed at making profits. Development, training and innovations are rare. The positive examples of the movie industry in Hong Kong would be Shaw Brothers in the 1960s and Golden Harvest in the 1970s and 80s.
Moviemaking in Hong Kong should not be a government problem, and is not a demand problem. The problem rests on the supply side. Short-term investment behavior could produce business profits, but moviemakers should think of the long-term survival and expansion of the "industry" that involves not only cost, but development, training, diversity, preferences, innovation and research and development. Consider moviemaking as the building of monuments and statues, not just gimmicks and personal fame.
Business cycles come and go, Hong Kong movies will experience their glorious days again, but having a proper economic mindset is an advantage.
The author is an associate professor at City University of Hong Kong.
(HK Edition 04/19/2013 page1)