No excuse for unacceptable terms
Updated: 2013-04-16 06:59
By Ho Lok-Sang(HK Edition)
| | | | | | | | | |
| --- | --- | --- | --- | --- | --- | --- | --- | --- |
|   | | Print | | Mail | | Large Medium  Small | 分享按钮 | 0 |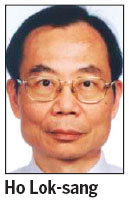 Hong Kong is one of the most globalized economies in the world. In the face of intense competition, it is understandable that profit-maximizing entrepreneurs will run their businesses in the most efficient way. Contrary to populist beliefs, making a handsome profit in the face of competition is proper and is commendable - provided a basic sense of responsibility and integrity is maintained. A profitable business model does not have to mean that the enterprise is uncaring to its employees and to its clients. It also does not have to forget a basic sense of ethics. Indeed, the contrary is true. A profitable business that is viable and sustainable over the long term has to be socially responsible. Corporate social responsibility (CSR) is not taught in business schools just to be forgotten in practice.
In this regard, the Chicago school of economics led by Nobel Prize-winning economist Milton Friedman either got it wrong or was mistaken. Friedman was quoted as having said: "There is one and only one social responsibility of business - to use its resources and engage in activities designed to increase its profits so long as it stays within the rules of the game, which is to say, engages in open and free competition without deception or fraud." If this is taken to mean that managers of corporations should have little responsibility in looking after the well-being of their workforce or in protecting the environment, and instead should simply focus on short-term profit-making within the scope of the law, he must be wrong.
The fact is that over the longer term, ignoring the needs and feelings of workers, ignoring the effects on the environment, and ignoring social safety will result in the enterprise having a high price to pay. Caring for CSR is consistent with the long-term profitability of the company. However, if Friedman's recommendation for maximizing profit is understood as maximizing long-term profit, then he is right - when it is understood that CSR is a precondition for maximizing long-term profit.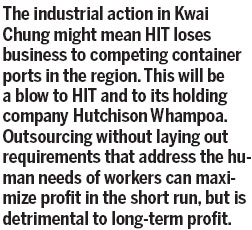 The recent industrial action at Kwai Chung container terminal is a case in point. The fact it dragged on for so long is certainly related to the fact that Hongkong International Terminals (HIT) is not the direct employer of the workers, who are instead hired by contractors and subcontractors. In theory, HIT can stay out of the dispute altogether, and it would be the responsibility of the contractors to ensure that the outsourced works are done properly according to the agreement between them and HIT. Alternatively, HIT could in principle hold the contractors responsible for not delivering what had been promised.
Blaming the practice of outsourcing would be wrong. In the face of global competition, reversing the trend of outsourcing specific tasks is unrealistic. To stay in business firms must be lean and efficient, and that would imply having to tender work to the contractor who does the cheapest and most effective job. But it will be wrong not to specify rules of decency and common sense as requirements contractors must abide by in order to win the contract. Focusing just on price without spelling out such rules will invite trouble. HIT is now paying a heavy price for this neglect.
Apart from the pay issue, it has come to light that workers employed by contractors may be asked to perform three shifts in a row, i.e., to work 24 hours without break. It also has come to light that workers had very little time for meals and often no proper toilets where they were on duty. Such working conditions are hazardous for health and are totally inimical to any sense of work/life balance. In the final analysis, it was foolhardy of HIT to have allowed such working conditions to be imposed on workers who are servicing HIT, regardless of the fact that HIT was not the legal employer.
Outsourcing contracts without specifying what constitutes basic decency could invite more attractive tenders, but that also invites trouble. We have seen that in the recent elevator incident at North Point which fell several stories and crashed injuring seven people. The tendering process resulted in a successful bid which could not guarantee the quality of the work performed, leading to the disaster.
The industrial action in Kwai Chung might mean HIT loses business to competing container ports in the region. This will be a blow to HIT and to its holding company Hutchison Whampoa. Outsourcing without laying out requirements that address the human needs of workers can maximize profit in the short run, but is detrimental to long-term profit. Will our corporations listen?
The author is director of the Center for Public Policy Studies, Lingnan University.
(HK Edition 04/16/2013 page1)