Economic restructuring needs innovation
Updated: 2013-04-11 06:05
By Spencer Li(HK Edition)
| | | | | | | | | |
| --- | --- | --- | --- | --- | --- | --- | --- | --- |
|   | | Print | | Mail | | Large Medium  Small | 分享按钮 | 0 |
Two striking news items recently made headlines: skyrocketing real estate prices have created a record number of millionaires in Hong Kong; two top-end restaurants, which have operated for 20 and 30 years respectively in Causeway Bay, are moving out of the area due to unbearable rents and searching for alternative locations.
Hong Kong has missed out many opportunities to develop high-tech industries, as shown by the failure of many so-called high-tech initiatives such as the Cyberport zone. Real estate is still the de facto driving force of Hong Kong's economy. Although legislators are actively debating how to perform economic restructuring for Hong Kong, no clear plan like the nation's 12th Five-Year Plan has been formed. In other words, the focus on real estate and finance businesses is indeed one of the root causes of the deep-rooted internal conflict mentioned by former Premier Wen Jiabao.
Backed by a huge mainland market, Hong Kong should be able to develop emerging competitive industries. Jiangsu's Taizhou City has started its own economic restructuring by focusing on intellectual property-related businesses. Taizhou's strategic transformation is a significant success story which might offer some hints to Hong Kong.
Faced with imminent economic pressure, Taizhou transformed its economic structure in a long-term strategic way. The government advocated four "main focuses": prominent high-tech industry, prominent enterprises, innovation collaboration, and technology integration. The municipal government has also vigorously promoted integration between the finance and technology businesses, and allowed the raising of funds via an innovative technology patent loan. On August 6, 2012, Jiangsu Yucheng Power Group in Taizhou successfully completed the first patent loan of 2 million yuan ($323,000) from the Taizhou branch of the Bank of Communications.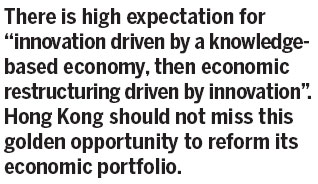 On Oct 25, 2012, the Jiangsu provincial government promulgated the new transformation policy for Taizhou and designated it a pilot city as one of leading intellectual property trading and patent centers in China. It is a positive example of strategic decision making with strong government support.
In 2013, Taizhou's technology-oriented small- and medium-sized enterprises (SMEs) are actively developing a variety of innovative equity and credit products under the intellectual property platform. Thus far, it is a strong sign of successful economic restructuring with local technological commercialization.
Intellectual property right is an important measure of a region's or enterprise's innovation productivity indicators. Intellectual property right is the name commonly given to a group of separate intangible property rights. These include trademarks, patents, copyright, and design rights. Except for copyright, which is gained upon creation, other innovations such as trademarks, patents and designs obtain protection by law in the jurisdictions where they are registered.
This year, Taizhou established invention patent ownership of database tracking applications for invention patents, licensing, and their application status. In order to foster the new business, the value-added services like intellectual property training, intellectual property trading, and fast-track funding for new applications for invention patents have been developed to attract more talents and manpower to join this evolutionary economic restructuring taskforce. Taizhou's vision is to spearhead the high-quality and effective invention patents' business into a breakthrough arena in three years.
Hong Kong has the advantage of financial and high-tech talent. The professionalism of intellectual property and patents can be a viable commercial drive for economic restructuring. There is high expectation for "innovation driven by a knowledge-based economy, then economic restructuring driven by innovation". Hong Kong should not miss this golden opportunity to reform its economic portfolio.
The author is president of the Innovation and Technology Association.
(HK Edition 04/11/2013 page9)