Dial 'M' for commerce
Updated: 2013-04-05 06:54
By Oswald Chan(China Daily)
| | | | | | | | | |
| --- | --- | --- | --- | --- | --- | --- | --- | --- |
|   | | Print | | Mail | | Large Medium  Small | 分享按钮 | 0 |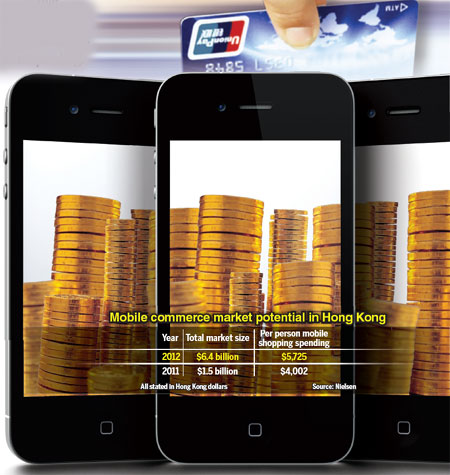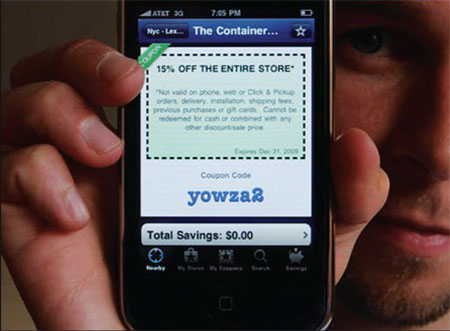 Hong Kong's m-commerce market reached HK$6.4 billion in 2012 and is projected to hit HK$17.8 billion by 2015.
Technology has accelerated lifestyles so greatly that smartphones and tablets are fast becoming retail's digital wallets and payment terminals. Hong Kong's smartsters are setting the tone in tomorrow's new call to spending. Oswald Chan reports.
The term 'smartphone' didn't set the lexicon ringing until 1997, when Stockholm-based telecom equipment maker Ericsson described its prototype GS 88 'Penelope' model as a Smart Phone.
The distinction between a smartphone and its predecessors wasn't just its fancier name; it boasted additional software functions, such as e-mail capability and an Internet browser. Smartphones made ordinary cellphones suddenly seem like dumb phones. In short, smartphones enhanced user experience, by allowing third-party applications better integration with the phone's operating system. The innovations continue today. Smartphone's are getting smarter and evolving into mobile payment terminals, or digital wallets, while m-commerce - the ability to spend, save or receive money with a smartphone or tablet - is fast becoming a way of life.
That's something Hong Kong's savvy shoppers already know. With a 62 percent smartphone penetration rate, the city's consumers represent one of the most mobile-centric markets on the planet. "Mobile commerce is exploding in Hong Kong," says Kerry Wong, managing director of PayPal Hong Kong, Korea and Taiwan. Global e-commerce payment vehicle PayPal commissioned a recent survey which revealed Hong Kong's m-commerce market reached HK$6.4 billion ($824.3 million) in 2012 from HK$1.5 billion in 2011 and is projected to hit HK$17.8 billion by 2015. Of those transactions, 58 percent were made using smartphones. Per-person mobile shopping in the city was HK$5,725 last year, against HK$4,002 in 2011.
"Mobile business transaction definitively will be a long-term popular trend in the future because it is a convenient payment mode for consumers," according to Terence Cheung, assistant professor at City University of Hong Kong's College of Business.
As well as enabling payment, smartphones are increasingly being used by companies as marketing tools. Uppal Hospitality Group (UHG), franchise owner of Subway Hong Kong and other restaurant brands, has created a new electronic marketing channel to reach consumers through the adoption of mobile coupon technology.
In November 2012, UHG started marketing campaigns by rolling out coupons for six of its Subway eateries. Since launch, 20,000 mobile coupons have been downloaded. The new publicity campaign elicited a 176 percent surge in customer visits to the restaurants up to February. "Mobile coupon technology enables us to drive sales," says Marketing and PR Manager Yvonne Ma, "and helps us foster stronger loyalty with our customers through the mobile wallet. Unlike traditional paper coupons, we can elicit more vigorous customer engagement as we can respond to general trends or individual habits and preferences in an instant."
Common standards
The chain is considering launching mobile payment services for its brands as and when appropriate mobile payment technology exists. For now, that's the only stumbling block for m-commerce, the lack of a transparent financial ecosystem, or a mobile money network in which existing payment networks can be connected and interoperable. Financial institutions, mobile telecommunications operators and retailers must first coordinate and agree on common standards for m-commerce payments before consumers can get comfortable with the technology.
And spending goes through the roof. Market research firm IDC Financial estimates that consumers and businesses worldwide will make more than $1 trillion in payments from mobile devices by 2017 as technology-enabling mobile payments become increasingly common.
For now, retailers and customers need a card reader to download mobile payment applications if they want to make credit card payment via smartphones. For mobile phones to upscale into portable electronic wallets just like credit cards, requires the development of interoperable Near Field Communications (NFC)-enabled smartphones.
NFC is a set of standards installed in smartphone devices that work similarly to those currently used in credit cards and electronic ticket smartcards, which allow mobile payment platforms to replace or supplement these systems. Such NFC-enabled smartphones offer higher security standards through specific authorization and authentication process and facilitate more mobile commerce.
"If mobile phones can become like credit cards, the mobile payment service will become a lucrative business segment to banks, mobile network operators or payment gateway providers when consumers opt for this convenient payment channel," Cheung told China Daily.
Market hurdles
Despite Hong Kong's accelerated m-commerce pace, there are still market hurdles in developing m-commerce in the city. For transactions to flourish, it has to meet fierce competition from similar smartcard payment systems such as Octopus and Visa Paywave. The former is widely adopted on buses, trams and even cross-border trains to Guangdong, as well as being the only form of payment at all the city's car-parking meters. Both cards are functional at numerous convenience and grocery stores like 7-Eleven and ParknShop, and retail outlets like Starbucks, Marks and Spencer and McDonald's.
In fact Octopus, launched in 1997, has its electronic tentacles so fluidly - and deeply - entrenched in Hong Kong it has become the city's de facto smartcard payment system and one that's been emulated - and the subject of envy - around the world. According to the Hong Kong Monetary Authority (HKMA), the mass transit railway operator MTR Corporation has issued 23 million Octopus smartcards - an average of 3-per person for the city's 7 million population - with 4.2 billion transactions and a transaction value of HK$40.6 billion in 2011.
But once competitors get to grips with the cephalopod's reach, there is still the issue of cost to consider. M-commerce adoption spells more operational costs and commission charges for small and medium enterprises that comprise the majority of the local business sector. Government needs to tackle this issue head on if the potential of m-commerce is to be fully realized.
The city is currently gearing up the formulation of the NFC mobile payment infrastructure with the completion of a consultancy study on the issue. Implementation is expected to be announced by the HKMA, this year, or next.
HKMA data also shows the number of mobile banking accounts in 2011 surged to 6.9 million from around 1 million in 2008. Perhaps that's inevitable given the city's statement-making phone ownership data. Hong Kong has the world's highest mobile phone penetration rate at 194 percent.
According to the World Retail Banking Report 2012, by global business advisory Capgemini, global mobile banking could accelerate or even surpass Internet banking as the number of smartphone users is projected to increase to 631 million by 2015, up from 172 million in 2009. However, the report cautioned that global mobile banking can be hampered by security concerns, a lack of coordination of mobile banking infrastructure, and issues of stability.
Whatever the state of the smart art, Ericsson - also the inventor of Bluetooth - continues to innovate. Its m-commerce solutions for smartphones now include several 'wallet' permutations. Your smartphone has become a digital wallet and Penelope your payment terminal. Whichever way you count, spend, save, transfer or convert it, money and m-commerce are on the move.
(China Daily 04/05/2013 page6)