Employment key to new town development
Updated: 2013-03-28 06:06
By Raymond So(HK Edition)
| | | | | | | | | |
| --- | --- | --- | --- | --- | --- | --- | --- | --- |
|   | | Print | | Mail | | Large Medium  Small | 分享按钮 | 0 |
It is a widely held belief that Hong Kong is characterized by its small territory and dense population. The city's 1,100 square kilometers accommodate a population of 7 million. However, just 28 percent of its land has been developed, with housing comprising a mere 7 percent. Given these figures, the city's high house prices are not surprising.
Many commentators say the government should build more public housing to solve the housing problems. In the old days, the way to create more housing was through the development of new towns, like Tsuen Wan, Tuen Mun and Sha Tin. One advantage of developing a new town is that it can be done fast and relatively free from existing constraints, given that many new town locations were not previously populated. Therefore design of a new town could be started from scratch. Also, the government's strategy was to build public housing alongside the development of a new town. In the 1970s, it was not uncommon to wait for 10 years in order to be allocated a public rental housing unit. Because of this long waiting line, many people, even though they knew the new towns were in the development stage and that basic infrastructure was missing, still wanted to move to the new towns. With the influx of residents, the new towns can develop quickly. This is the conventional way of providing large numbers of housing units to the people.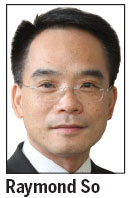 It is worth noting that the development of new towns does not consider the amount of housing units alone. The government also considered the concept of self-sustainability in their development. In simple terms, the self-sustainability concept means that residents in new towns can live and work there. In the 1970s, the manufacturing sector in Hong Kong was still the major contributor of the city's GDP. As a result, the government also allocated factory spaces in the new towns. These factories then absorbed many of the workers in the nearby areas, creating jobs for the residents. The beauty of this concept is that the new towns are self-sustainable, and residents need not travel to other areas for their daily living.
The whole picture changed when the secondary sector was no longer the major source of income for Hong Kong. Currently tertiary production accounts for 92 percent of Hong Kong's GDP, and with this number, it is not surprising to see people commute to work in commercial areas.
This phenomenon has become a source of trouble for new towns. Because of the lack of job opportunities, new town residents need to travel long distances to work. This in turn, creates associated problems like the long commuting hours and higher travel costs. Worse still, social problems arise because parents then cannot take care of their children. Tin Shui Wai is a good example of how bad town planning can lead to structural social problems in new towns. Critics describe Tin Shui Wai as a "City of Sorrow" for the many social problems it faces. Though the government and other organizations tried to alleviate the problems, or its sorrow, they were not successful.
The lesson of Tin Shui Wai is still remembered by many, but another potential replicate is appearing; the Tung Chung new town project. Tung Chung is expected to house nearly 250,000 people, but there are not enough employment opportunities for people there. Some unaudited figures say that nearly 30 percent of Tung Chung's residents are on Comprehensive Social Security Assistance. With this high percentage of people on financial aid and lack of job opportunities, Tung Chung becoming the next "City of Sorrow" is not unthinkable.
The author is dean of the School of Business at Hang Seng Management College.
(HK Edition 03/28/2013 page9)