The young must be educated against sexual harassment
Updated: 2013-03-13 05:31
By Fung Keung(HK Edition)
| | | | | | | | | |
| --- | --- | --- | --- | --- | --- | --- | --- | --- |
|   | | Print | | Mail | | Large Medium  Small | 分享按钮 | 0 |
Our city's anti-sexual harassment law is imbedded in the Sex Discrimination Ordinance. Despite the enactment of the law in 2008, sexual harassment cases against students have become alarmingly and intolerably high.
Sexual harassment is a civil offense under the law. The law tells us that sexual harassment is unwanted sexual attention. It includes touching someone, saying sexual things to someone, and asking someone for sex. Sexual harassment also means when someone feels intimidated in an environment that is sexually hostile.
A government survey released on March 5 reveals that 50 percent of the students interviewed had experienced various forms of sexual harassment such as sexual jokes, sexual propositions, indecent gestures, inappropriate touching and uninvited showing of pornographic materials.
The Equal Opportunities Commission (EOC) announced that the findings were based on nearly 6,000 questionnaires involving students of primary and secondary schools and tertiary institutions.
John Tse Wing-ling, convener of the EOC's Policy and Research Committee, told the media: "Sexual harassment is a serious problem for students at all educational levels. This problem is more common than people might think because many students are too scared or embarrassed to report sexual harassment." The study identified the students' experience of and attitudes towards sexual harassment. Tse said he hopes the EOC will assist the government in devising effective strategies to promote concepts of gender equality and prevention of sexual harassment on campus.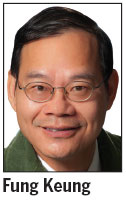 The government is well-advised to allocate some funding to strengthen the promotion of this relatively new law in schools. The legal definition of sexual harassment - when someone feels intimidated in an environment that is sexually hostile - is understood by only a few, I'm afraid. With a sizable budget surplus, Financial Secretary John Tsang Chun-wah should meet little resistance in spending the money on educating students from primary to university levels to protect themselves from being sexually intimidated.
The EOC study shows that 21 percent of the harassers were classmates and 14 percent were friends. Both boys and girls had the experience of being harassed by someone of the same or opposite sex. Worryingly, the EOC says, some students accepted sexual harassment as part of the school culture. On encountering sexual harassment, 58 percent of the students chose to "keep silent". The government should spend money on educating students of their rights to say "no" to harassers.
Sexual harassment might have long-term negative effects on a student's development and academic achievements. The EOC study reveals a disturbing trend that when being sexually harassed, both female and male students were harmed psychologically and emotionally. The respondents indicated that they felt angry (40 percent), scared (38 percent) and could not relate well to others (36 percent).
Tse pointed out that sexual harassment in a school environment can undermine a student's sense of personal dignity and safety, disrupt the student's education, and interfere with his/her ability to reach full potential in life. If unchecked, sexual harassment in schools has the potential to escalate into bullying and violent behavior, he warned.
Apart from more spending by the government to educate students on the seriousness of sexual harassment, school and university administrators should also do a better job. It is disappointing to note that most schools have adopted an "ostrich policy" in response to incidents of sexual harassment on campus, the EOC report says. The findings of the survey indicated that sexual harassment among students was rarely addressed. Some students, teaching staff and parents complained that school authorities handled sexual harassment complaints in a very subtle manner for fear that the schools' reputation would be adversely affected. Students' interests and welfare should come first, I reckon.
Education administrators have a duty to take steps to prevent and respond to sexual harassment complaints. It would be desirable for them to step up their anemic efforts.
Schools and universities, if they haven't done so, should establish a clear and comprehensive anti-sexual harassment policy and make sure that staff and students understand its contents. If necessary, training should be provided to staff and students to enhance their awareness, and set up an effective complaint handling mechanism to resolve sexual harassment complaints. School counselors should be employed to provide professional help and follow-up services to the victims and perpetrators of sexual harassment.
Our young people, Hong Kong's future leaders, should be better protected against sexual harassment. We should have "zero" tolerance for it.
The author is coordinator of the B.S.Sc in financial journalism program at Hong Kong Baptist University.
(HK Edition 03/13/2013 page1)