Bridging education gap
Updated: 2013-02-07 06:11
By Fung Keung(HK Edition)
| | | | | | | | | |
| --- | --- | --- | --- | --- | --- | --- | --- | --- |
|   | | Print | | Mail | | Large Medium  Small | 分享按钮 | 0 |
The opportunity for children of poor families in Hong Kong to receive a university education has dropped sharply over the past decade. This is undesirable and something needs to be done.
A Hong Kong Institute of Education professor, Chou Kee-lee, released a study in late January, which revealed that in 2011, the university enrollment rate among the rich kids was 3.7 times greater than that among the poor. In 1991, the difference was only 1.2 times.
The government needs to consider establishing an "affirmative action" policy to rectify the problem and narrow the gap; and enable children from poor families to have a better chance of receiving a tertiary education. "Affirmative action" is adopted in the United States, among other countries, whereby universities need to set aside a certain number of places for black, Hispanic and Asian-American youngsters.
I was raised in a poor single-mother household but I scored great exam results to enter a local university. My chance in the 1970s was almost equivalent to that of my rich neighbor's kid. But things have quietly changed. There are several factors that contribute to the widening gap between the university enrollment rate of rich kids and poor kids.
Firstly, rich children can afford to attend the "tutorial schools", which do not impart knowledge to participants. Their main job is to train participants' examination skills in return for high fees. Tutorial schools in the 1970s and 1980s were not popular at all.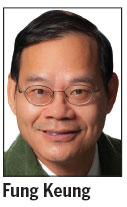 Secondly, rich families have the means to send their children to high schools in Britain and other places. When these young people finish high school, they can apply to enter government-funded universities in Hong Kong through a so-called non-JUPAS track. (JUPAS stands for "Joint University Placement Application System"). The non-JUPAS places account for 20 percent of total university places in the city.
Thirdly, the so-called internationalization of local university education in recent years has allotted 20 percent of places to non-local students. The quota has jumped from 12 percent to 20 percent over the past 10 years. Internationalization is good for Hong Kong's economic development. But the short-term impact means fewer places for local students.
All these factors work against poor children's opportunity in obtaining a place in a government-funded university. And unlike kids of rich families, they can't afford to attend overseas universities. An overseas education can be prohibitively expensive. A lack of university education will prolonged intergenerational poverty issue. In short, the rich will get richer, the poor will become poorer.
We must do something to break this vicious cycle. Can we not set a certain number of places for kids whose families' incomes fall below half of the median income of all families in Hong Kong (a quick definition of poverty)? By setting a certain quota, hopefully the university enrollment gap between rich and poor kids would narrow, from a multiple of 3.7 times, returning to the difference of 1.2 times evident a decade ago. Also, with the government's huge fiscal reserves, it should consider giving grants and loans to kids of poor families more generously.
I am not worried a tad about rich kids not being able to receive a university education. Their families definitely can afford to send them to universities in the UK, the USA, Australia and other countries if they fail to get into one of the local universities. With an overseas education, their chances of finding a good job in Hong Kong when they graduate will not be undermined. They actually stand a better chance because of their better English language skills.
Let us not sit idle and do nothing. It is time we thought about adopting "affirmative action" in Hong Kong's higher education.
The author is a Hong Kong Baptist University lecturer. He recently published a liberal studies book entitled "Understanding business news and business news writing in Asia".
(HK Edition 02/07/2013 page10)