The backbone of local cuisine rice features in other countries also
Updated: 2013-01-26 08:06
(HK Edition)
| | | | | | | | | |
| --- | --- | --- | --- | --- | --- | --- | --- | --- |
|   | | Print | | Mail | | Large Medium  Small | 分享按钮 | 0 |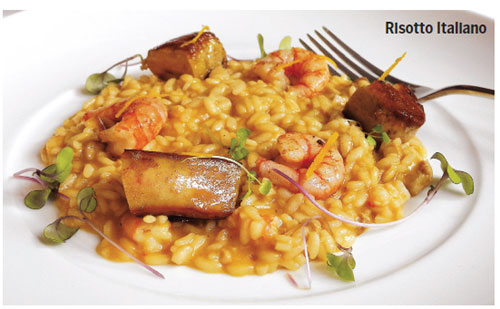 If you just can't live without a rice dish at a celebration 'alternative' repast such as that featured in last week's Food Column, try a different type of rice and recipes from other places, such as Italian risotto, Indian curried rice, Spanish Paella or American home-made Rice a Roni.
A star of Italian regional cooking, risotto should be served creamy with lots of flavour. Its important to get the correct type of rice, main types of which for risotto are Arborio, which makes a light risotto with a soupy texture and Carnaroli, which has a very high starch content - starch makes risotto creamy, and its center stays firm even when absorbing a lot of liquid.
Risotto: This can be a simple accompaniment to hearty fare, or you can cook it with any number of ingredients; saffron spice, chicken, vegetables, seafood and make it the main course of a meal.
To make a simple risotto, have to hand 1 litre of chicken broth keeping hot near the pan in which you will cook the risotto. Heat 2 Tbsp olive oil and 2tspn butter in the frypan, add 1 large onion and 3 cloves of garlic finely chopped and fry very slowly for 15 minutes. Toast 400 gms of rice in this for 3-4 minutes and begin adding the broth one ladleful at a time, stirring frequently. Keep adding the broth as each addition is absorbed. Never let the risotto dry out, but never pour all the liquid in at once. Leave the pot uncovered and stir with a wooden (not metal) spoon with each addition of broth. This will take about 15 minutes. Stirring causes the grains of rice to release some of its starch. This is the secret to the creaminess of risotto. But there's no need to keep stirring all the while - you would soon tire! Only when each ladle of broth is added. Remove from the heat and add 1 Tbsp butter and 2 Tbsp grated parmesan cheese, stir and serve.
Curried rice: Mix 1 1/2 tspn ground turmeric, 1 tspn ground ginger, 1 Tbsp ground coriander seeds, 1 Tbsp ground cumin seed, 1 Tbsp ground green cardamom pods and 1/2 tspn chilli powder in a bowl and set aside.
Heat 1 Tbsp oil in a large pot over medium-low heat, add 2 cups long grain rice and cook and stir until the rice turns slightly translucent. Add 3 1/2 cups of chicken broth and 1/4 tspn salt. Bring to the boil, reduce to a simmer and cook for about 15 minutes until the liquid is absorbed. Remove from the heat, cover and let it stand for 5 minutes.
In the meantime, in a large frypan heat 2 Tbsp oil and 2 Tbsp butter on medium-low heat for a few minutes and add 1 finely chopped onion and the curry spices. Fry for 5 minutes, add the cooked rice and gently mix all together once only. If you keep mixing it will dry out. Serve with chopped spring onion garnish.
Home-made Rice A Roni was first developed in the 1930's in San Francisco USA and is still produced commercially. To make a version at home in a wok or frypan fry 1/2 cup Angel Hair pasta - broken into short pieces in 3 Tbsp butter for 2 minutes, add cup of uncooked white rice and cook for 3 minutes. Add 15 ozs of chicken broth and simmer until all the liquid is absorbed. Serve on its own with grated cheese or as a side dish to a variety of poultry or meat dishes.
Spanish Paella: Heat 2 Tbsp olive oil in a frypan or paella pan, add 2 chopped onions and 6 cloves of garlic and saute for about 5 minutes. Add 4ozs of chopped brown meadow mushrooms, 10 thin slices of red pepper (capsicum), a handful of string beans cut in half and 2 large ripe tomatoes chopped, and saute together for 5-6 minutes..
Pour in 12 ozs (1 1/2 cups) Spanish rice and stir gently all together. Add 20 fl.ozs (2 1/2 cups) of chicken broth, and 1/2 tspn of saffron strands - use the strands and not the powdered saffron as it may contain turmeric powder, which doesn't taste the same.
Stir the contents of the paella pan, leave to cook but watch it doesn't stick to the pan. After 10 minutes add 1cl white wine or sherry if you have it and 5ozs cleaned mussels in their shells, add 6 de-veined shell-removed shrimps and place 6 shrimps in their shells on top.
Wait until the liquid has almost all been absorbed and the mixture is creamy.
Remove from the heat, and allow to cool for a few minutes. Serve in the pan.
(HK Edition 01/26/2013 page4)