Shucks, folks, if you cheated, say sorry with your heart
Updated: 2013-01-25 06:44
By Ho Chi-Ping(HK Edition)
| | | | | | | | | |
| --- | --- | --- | --- | --- | --- | --- | --- | --- |
|   | | Print | | Mail | | Large Medium  Small | 分享按钮 | 0 |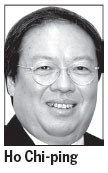 Public confessions on prime-time TV have become the means for errant celebrities to confess their sins and seek forgiveness of family and, more importantly, fans. The woebegone sinner's usual prop is to have his mother or wife by his side, tears welling in his eyes, and voice trembling with emotion, before the confession is made full-face on camera, along with repeated expressions of contrition.
Lance Armstrong's recent confession on Oprah Winfrey's program, however, most definitely broke that mold. First, Armostrong didn't sound, or look, sincere. His confession came in defensive, even defiant tones. He gave the impression that he was holding back, and didn't give any impression he was truly sorry. For a prop Armstrong didn't have a mother, but instead he related how he had been forced to belittle himself by confessing to a son. Even that had a phony ring.
The redoubtable Oprah proved to be a persistent if sometimes amiable questioner, having finally brought to book the serial cycling cheat. It was indeed a great scoop for Oprah, but some viewers got the impression that, for his part, Armstrong was repeating some well-practiced responses. His caginess is perhaps understandable since no doubt he'll face some lawsuits over previous cases previously adjudicated in his favor. Decisions will have to be reversed, apologies made and adequate reparations paid.
Movie star turned politician Arnold Schwarzenegger chose "Sixty Minutes" as his platform to reveal various grubby details of his chicanery during his tenure as governor of California (2003-2011). Somehow he managed for nearly 10 years to conceal from his wife, the former Maria Shriver, that he had fathered the son of their long-time housekeeper at the Governor's Residence, Mildred Baena. Not to forget a sizzling affair with a former co-star, Brigitte Nielson, which resulted in another addition to Arnie's "outside family". Arnie admitted he "inflicted tremendous pain" on his soon-to-be ex-wife and their four kids. While parrying interviewer Leslie Stahl's questions, he unashamedly managed to get in a few plugs for his newly published autobiography, "Total Recall".
If they gave Oscars for the best TV confessions, Tiger Woods' guilt-stricken performance of some years ago would win every time, even though he concealed far more than he revealed. Without actually specifying his trail of bedroom betrayals or admitting his guilt, he pleaded for the forgiveness of his long-suffering wife Erin. And, yes, his Thai Mom was there to show her support as he made this embarrassing admission: "I am deeply sorry for my irresponsible behavior that I indulged in. For all that I have done I am so sorry."
However, Erin, with their two kids, soon flew the coop from Florida to her Scandinavian homeland as increasing numbers of Tiger's playmates came forth to sell their lurid stories of his sexual athleticism to the tabloids. Most of the golfing star's sponsors dumped him, and his form on the greens went pear-shaped. Many cited the righteous hand of fate.
The earliest drug cheat to brave the TV cameras was Canadian sprinter Ben Johnson, whose confession went as follows: "I said to my mother 'What do you think?' and she said 'Tell the truth then everything will be OK'." The steroid-taking Johnson was stripped of his Olympic medal for winning the 1968 100-meter final plus his two world records, at the same time losing his multi-million-dollar endorsements, just like the other prominent exposed sports cheats. But he went back to his old ways and was caught again.
Interestingly, in the early 2000s, the American Olympic track and field gold medalist Marion Davies also appeared on Oprah's show, not to confess to drug-taking, but to defend herself against claims that she was a drug cheat. On camera she insisted she had never taken anything apart from legal vitamins and supplements. But the case against her eventually proved to be overwhelming and she was given a six-month jail sentence for perjury before the Grand Juries investigating steroid use. Choking back tears, she told a press conference: "Today I pled guilty to making false statements to federal agents, so it is with a great amount of shame that I stand before you and tell you that I have betrayed your trust." Interviewed after her release, she opined that steroids or not, she still would have won her five medals at the 2000 Games.
The famous Argentinean footballer Maradona, many years after he used his hand to deflect the ball into the net in a World Cup qualifying match in 1986, still feels no remorse. When questioned soon after the match, he replied that he had not touched the ball, but "it was the left hand of God". Asked recently on TV whether he regretted this example of blatant cheating, Maradona replied: "It was one of these things that happen. I'd scored goals with my hand before, in matches in Argentina. It's cheekiness. But it's not cheating."
The author is deputy chairman and secretary-general of China Energy Fund Committee, a think tank on energy and China-related issues.
(HK Edition 01/25/2013 page3)