South China's 'Manhattan' to bear fruit by 2015
Updated: 2013-01-23 05:52
By Li Tao(HK Edition)
| | | | | | | | | |
| --- | --- | --- | --- | --- | --- | --- | --- | --- |
|   | | Print | | Mail | | Large Medium  Small | 分享按钮 | 0 |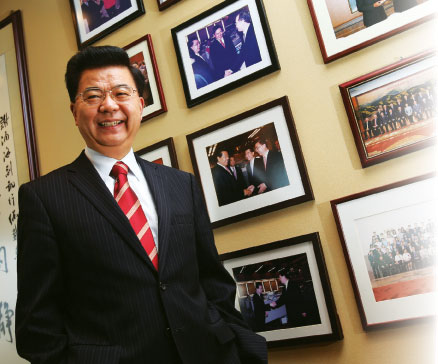 Measures that cover a variety of sectors including finance, taxation, legal, human resources, education, medicine as well as telecommunications are all likely to come out in the first half of 2013 to assist Qianhai's development on a faster basis, said Tse Yung-hoi, chairman of BOCI-Prudential Asset Management Ltd, who is also a consultant in the Qianhai Advisory Committee. All photos: Edmond Tang / China Daily
Aside from its economic benefits, the greatest value of Qianhai - dubbed South China's Manhattan - lies in its role as an external financial liberalization experiment and demonstration area model, as well as a modern service industry cooperation zone between Shenzhen and HK, to be replicated throughout the whole of China. Li Tao reports.
Since China's State Council announced the approved development and opening-up policies for the Qianhai Shenzhen-Hong Kong Modern Service Industry Cooperation Zone in mid-2012, the 15-square-kilometer area in the western coast of Shenzhen - in the forefront of China's reform - has come under the world's spotlight ever since.
It is still early to associate the traditional small remote part of Shenzhen that used to be a piece of muddy reclaimed land with the immense title of being a test ground for the next set of financial innovations in China, the world's second largest economy, as what we've seen today remains still a scene of infrastructural developments in full swing.
But, imagine that Qianhai's output volume is estimated to reach 50 billion yuan in 2015 - only two years from today, on such a tiny piece of land area where the gross domestic product (GDP) is projected to further triple to 150 billion yuan by 2020, putting the Qianhai enterprises' productiveness ahead of all other areas in the country by then, according to Tse Yung-hoi, chairman of BOCI-Prudential Asset Management Ltd.
Tse, who also served as a consultant in the Qianhai Advisory Committee, told China Daily that Qianhai's significance lay far beyond the economic benefits it produced, in that the area's value was in its testing roles as an external financial liberalization experiment and demonstration area, as well a modern service industry cooperation zone between Shenzhen and Hong Kong.
Not Lujiazui's replica
Although dubbed "South China's Manhattan" with the aim of strengthening the collaboration between Hong Kong and Shenzhen as well as the whole Pearl River Delta (PRD), Qianhai's role in the national economic development landscape, in essence, will be distinguished from that of Lujiazui Financial and Trade Zone in Shanghai, Tse said.
In the very beginning, the State Council has declared that the experimental policies that are even "more special" than policies adopted in special economic zones will be complemented in Qianhai on a trial basis.
The central government designated 22 pilot policies specially for the area in June last year, including eight related to financial innovations, while the rest are other supporting initiatives, highlighting the government's objective to support experimental activities in financial reform and innovation in the area.
Cutting-edge financial innovative policies include diversifying channels for the reflux of overseas yuan capital to develop the offshore yuan business in Hong Kong and to position the territory itself as an innovative and experimental hub for cross-border yuan-based business. Qualified enterprises and financial institutions established in Qianhai are also encouraged to grant yuan loans for offshore projects.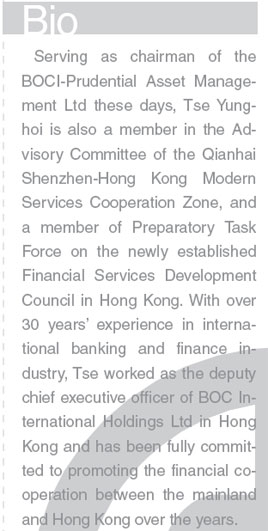 But the distinctive position and pioneer role of Qianhai, even if blessed with tons of favorable policies from the government, has also brought about risks of failures on the tryouts particularly when many of these policies will touch the nerves of reforms in many sectors in China.
"We've seen Shenzhen becoming China's most successful special economic zone, and we've also seen other unsuccessful examples that failed to stand out during China's economic reform and opening up (of the country)," said Tse.
By 2020, China's financial hub, Shanghai, will be positioned to become an international financial center by the country's top economic planner with its economic weight and currency taking a more prominent position on the world stage.
At the heart of Shanghai's economy, the future of Lujiazui Financial and Trade Zone is de facto crucial to the country given its close associations with the overall national economic development of China, making the prospects of losing Lujiazui unaffordable.
Although Qianhai's economic significance is incomparable with Shanghai's Lujiazui, the successful tryouts in Qianhai are nevertheless crucial to the whole country given its independent and particular role in exploring the further liberation of the Chinese economic environment to the whole world, according to Tse.
"Qianhai, a leader in the financial industry that is developing into a modern services industry, is also powered by cooperation between Shenzhen and Hong Kong in producing a demonstration effect for the country as a whole. It may play the role that Shenzhen did 30 years ago,