The dissident's game plan and how we can outsmart it
Updated: 2013-01-22 05:39
By Lau Nai-keung(HK Edition)
| | | | | | | | | |
| --- | --- | --- | --- | --- | --- | --- | --- | --- |
|   | | Print | | Mail | | Large Medium  Small | 分享按钮 | 0 |
Despite all efforts by the dissidents, Chief Executive CY Leung is here to stay in the city's top job. Dissidents apparently are upset, but they also have a very realistic game plan for dealing with the new reality.
The real fight will be in 2017, when Hong Kong implements universal suffrage after the fashion of a Western style democracy. This is why Henry Tang and Anson Chan have both focused so much on 2017 during their recent interviews. The strategy is simple and neat: discredit the government so that dissidents can dictate the forthcoming political reform.
If CY's administration and the pro-establishment camp continue to show weakeness, the outcome of the political process will be either universal suffrage with a low entrance threshold; or political reform stalled by a failure to achieve consensus, and tens of thousands of protesters marching on the streets.
The first scenario has a few possible sub-scenarios. If people in Hong Kong have the good sense to elect a person the central government can accept, all will be well. But if voters choose a person that Beijing is not willing to appoint, then all Hell breaks loose and we fall into a constitutional void.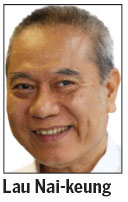 The second scenario also has a number of potential outcomes. The determining factor is whether our government and our police force are able to handle another wave of protests on the scale of hundred-thousands, with participants much more determined, experienced and radicalized than those in 2003. If they can, the crisis will be stabilized a few weeks after the reform is stalled, if not everything, could run out of control.
Political reforms are inherently risky. The democratic system itself is fraught with uncertainties. As such, the most important thing for us to do now is to enhance our capacity so that we are more resilient to these risks. However, we are also certain that the dissidents want the worst case scenario to materialize. They not only want a vote for every citizens, but to ensure the election of a CE who will defy Beijing at every turn. For these malcontents nothing short of that is "real democracy".
So this is their game plan. It is transparent and straightforward, and that's why people can hop on the dissidents' band wagon so easily. So far, it is risk free and there is no apparent downside. If one blogs, consistently trashing CY, sooner or later the writer will be invited to be a host or a writer somewhere with handsome remuneration. In today's world the click on-rate itself is money and one does not get a lot of hits offering objective comments on Hong Kong affairs.
The only chance for us to counter this veritable dissident industry is for the government to promote another discourse industry that is rational and constructive. The term discourse industry emphasizes the fact that a discourse is not merely words and ideas. On top of critical thinking, which has often been sadly lacking, we also need channels to promote our ideas.
CY's "Hong Kong Camp" is on Facebook, but the nicely designed page has less than 400 likes. Seeing that the original page is going nowhere, "Hong Kong Camp" is now developing a new website "speakout.hk" featuring the latest social media functionalities. But everyone will know it is a Hong Kong Camp production immediately, because it can't help stating "we are a bunch of successful professional middle-class" in the "about us" section.
Real channel building is not about paying professional staff to do artwork and screen comments. It is also not about Web 2.0 or social media, but about empowering the people in the "social network". Dissidents are empowered because they are offered psychological and material rewards.
If we do not start building our discourse industry right now, nobody can save us in the coming political reform battle.
The author is a member of the Commission on Strategic Development.
(HK Edition 01/22/2013 page4)