A proposal to make urban renewal work easier and fairer
Updated: 2013-01-22 05:39
By Ho Lok Sang(HK Edition)
| | | | | | | | | |
| --- | --- | --- | --- | --- | --- | --- | --- | --- |
|   | | Print | | Mail | | Large Medium  Small | 分享按钮 | 0 |
Although the Pine Street/Oak Street redevelopment project in Tai Kok Tsui went ahead, after a hold out property owner agreed to a much higher price than the original offer, there had been a real potential for the entire project to flop. Moreover, even though this time around the Urban Renewal Authority (URA) had its way, it was also sharply criticized by some commentators for bullying the owner by creating public pressure on him. The URA was considered the villain and was portrayed as greedy and selfish.
The Pine Street redevelopment project was a "demand-led project", which means that it was initiated by owners. This model quickly became popular among owners in dilapidated areas after the first such projects took off in September last year. Owners would now have a chance to sell their units at a price equal to that of a typical seven year old flat in the area. Projects such as this make it possible for people to improve their living environment and for entire areas to be rebuilt at a much faster pace than if owners had to wait passively for someone to propose an acquisition for redevelopment.
It is human nature to want to get as much as possible under these situations. When a unit is the last one that stands in the way of the entire project, there is indeed a good chance for developers to give in to the demands of the owner. To avoid such scenarios, and to be fair to all the other owners, it is possible to legislate to the effect that the same price per "standardized square foot" be paid for all the owners of the building, where the actual square footage owned by each owner is translated into "standardized units".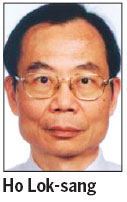 Traditionally the URA pays owners for each actual square foot of saleable area. For example for the Hai Tan Street demand-led pilot project in Sham Shui Po, owner-occupiers were offered HK$8,830 per square foot of saleable area. But the market prices for the most desirable unit and the most undesirable unit are certainly different. Although the building will be demolished and the flats are not acquired for domestic use but for development, the fact the market prices of different units are different suggests that payments that ignore such differences may not be fair.
The owners of non-domestic units (i.e., retail, commercial space) are paid much more per square foot than those of domestic units. By the same logic, it is possible therefore to spell out different conversion factors for different units. Thus a conversion factor of 1.5 means that one square foot is equivalent to 1.5 standardized square feet. A factor of 0.9 means that one square foot is equivalent to only 0.9 of a standardized square foot. A square foot of a retail, commercial unit may well command a factor of 10 to 20 times greater than the average domestic unit or higher.
My proposal is to pass into law a requirement that the URA must pay the same price per standardized square foot to all owners, regardless of when the unit is pledged to be sold. This means that if the price is higher per unit sold at a later date, the same higher price would apply to those who had agreed to sell earlier. Such provision in the law will convey a clear message that the URA cannot legally pay a price different from what it pays other owners, thus dashing any hope for the last owner to attempt to capture all the residual economic benefit to himself.
This will also give an incentive for owners to sell at an earlier date, because they will then know that they will not be disadvantaged. No owner can obtain any advantage over other owners by holding out.
There is a requirement for the URA to obtain the consent of 80 percent of the property owners on each individual lot in a project, when the area covered by the project involves several lots. The URA now wants to lower the threshold, but this is criticized as revealing a "lack of respect for private ownership". This criticism may be reasonable, but it is also reasonable to believe that some owners who hold out are simply engaging in strategic conduct to elicit a bigger benefit for themselves.
The fact is that as long as the URA is seen to have discretionary power over how much to pay for a property, owners are likely to think that they could extract a big rent from the URA if they were the last one standing in the way. My proposal is to abolish this discretionary power. By requiring the URA to pay the same price for each standardized unit to everyone involved, owners will see that there is not much point holding out. Once such proposed changes in the law have been made, the chances of overcoming the threshold are much greater with the proposed legislation.
The author is director of the Centre for Public Policy Studies, Lingnan University.
(HK Edition 01/22/2013 page4)