Leung has done a good job
Updated: 2013-01-17 06:02
By Lau Nai-keung(HK Edition)
| | | | | | | | | |
| --- | --- | --- | --- | --- | --- | --- | --- | --- |
|   | | Print | | Mail | | Large Medium  Small | 分享按钮 | 0 |
Despite what the dissidents say, Leung Chun-ying got his position as the Chief Executive of the SAR with a crystal-clear mandate: people want change. They want to change the status quo desperately, but at the same time they don't want to rock the boat. Like a lot of things in life, this is somewhat self-contradictory, but we always want to have the cake and eat it anyway. That is why CY's election slogan is "seek change, maintain stability". In his maiden Policy Address, our newly elected Chief Executive has to tell the people of Hong Kong exactly what this means and how he is going to implement it.
In the past few months preceding the Policy Address, a Catch-22 has been laid. If CY Leung places much emphasis on vision, it will be deemed as hallow. But should he delve on specifics, it will be charged as without imagination and leadership. On top of that our dissidents are shouting loud for quick fixes on the property market not only to stop the prices from rising further, but also to provide sufficient housing affordable to our agitated youths. According to any opinion poll, this is priority No 1 among the general public.
There are other pressing social issues, and the one CY chose to tackle early in his election platform was related to the growing number of senior citizens, most of them without any form of social security coverage. He just has a hard time pushing through a bill in the Legislative Council giving some of the needy old folks an extra thousand bucks.
Economic development is always high on people's priority list, and it is especially so in face of slower growth in the mainland and rising inflation rate. Dissidents want us to dissociate with the mainland, but we have no choice but to integrate further.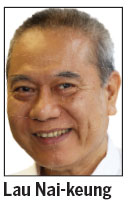 Last but not least is the issue of constitutional development. Dissidents want us to start the general debate now, although the schedule for universal suffrage for the election of the Chief Executive is 2017 at the earliest. Some people want to link this issue with the enactment of national security legislation, and this will further complicate the issue. In any case, any political reform will require a two-third majority in the Legislature to pass and the government simply does not have sufficient votes in its hand.
Having recounted some of the major issues, CY Leung has to address in his first policy statement and noted the complexity involved. We have to admit that he has done quite a good job. As he correctly pointed out just before its release, this is the policy address for the next five years, CY Leung has struck quite a right balance between vision and specific policies. But CY Leung absolutely refused to dish out any small gifts to bribe public support.
Initial reaction indicated that people on the whole are quite receptive to CY Leung's policy platform, but this amicability will not last long. With media instigation, they will find out that there is practically no immediate and concrete benefit to the majority and the major political parties can claim no credit. Soon faults and loopholes are found everywhere in the Policy Address and all politicians, pro-establishment and dissidents alike, will see blood. They will tear it into pieces, and needless to say like recent past policy addresses, there will be no vote of thanks from the law assembly.
This Policy Address is in fact doomed even before it was delivered. Some people have long decided not to let this Chief Executive use it to win friends and influence people and it will be discredited anyway. The crux of the matter is: will people's attitude toward CY Leung and his government be swayed by the media and the politicians? No one can be really sure. But I can safely assert that whatever happens, this will not precipitate a serious political crisis and CY Leung will not be forced to step down. Because unlike the budget, the Policy Address does not have to be vetted by the Legislative Council. However, his authority and popularity will be further eroded, paving the way to the real show-down in March when the politicians aided by a hostile media will lay their hands on the annual budget.
The author is a member of the Commission on Strategic Development.
(HK Edition 01/17/2013 page3)