Greater heights for China-ASEAN ties
Updated: 2013-01-16 05:59
By Alfred Romann in Hong Kong (HK Edition)
| | | | | | | | | |
| --- | --- | --- | --- | --- | --- | --- | --- | --- |
|   | | Print | | Mail | | Large Medium  Small | 分享按钮 | 0 |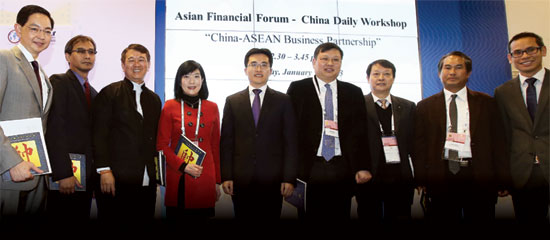 Speakers pose for a group photo at the "China-ASEAN Business Partnership" Workshop co-sponsored by China Daily at the Asian Financial Forum in Hong Kong on Tuesday. Photos by Edmond Tang / China Daily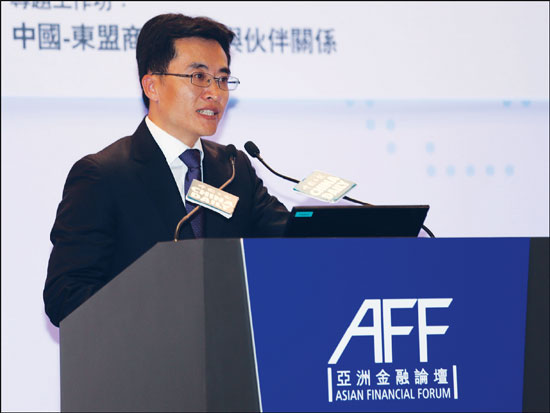 Zhou Li, publisher and editor-in-chief of China Daily Asia Pacific, delivers his welcome remarks at the workshop.
ASEAN is emerging as China's top trade partner, creating a flourishing trade and economic zone marked by diversity and underpinned by economic opportunity.
While challenges remain, particularly in building political ties as strong as the economic ties that already bind China and the 10 members of the Association of Southeast Asian Nations, the economic activity to, from and within the China-ASEAN Free Trade Area (CAFTA) is one of the more visible drivers of global economic growth.
ASEAN has already become the preferred foreign destination for Chinese entrepreneurs and by 2015, ASEAN will become China's top trading partner with trade topping $500 billion, said Zhou Li, publisher and editor-in-chief of China Daily Asia Pacific in opening a workshop entitled "China-ASEAN Business Partnership" on Tuesday at the Asian Financial Forum in Hong Kong. The workshop was co-sponsored by China Daily.
A group of speakers from across the region discussed the growing importance of ASEAN, its push for integration and its ties with China.
China's cumulative investment in ASEAN reached $18.8 billion by the middle of 2012. Direct investment in 2011 topped $7 billion, up from $3.26 billion in 2002. In Malaysia, alone, Chinese investors poured $370 million in 2011, up from $66 million in 2010.
"The dynamism and growth of the world now rest on China and ASEAN," said Vachara Phanchet, chairman emeritus of the Pacific Basin Economic Council and a former Thai trade representative.
"We take our inspiration from the EU," said Phanchet, but there is no discussion as yet of a single economic union.
ASEAN has a population of 600 million people spread across 10 countries. The "ASEAN Blueprint" calls for goods, services, investment, capital and skilled labor to flow freely among all 10 areas.
In 2010, ASEAN had a GDP of $1.86 trillion and total trade of $2 trillion, along with foreign investment of $76 billion, of which $2.86 billion came from China. Internet connectivity is rising rapidly. While duties are increasingly rare, the group is shifting from a focus on goods exports to exports of capital.
There are investment opportunities in raw materials, technology and skilled but inexpensive labor in such areas as accountancy services, engineering, nursing, and others. China has, in the last few years, increasingly invested in these areas.
Across China, interest in ASEAN is wide. The Xinjiang Uygur Autonomous Region, for example, wants to boost both development and trade, said Huang Wei, vice-chairman of the Xinjiang Uygur Autonomous Region who participated in the workshop. Xinjiang, which accounts for about a sixth of China's area, has a relatively small population of 25 million, a deep pool of natural resources, and, since 2010, has had rapid development.
Integration is key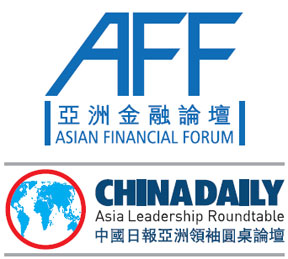 For ASEAN, integration with other countries is key. Efforts such as ASEAN+3, which include China, Japan and South Korea, or ASEAN+6, which would add India, Australia and New Zealand to that mix, are part of this push for international integration. The ASEAN+6 initiative, also known as the Regional Comprehensive Economic Partnership, could lead to the creation of the largest single free-trade market on the planet.
"It is not exactly unified, but we can make the diversification a beauty," said Phanchet. "ASEAN has moved forward, but not so economically."
For this particular group, the focus was on the relationship between China and ASEAN, one that has rapidly attracted businesses from across the region from food producers such as Thailand's CP Foods to airlines such as Malaysia's Air Asia. There are a lot of businesses in ASEAN working with China, said Lee Kim Yew, founder of the Malaysian property conglomerate Country Heights Group.
"Eastern people have a capability of creating new products, new services, that can service our society," said Lee. "The way forward, if we want to continue to promote China-ASEAN business partnership, is to pay attention to the values and the culture that Asian people hold to heart."
Trust is key, said Lee: "Promoting multiculturalism is key to promoting trust and business."
Although there is great diversity within ASEAN, there are also some common elements. One of them is the large pockets of people of Chinese descent in every country.
"This can play a very important catalyst for China to enter ASEAN or for ASEAN to enter China," said Lee.
Asian view
An Asian view of business and life is another defining characteristic. ASEAN is a group of rice-eating countries, and a group of durian eating nations, said Meidyatama Suryodiningrat, editor-in-chief of Jakarta Post, but it is also, he said quoting Chinese vice president Xi Jinping, "a group of relatives who frequently visit each other".
"We are growing through a phase of competition, interdependence and then cooperation," said Suryodiningrat.
There are challenges, however, to complete integration.
Government officials like to point out that ASEAN and China are natural trading partners but they are still competitors.
"Every country, within its economic arrangements, is trying to find its niche," said Suryodiningrat. "It is a shift that is very painful to many and very beneficial to some."
Another challenge is that while economic relations are increasingly hot, political ties often remain cool. Disputes over territory can spill out in the form of disputes over trade.
"Nobody is going to go to war," said Suryodiningrat, "but in the short to medium term there are implications In the short term there is a political dimension to how you do business in this region."
He said business people should consider three areas before doing business in ASEAN countries: Political stability, the efficiency of governments in pushing legislative agendas and legal certainty.
One has to look no further than Myanmar to see the impact of growth. Myanmar is experiencing rapid economic growth, after pushing through a series of political reforms, thanks in part to its membership in ASEAN and links with China.
China and Hong Kong are the largest single investors in Myanmar. Thailand, another ASEAN member, is second. Myanmar's foreign trade topped $13 billion in 2012, a large part of its $50 billion GDP.
Shifts in the country's laws are allowing for greater international investment.
"To attract more foreign direct investment, the government has drafted a special economic zone law," said Kyaw Hlaing, president of Myanmar Survey Research. Three such zones are currently being built with Chinese help.
The "greatly underestimated" openness of the Chinese economy is also driving forward trade with ASEAN, said Xiang Bing, dean of the Cheung Kong Graduate School of Business. China is the top trading partner for ASEAN, India, Brazil and the second largest for the US.
China "has the stomach" for massive operations by foreign multinationals, he said. Few other countries do. In each major economy in the world, national companies dominate but not in China. Germany's Volkswagen is a prominent automaker. South Korea's Samsung is a powerful mobile phone manufacturer and distributor. "Exports by Wal-Mart China were more than 10 percent of all exports out of China," said Xiang.
But openness, by itself, is not enough. Trust is also key.
"Build trust and business builds up," said Zaman Ahmad, group head of Customer Experience and Technology at AirAsia ASEAN.
AirAsia flies more than 52,000 people out of China every week thanks to low cost air travel and the growing number of open links between countries in the region. These air links benefit not just travelers but to the economies that set them up. Tourism dollars have a large multiplier effect. Every tourist dollar accounts for US$6 or US$7 for the local economy.
For both China and ASEAN, the economic benefit could be enormous while nine low-cost air carriers in the region could find significant benefits as well.
In China today there are 80 million citizens who travel overseas every year, said Ahmad. That could hit 175 million by 2016. In ASEAN, more than 60 million travel outside of ASEAN every year, many of them go to China.
Many of them travel for business, as a way to build trust through face-to-face communication. Will teleconferencing and other means of long distance communication take over as a means of building these relationships?
"The answer is no," said Ahmad.
Hong Kong's key role
Another important aspect of the relationship is the flow of money. In this aspect, Hong Kong plays a key role, said Jonathan Choi, Chairman of Sunwah Group and former chairman of the Hong Kong Chinese General Chamber of Commerce.
"We have to understand that if we talk about ASEAN and China we cannot forget Hong Kong," said Choi. Hong Kong, with its open borders and ease of business, along with fluid flow of money, can be the oil in the engine of business and economic growth.
In 2011, Hong Kong made a formal request to join the ASEAN-China free trade area, said Victoria Tang, associate director-general of Investment Promotion at Invest Hong Kong, an investment promotion agency. Trade between Hong Kong and ASEAN tops $360 billion while much of China's investment in the region is financed through Hong Kong.
"It is very important to understand that businessmen in Hong Kong are part of China and very related to ASEAN countries," noted Choi.
Like all other parts of this equation, Hong Kong can also benefit from the links. It is all part of keeping growth in China, ASEAN and Asia on the right track.
"There are so many investment opportunities in ASEAN countries. We are talking about connectivity. We are talking about a boundless investment community," said Choi. "Everybody agrees that this is the Asian century."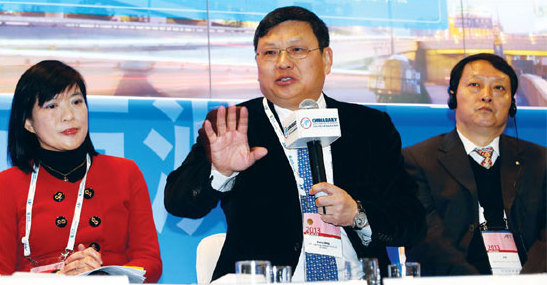 Xiang Bing, professor and dean at Cheung Kong Graduate School of Business, fields questions from the audience.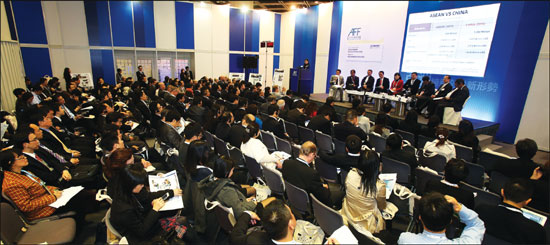 Audience pack Tuesday's workshop venue.

(HK Edition 01/16/2013 page2)