Luxurious dishes can be opulent or come from more humble origins
Updated: 2013-01-12 07:26
By Maggie Beale(HK Edition)
| | | | | | | | | |
| --- | --- | --- | --- | --- | --- | --- | --- | --- |
|   | | Print | | Mail | | Large Medium  Small | 分享按钮 | 0 |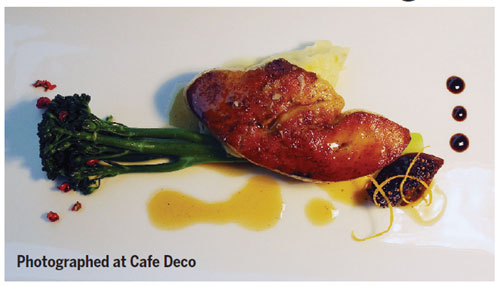 A recent celebration at Cafe Deco up on The Peak saw foie gras as the undoubted star of the show and reminded me of just how delicious a liver preparation can be, especially when cooked by a master chef.
To make at home, you can substitute duck liver or chicken livers for goose liver if you wish, it will be still very tasty although the flavour will be different. Duck liver is smaller (1 - 1 lbs weight) and has an earthier, richer taste than goose liver (1.5 lbs to 1.75 lbs), which is creamier. I prefer duck's liver for hot dishes, but both that and goose liver work equally well in a cold terrine. A raw foie gras (Foie gras cru ) is what you need if you want to prepare your own terrine. Gently sauted in butter with a sage leaf and 2 cloves of chopped garlic, chicken livers are perfect with a glass of dry sherry on a cold evening. And when lightly sauted with finely sliced onions, pig or veal liver can also make a very tasty supper.
To make a classic goose foie gras (the male goose (gander) produces the very best) with a dipping sauce start by preparing the raw liver. Take the goose/duck raw liver out of the refrigerator an hour before you start the preparation. Using your hands, separate both of the lobes to reveal the large connecting nerve that runs between them. This lies in about a centimeter in. Firmly hold the bigger lobe and clutch onto the nerve with the fingers of your opposite hand, pull gently but firmly to make it come apart from the lobe, but do not tear the flesh. You can use a non-fluffy all-cotton dish towel to get a better grip on the nerve. Repeat to remove the smaller lobe also. To keep the texture and appearance don't bother with all of the much smaller nerves or veins just leave them in.
Combine 1 cup veal or chicken stock, 4 Tbsp Shiraz red wine, 2 Tbsp Tawny Port wine, tspn black pepper in a 4-quart heavy saucepan. Add 1 large bunch of well rinsed seedless black grapes, lightly crush the grapes in the liquids with a masher, bring to the boil, reduce the heat to low and simmer uncovered for 25 minutes. Discard the grape skins and leave to cool for 1 - 2 hours.
Dust the foie gras with crushed black pepper and sea salt and cook in a non-stick heavy saucepan with just 1 scant tspn oil over moderate heat for 1 minutes, very gently turn it over with a large spatula and cook for a further 1 minutes. Add the cooled wine/grape liquid and simmer (do not boil) for 5 - 6 minutes, remove from the heat and leave in the poaching liquid until foie gras reaches 66C (160F) on an instant read thermometer. Chill, loosely covered, for 1 or 2 days (up to 3).
To serve, transfer the foie gras to a plate, cover and chill. Skim and discard the fat from the poached dipping liquid, then pour the liquid through a fine sieve into a large pan and boil for 10 minutes stirring all the while so it doesn't scorch, until it thickens. Remove from heat and cool.
Serve foie gras thinly sliced on a slice of toasted brioche or bread, with a little bowl of dipping sauce. If you experience difficulty when slicing try using a cheese wire.
To serve 4 people with sauteed duck liver: clean and remove the vein from a lb piece of duck foie gras then slice into inch thick portions. Sprinkle lightly with crushed black pepper and sea salt. Heat 1 tspn grapeseed oil in a very heavy frypan (skillet) to medium hot and saut the slices until golden (not brown), before turning them over for a further 45 to 60 seconds - the liver should remain pink inside. Discard excess fat leaving just 1 Tbsp and quickly add 1 Tbsp orange liqueur such as Grand Marnier along with tspn of Balsamic vinegar to the pan, allow the alcohol to burn off before pouring this saucy gravy around the foie gras. Serve with slices of toasted brioche.
For the ultimate rich-dish - Tournedos Rossini: Heat 1 Tbsp each butter and olive oil in a frypan, add two seasoned fillet of beef tournedos and fry for 3 minutes each side. In the same pan, rapidly fry 2 good sized 1" slices of Foie Gras for 2 minutes each side. Remove to a heated plate and keep warm. Do not discard the juices, but deglaze the pan used for the meat and foie gras with 1 Tbsp of Port wine, 2 tspn of brandy, 2 Tbsp Madeira and 100 ml of veal stock. Allow to reduce.
In a separate pan with a little butter and a spoonful of Madeira Bual or Sercial wine, braise 2 chopped cloves of garlic, 4 sliced ceps or field mushrooms - or truffles if the budget allows. Add the sauce and simmer for 2-3 minutes. Serve on toasted bread with the beef topped by foie gras and arrange the cepes around, serve the sauce in a sauceboat on the side.
Keep in mind that sauting duck foie gras is not hard to do as long as you take care with temperatures and cooking times, otherwise, you could end up with a puddle of very expensive melted fat.
(HK Edition 01/12/2013 page4)