Environment: Time for a good house cleaning
Updated: 2013-01-11 07:00
By Timothy Chui(HK Edition)
| | | | | | | | | |
| --- | --- | --- | --- | --- | --- | --- | --- | --- |
|   | | Print | | Mail | | Large Medium  Small | 分享按钮 | 0 |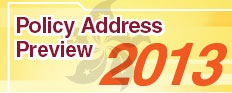 Chief Executive Leung Chun-ying is expected to jump start a range of stalled environmental initiatives proposed by his predecessor Donald Tsang Yam-kuen. Leading the list was the need to do something about the city's notoriously poor air quality and the chilling finding that high value health conscious workers preferred to relocate to Singapore where the air is cleaner. Other surveys revealed that tourists were turning away from Hong Kong's polluted air in favor of healthier climes.
Leung began laying the groundwork early in his administration to address chronic environmental woes. Among his first environmental initiatives was to appoint former-lawmaker and long-time environmental advocate Christine Loh Kung-wai as under secretary for the environment. Former Friends of the Earth deputy manager Michelle Au Wing-tsz was named a political assistant to secretary for the environment.
Leung has already hinted at government initiatives during the year ahead to deal with commercial vehicles which are the main source of roadside air pollution. It will be a huge undertaking. There are an estimated 120,000 diesel-powered commercial vehicles, of which 50,000 were registered before the city adopted the European Union's "Euro II" emissions standards in 2001. Roughly 17,000 of those heavy-polluting vehicles have been operating for more than two decades. Nearly 4,000 heavy trucks and 37,000 lorries contribute half the nitrogen oxide and respirable suspended particles. The government has been offering incentives since 2007 to help owners replace older vehicles, especially those that are leading contributors to air pollution. More than HK$1 billion public money has gone into the incentive program to update the fleet, according to the Audit Commission.
For all that, the uptake has proven disappointing. More than 70 percent of pre-1997 registered vehicles are still on the roads and nearly 90 percent of pre-2001 registered vehicles are still in use.
Truck drivers have demanded that the incentive program, offering roughly 10 percent of the cost of replacement to be tripled. The drivers point to the government's program that covered a quarter of taxi drivers' expenses when the city's cab fleet was upgraded to liquefied natural gas. Low-emission private cars also receive healthy tax concessions.
Friends of the Earth Director of General Affairs Edwin Lau added that an established timetable would help speed the removal of old diesel vehicles.
The government has also floated the idea of limiting service lives to 15 years, That proposal has earned the scorn of truckers who say the plan would be absurd without adequate subsidies. Goods vehicles plying roads on the mainland are limited to 15 years while Singapore has set a 20 year limit for coaches and goods vehicles.
Leung has also indicated he intends measures to reduce emissions from power generation and marine traffic.
Waste disposal is another chronic problem, with food waste comprising nearly a third of the solid waste sent to the city's rapidly dwindling landfills. The landfills are expected to be filled to capacity by 2018. Food waste has doubled in the last five years. Roughly 3,200 tons of food wastes are sent to landfills every day, according to the food charity and concern group, FeedingHK. Greeners Action Executive Director Angus Ho Hon-wai has called on the Chief Executive to consider setting up dedicated food-waste treatment plants for composting food waste.
Leung may also have to resurrect plans to build a waste incinerator. Lawmakers refused to release funding of HK$23 billion needed for that project in 2011. Then there's the matter of extending landfills, keeping them operational longer and extending them into country parks. But any mention of extending landfills evokes fierce community opposition.
Environmental concerns extend to pedestrian access and the question of how "walkable" is Hong Kong. "There is a strong correlation between urban planning, walkability, air pollution and well being," Civic Exchange Communications Officer Michelle Wong argues. The think tank, set up by Christine Loh, is also calling for marine emissions to be further tightened as well as instituting an emissions control area for the entire Hong Kong-Guangdong region.
Green Sense Project Manager Gabrielle Ho Ka-po also called for the inclusion of green group representatives in the government's Environmental Impact Assessment panel as well as measures to tackle night-time light pollution in urban areas.
tim@chinadailyhk.com
(HK Edition 01/11/2013 page1)