Biodiversity plans to please
Updated: 2013-01-09 06:11
By Doug Meigs(HK Edition)
| | | | | | | | | |
| --- | --- | --- | --- | --- | --- | --- | --- | --- |
|   | | Print | | Mail | | Large Medium  Small | 分享按钮 | 0 |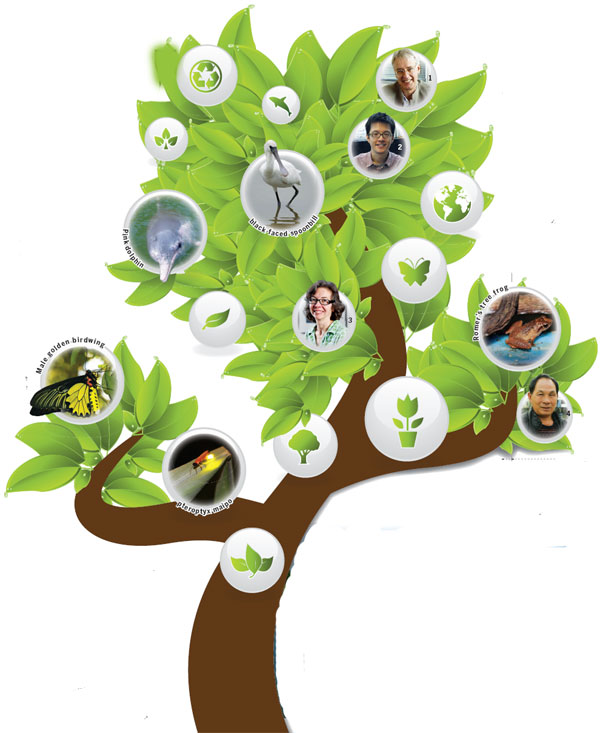 1. Prof David Dudgeon, chair of ecology & biodiversity at the University of Hong Kong, says many obstacles stand in the way of a local Biodiversity Action Plan. Provided to China Daily
2. Wilson Lau, researcher with the Civic Exchange, says a holistic assessment of local biodiversity would diminish tension between developers and environmentalists. Doug Meigs / China Daily
3. Lisa Hopkinson, co-founder of the Civic Exchange, recently published a framework for implementing a Biodiversity Action Plan by 2015. Hong Kong is internationally obligated to the task because of the Convention on Biological Diversity, which extended to the HKSAR in 2011. Provided to China Daily
4. Tam was born in Nam Sang Wai in northwestern New Territories. He opposes development plans for his wetland home, which provides an important buffer habitat emptying into Deep Bay. Doug Meigs / China Daily
Conflicts between development projects and environmentalists seem to be escalating in Hong Kong. The government is working on plans to resolve tensions and protect biodiversity. Doug Meigs reports.
From where Tam stands beside the Kam Tin River, he can see mudskippers flopping on the riverbank. A wintering duck flies by overhead. Tam, a 60-year-old resident of Nam Sang Wai, surveys the wetland's landscape where he has spent his entire life. Then, he returns to his work chopping vegetables in the open air kitchen of the ramshackle restaurant built up on wooden stilts. A rowboat approaches. A fellow villager is ferrying some visitors for five dollars a ride, drawing up to the gangplank jutting through the reed bed. If the Town Planning Board approves a proposal for construction of luxury condos within the surrounding habitat, Tam worries the scenery would disappear forever.
"I don't support the development plans. This wetland is a special place that should be reserved for Hong Kong people," Tam says, refusing to reveal his full name.
"There hasn't been much change in Nam Sang Wai over the years, except more people are coming to visit," he reflects. Off-road cyclists, nature enthusiasts, birdwatchers, and even wedding photographers flock to Nam Sang Wai these days. Hong Kong television and movie crews occasionally use the crumbling old houses as backdrops. Tam says nearly 100 tourists visit each day during the week, and the daily tally jumps to 500 or more on weekends.
Yuen Long's residential towers hang over the horizon. A few restaurants surround the once-vibrant fishponds near the Kam Tin River. Tam says 40-50 people are still in Nam Sang Wai, in dilapidated houses perched on stilts.
The latest development blueprint submitted to the Town Planning Board calls for 1,600 residential units, right where Tam and his neighbors live. The plans call for development on less than 25 percent of the 178 hectare wetland area. The remainder purportedly would be left untouched as an ecological preserve.
Nam Sang Wai is between the Shan Pui and Kam Tin rivers in the Yuen Long region of the northwestern New Territories. Development projects have posed a threat to the lifestyle of this small rural area for at least two decades.
The late Macao gambling tycoon, Fu Lo-yung, purchased Nam Sang Wai's former marshlands in the 1960s. He set up fish farms and hired local people to manage them. In 90s, when aquaculture virtually dried up, Fu's family began collaborating with Henderson Land Development Company to develop the area. Fish ponds today are mostly abandoned and overgrown.
Back in 1994, the Town Planning Appeal Board approved a development and conservation scheme subject to "conditions". Early Nam Sang Wai residential development plans featured an 18-hole golf course. Developers failed to meet government requirements three times during subsequent years, until the Town Planning Board denied a further extension in 2010.
Responding to an outcry from the general public and environmentalists, developers dropped the golf from the proposal. The developers re-thought their conservation commitments and came up with the current plan for Nam Sang Wai, outlining low-density residences, paired with a wetland enhancement area, nature preserve and visitor's center.
The Town Planning Board still received 7,492 comments during the public consultation period - the most public feedback for any single development proposal in 2012. The majority of people offering their views still objected to the development. The Town Planning Board granted a final two-month deferment on Dec 7 to allow developers to address concerns raised by government departments.
The plans would overlay a wetland corridor buffering Mai Po Nature Reserve, a reserve at the core of the Hong Kong's Deep Bay Ramsar Site on the border with Shenzhen. The Ramsar designation comes from an international treaty - the Convention on Wetlands of International Importance - which extended to Hong Kong in 1979. The convention mandates government protection of the area. Part of the proposed Nam Sang Wai development would occupy the protected Ramsar site.
Deep Bay's Ramsar Site is one of the most important wintering points for migratory birds in China. It supports 16 globally threatened bird species and scientists have discovered more than 20 unknown species of invertebrates there, according to the World Wildlife Fund (WWF) which manages the reserve.
The Nam Sang Wai project is just one of a growing number of environmental flashpoints between developers and green groups.
Since last fall, a controversy over an endangered lightning bug has stalled Cheung Kong Holding's bid to build 19 residential blocks in Fong Lok Wai on the fringe of the Ramsar Site. A columbarium project slated for Sha Lo Tong in Tai Po drew fire from environmentalists last summer, because the site for the columbarium is a critical habit for rare butterflies and dragonflies.
More recent outcries have erupted because of government plans to create an artificial beach at Lung Mei in Tolo Harbor. Green groups claim the Environmental Impact Assessment (EIA) failed to give sufficient consideration to Lung Mei's teeming aquatic life, starfish, seahorses and other rare creatures.
Other causes clbres from the local animal kingdom have spanned pink dolphins, finless porpoises, black-faced spoonbills, even the once-thought-to-be-extinct Romer's tree frog. Hong Kong's lack of any territory-wide plan for managing biodiversity is partly to be blamed for persistent conflicts, says Wilson Lau, a researcher at Civic Exchange, a local nonpartisan policy think tank.
Lau describes the current balance between development and conservation as "reactive" instead of "proactive". Change might be on the way. The global Convention on Biological Diversity extended to Hong Kong in May of 2011. As a result, the territory must begin implementing a Biodiversity Action Plan (BSAP) by 2015.
Via email correspondence, the Agriculture, Fisheries and Conservation Department (AFCD) stated that Hong Kong's regional BSAP is in the works: "The BSAP being developed will basically lay down systematically, existing government policies and practices for the conservation of the biodiversity of Hong Kong, and identify any additional work needed to be undertaken for compliance with the Convention." An AFCD media liaison told China Daily that the government plans to consult the public and stakeholders on the draft BSAP during 2013.
"A more comprehensive and holistic plan would hopefully help to reduce conflicts and create better understanding," Lau says, speaking at a Dec 20 press conference to debut Civic Exchange's publication of "Developing a Biodiversity Strategy and Action Plan for Hong Kong," a pamphlet meant to offer guidance and background to government officials.
Lisa Hopkinson wrote the document. She was formerly one of the Civic Exchange's co-founders. The other co-founder had been Christine Loh, who left the Civic Exchange in September to take a senior post in the government as under secretary for the environment.
Hopkinson says the Civic Exchange commissioned her to produce a possible framework for the government to engage stakeholders, assess the current status of biodiversity, establish a biodiversity strategy and finally implement an action plan.
China was one of the early signatories to the Convention on Biological Diversity in 1992. Hopkinson suspects the Chinese mainland has already begun work on a third edition BSAP. Hong Kong's plan is independent under the policy of "One Country, Two Systems".
"Hong Kong is far behind, even though we have an existing conservation policy," she says, noting that Hong Kong looks well situated with 40 percent of its land protected within country parks. But the stats could be deceiving. Local protected lands consist primarily of hill and mountainous regions to the exclusion of other crucial ecosystems -such as lowland streams or wetlands - that end up without protection in private ownerships.
"There are a whole raft of issues that I deal with in my report," says Hopkinson. "In Hong Kong, there is a lack of integrated comprehensive data. There is a lack of strategic vision for conservation, and some of the strategic bodies require strengthening - like the Environmental Impact Assessment Ordinance and the sustainability assessment process."
On the day of the press conference, the Civic Exchange coordinated a coalition of 20 civic groups in issuing a joint statement to Chief Executive Leung Chun-ying. They asked him to discuss the BSAP during his upcoming policy address on Jan 16.
Hopkinson says the BSAP will provide more certainty to developers, government and green activists alike. "At the moment, it is a very ad hoc process, where sites develop, there is EIA process and what's left over is managed for conservation," she says. "What needs to happen is that we start with what's significant for conservation, what (ecosystems or species) do we need to protect, how do we protect them. Then after that, look at where we can develop, not the other way around."
Obstacles to implementing a successful action plan are obvious to Prof David Dudgeon, chair of ecology & biodiversity at the University of Hong Kong (HKU).
He says that a considerable amount of biodiversity research already exists, but the data is mostly outdated, inconsistent or not publicly available. AFCD's biodiversity data is mostly based on HKU studies from a decade ago, he says, while the government department's recent surveys tend to focus on specific species observed within country parks.
"So, for example, data on dragonflies and butterflies are pretty good, but information on beetles and moths are relatively poor, and mainly generated by amateurs or enthusiasts," says Dudgeon.
Releasing biodiversity data to the public poses another problem. Poachers or people wishing to develop land containing sensitive flora or fauna might capitalize on the data. Illegal cutting of incense trees is already a major problem in country parks. Likewise, landowners wishing to avoid hassle from environmentalists might poison or destroy sensitive habitat and creatures.
Dudgeon says local universities also are not training enough experts in taxonomy or animal identification, adding the trend in modern biology studies focused too heavily on microorganisms. "While it would be possible to undertake more up-to-date surveys, limited manpower and capacity will greatly constrain what can be done," he says.
"Science is not the main constraint on implementing the Convention on Biological Diversity (CBD) in Hong Kong; it is the attitude of developers, local people of all stripes, and groups such as the Heung Yee Kuk who feel that biodiversity does not matter in any important way," Dudgeon says.
"Until government is prepared to put some weight behind biodiversity conservation efforts - including measures such as land resumption, development moratoria, and simply taking the issue as seriously as they take economic development - then none of science-related concerns affecting the CBD will matter much."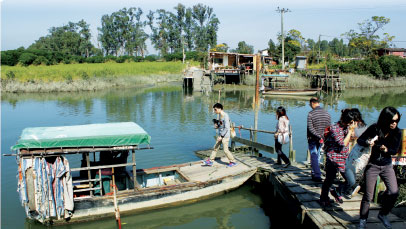 The owners of Nam Sang Wai has been applying to turn the area into a luxury residential development for nearly 20 years. The wetlands are the site of mostly abandoned fish ponds. However, it has become popular with tourists. One can visit Nam Sang Wai by a ferry that is two stops from the Yuen Long MTR on minibus 611. Doug Meigs / China Daily
(HK Edition 01/09/2013 page4)