Go to Myanmar, HK firms
Updated: 2013-01-09 06:11
By Thomas Chan (HK Edition)
| | | | | | | | | |
| --- | --- | --- | --- | --- | --- | --- | --- | --- |
|   | | Print | | Mail | | Large Medium  Small | 分享按钮 | 0 |
It may not be such a wild idea for Hong Kong to set up an offshore industrial park in a promising and favorable neighboring country. With the increase of production costs and the scarcity of land and labor in the Pearl River Delta (PRD) region, it should be the time for Hong Kong, its government, trade associations and firms, to consider building new offshore industrial parks to replace the old and declining ones in the neighboring cities in Guangdong.
The whole of China is now facing a labor shortage and accelerating labor costs. The government is also becoming more prudent in the use of its scarce land resources. All over China the unifying policies of the central government have prevented special policy allowances for investing firms; it has already become clear to the Hong Kong firms in the PRD region that there is no escape from cost escalation on the mainland by relocating to outside the PRD region.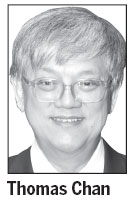 Outside China, Vietnam seems to have become saturated with FDI and Indonesia looks much less favorable. Governments of both countries also appear less friendly to China and thus possibly to Hong Kong investment in the future. Even Vietnam has faced cost escalation because of the large influx of investment. Laos and Cambodia are too small and too backward in all aspects of economic and social developments. Thailand has also become more expensive than Vietnam. Malaysia is one of the most developed country in the region, but racism makes it out of the question for industrial processing investment relocated by Hong Kong firms. This leaves only Myanmar, the second largest economy in terms of land size after Indonesia, which is also the poorest country in the region with the lowest wage level even when compared with Cambodia.
Myanmar was among the most developed economy in the region until the 1950s and shares with Hong Kong and Singapore the legacy of British colonial rule. Unlike Cambodia and Laos, the other two poor countries in the region, Myanmar is resource rich - for natural resources like natural gas, gems, timber and agricultural production of rice, pulses, fisheries and livestock.
Its current reform aiming at triple transition (from military government to civilian rule, from 60 years of internal conflict to peace and from centrally directed pre-industrial economy to a modern market oriented open economy) seems to progress very impressively in the last two years. Its great progress in these transitions have impressed almost everyone including the hostile US, which after the personal visit of President Obama removed decade old sanctions against the country.
The Japanese conglomeration of corporations has labeled Myanmar the last frontier and this year there has been a huge influx of Japanese investment into Myanmar even in areas like super market, organic vegetable farming as well as restructuring and modernization of Myanmar's old infrastructure. Its strategic geo-economic position, next to major markets in the world, China, India and Southeast Asia, has yet to realize its market potential as suggested in a December 2012 report of the World Bank.
With its labor cost lower than Cambodia's, the lifting of sanctions allows it to avail special import duties advantages, as one of the least developed countries in the world, Myanmar should be a favorable location for the relocation of Hong Kong industrial processing firms from Dongguan and Shenzhen. Its population, almost 60 million but with little industrial employment, should support a huge expansion of manufacturing production in the country funded and managed by foreign investors. In fact, a Thai firm has already set up a huge complex of ports, railway, industrial parks, and other infrastructural facilities in southern Myanmar. Japan is negotiating for an industrial park exclusively for Japanese firms near Yangon, the former capital and the largest port and city in the country. There are also investments from Singapore, Vietnam, and the Chinese mainland in the several industrial parks already set up by the government before.
The new civilian government has just passed a new foreign investment law giving more advantages and allowances to foreign investors. At a recent investment seminar organized by the China Business Centre of the Hong Kong Polytechnic University, the deputy head of the Myanmar Investment Commission supported the idea of having a new industrial park in the country, specifically for firms from Hong Kong, in particular in the garment industry, which before US sanctions had been a major industry there. At present it still is viewed as a key industry by the civilian government for increasing local employment.
Hong Kong and Macao have extensive connections in Myanmar, especially in Yangon where most overseas Chinese live and work and have a chamber of commerce there. They will be the most valuable connection and human resources for facilitating the relocation of Hong Kong industrial processing firms to Myanmar. The SAR government should do more to help Hong Kong firms set up industrial park(s) in Myanmar.
The author is head of China Business Centre, Hong Kong Polytechnic University.
(HK Edition 01/09/2013 page3)