A chance to show your skills as a perfect party host
Updated: 2013-01-05 08:30
By Maggie Beale(HK Edition)
| | | | | | | | | |
| --- | --- | --- | --- | --- | --- | --- | --- | --- |
|   | | Print | | Mail | | Large Medium  Small | 分享按钮 | 0 |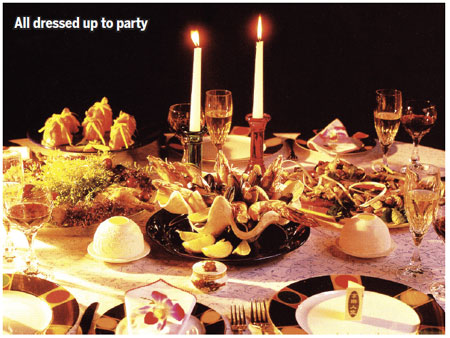 Today's celebration menu chefs have it easy compared to the legendary French chef Escoffier (1846-1935). For one memorable occasion he prepared a menu of 26 dishes that ranged from fine delicacies such as fresh caviar and blini and sea urchin (uni). The list also included exotic green turtle as well as the more mundane capon, lamb, woodcock and quail.
Not quite so splendid but nevertheless still very haut cuisine a fine dinner party menu will have blini with smoked salmon and sour cream, an oven roasted bird such as pheasant or goose, Brussels sprouts with chestnuts, roast potatoes and gravy, followed by pudding.
For 12 buckwheat blini: Sift 1/3 cup buckwheat flour, cup plain flour and 2 tspn sugar and a pinch of salt. In a separate bowl, mix 1 tspn dried yeast with 1 cup warm milk and 1 egg yolk, mix and whisk into the dry ingredients to make a smooth batter. Stir in 1 Tbsp melted butter. Whisk 1 egg white until it peaks and carefully fold into the batter.
On medium heat, add 1tspn clarified butter to a frying pan and drop in the batter one dessertspoonful at a time. Cook until little bubbles burst on the surface, flip over for 30 seconds and serve with sour cream and smoked salmon or with caviar and a squeeze of fresh lemon.
The Goose: a 10 lb (4.5kg) goose will feed 6 to 8 people.
Pre-heat oven to 200C (400F). *Remove the neck, heart, liver, gizzard and the wing tips to make the stock. Make sure to defrost a frozen bird thoroughly. DO NOT COOK FROM FROZEN. Use a separate cutting board and utensils.
Remove the hard fat from inside the body cavity and keep to make delicious chips and 'crisps'.
Prepare the bird, wash and dry inside and out using paper towels. Lift the skin away from the flesh bit by bit and prick it with a large needle or skewer, piercing just the skin and not the flesh. Sprinkle salt all over the bird and place 1 red apple halved in two inside the goose, put the bird breast side up on a rack in a roasting pan in the oven. After 30 minutes very carefully take it out of the oven and transfer the excess fat that will have collected in the roasting pan into a heat proof dish using a baster or spoon and reserve for future frying. Reduce the oven heat to 180C (350F) and return bird to the oven. After 25 minutes check and remove excess fat again. Reduce the heat to 175C (325F) and roast until the goose is browned all over and an instant-read thermometer inserted into a breast, not touching a bone, registers minimum 165F. Remove, cover very loosely with tin foil and rest for 15 minutes before carving
Total timing for a whole, un-stuffed young goose: 3hrs for a 10lb bird for medium rare. Parboil sufficient old potatoes for 10 minutes in salted water. Drain well, place around the roasting goose for the last 45 minutes of roasting time.
*Stock: With 1Tbsp goose fat in a large pan, brown the giblets, wing tips and neck. Add 1 finely chopped onion stir and cook 5 minutes. Add 1 oz of port wine, brandy or top quality gin such as Ungava from Canada, turn the heat up and allow the alcohol to burn off for 1 minute. Add 40 fl ozs (2 pints US) water, 1 carrot, 2 celery stalks, 2 bay leaves, 5 crushed peppercorns, 3 sage leaves, bunch of parsley and 2 sprigs of thyme bring to the boil, reduce heat and cook for 2 hours to thicken a little. Skim and put through a strainer, stir in 1 Tbsp butter, keep warm and pour over each portion at the table.
Wash and trim 500gms fresh Brussels sprouts, cut in halves or quarters. Cook, peel and dice 4oogms sweet chestnuts (castanea sativa not water chestnuts). Dissolve 2 Tbsp olive oil and 2 ozs butter in a frypan, add sprouts and chestnuts shake and fry until sprouts are tender. Serve straight away.
For dessert, serve an old-fashioned Bread Pudding with a whisky sauce. Preheat oven to 180C (350F). To make: cut 1 French loaf into small cubes, add 1 qt milk, 3 eggs lightly beaten, 1 cup sugar 1 tspn vanilla essence, cup raisins previously soaked for 1 hour in whisky, tspn ground cinnamon and 1 Tbsp butter. Mix well and pour into a well greased baking pan and bake for 35-40 minutes until set. Serve with whisky sauce.
The sauce: Melt cup sugar, 6 ozs butter, 1 egg in a saucepan. Stir well over low heat until it thickens but do not allow to boil or it will curdle. Add 4 ozs whisky. You may substitute single cream for the sauce.
(HK Edition 01/05/2013 page4)