CE must take quick moves on housing
Updated: 2013-01-03 06:54
By Victor Fung Keung(HK Edition)
| | | | | | | | | |
| --- | --- | --- | --- | --- | --- | --- | --- | --- |
|   | | Print | | Mail | | Large Medium  Small | 分享按钮 | 0 |
Hong Kong people can buy cheap but nice clothes and enjoy inexpensive but tasty good food. Public transportation is convenient and fares are quite reasonable. Three of the four ingredients of life, so to speak, have been met. The fourth, however, remains unreachable to many a Hong Kong family - accommodation.
A survey released on Dec 17, 2012 by the Platform of Concerning Subdivided Flats and Issues in Hong Kong revealed that subdivided flats in the city total 67,000, more than double the government's official figure of 30,000.
It is shocking indeed to learn that more than 250,000 people live in these cramped, overcrowded, subdivided flats with average rent per square foot at HK$27.14, ironically higher than normal homes' HK$22 a square foot. Despite the higher rents, the living and hygienic conditions in these "toy-box type" units are worse than regular flats.
Now it's time our Chief Executive CY Leung made some bold and quick decisions. Without further delay, he and his lieutenants should expedite plans to convert the 1,400 industrial buildings in Kwun Tong, Ngau Tau Kok, Lai Chee Kok, Tsuen Wan and Kwai Chung, etc. to apartments. And people suffering undesirable living conditions in subdivided flats should have priority to move into these industrial buildings-turned residential units.
I am sure Mr Leung's popularity rating would climb at least 20 points should he make the announcement of such a plan within the next few weeks. The sooner the good news comes, the better.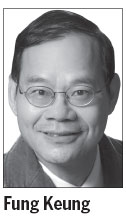 Many tenants of the subdivided flats have applied for public housing and some have been waiting for years. Hong Kong, however, has a shortage of land for both public and private housing. Although the government has announced measures to cool the overheated private housing market, prices stubbornly refuse to climb down. Lands for public housing, meanwhile, remain scarce. Many middle-class families and young people can't afford to buy apartments as prices are skyrocketing on a weekly basis. They can at least afford to rent private housing. Less affluent citizens of Hong Kong's so-called "sandwich class", nevertheless, can only live in subdivided flats. They can do nothing but wait.
The meager living conditions have a negative impact on young people's psychological and intellectual development. Young students don't even have a quiet and decent place to do their homework and study, not to mention a small room to meet friends and school mates. Such deprived living environment would make it harder for our young people to break the poverty chain.
Worse, because of the confined living environment, some young people may choose to loiter in the streets instead of going home. Unfortunately, they might become targets of the underworld gangs or triads. Young girls might be lured into becoming prostitutes. Despite the fact that they were born into less well-to-do families, they deserve a chance to grow up normally and in a healthy way, and enjoy a level-playing field with those who are born with silver spoons in their mouths.
The "conversion" concept isn't earth shattering. The government announced on Aug 30, 2012 that it was considering converting industrial buildings and sites into "temporary rental housing", but four months have passed and very little has been achieved.
On Dec 12, 2012, the government's Development Bureau told Legislative Council members that "currently, the government is studying possible ways in the context of the policy on revitalization of industrial buildings to facilitate wholesale conversion of suitable industrial buildings to "transitional accommodation" use on an interim basis as a stop-gap measure. The relevant study is still in progress." The bureau added, "whether private industrial buildings will be converted for such use will depend completely on the intention and circumstances of individual owners, such as their ownership status and return considerations, etc. We are not in a position to assess at this stage the possible market response to the relevant measure upon its introduction."
Doesn't this gobbledegook all sound familiar? Can't the government consider offering incentives to owners of private industrial buildings or toughen its stance to make "conversion" mandatory? I am confident that CY Leung can do better than this. Where there is a will, there is a way.
The author is coordinator of the B.S.Sc in financial journalism program at Hong Kong Baptist University.
(HK Edition 01/03/2013 page3)