Stepping into a new world
Updated: 2012-12-28 06:51
By Andrea Deng(HK Edition)
| | | | | | | | | |
| --- | --- | --- | --- | --- | --- | --- | --- | --- |
|   | | Print | | Mail | | Large Medium  Small | 分享按钮 | 0 |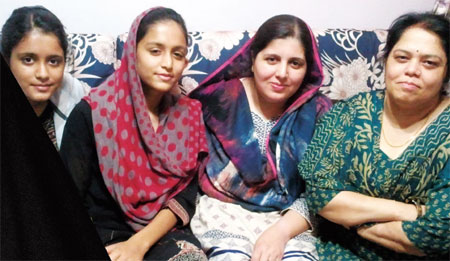 Andleeb Zarqa (second right) is a better educated Pakistani woman who would not stay at home but preferred to go out to work. Andrea Deng / China Daily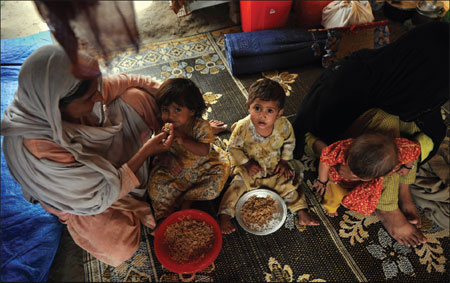 A Pakistani woman feeds children in a tent in Pakistan. Many Pakistani women living in Hong Kong still conform to the culture of getting married early, staying at home to take care of their brood and never work outside for their entire life. A. Majeed / AFP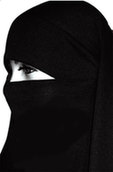 Pakistani women, bound by their cultural traditions and the need to take care of children, are slowly, hesitantly, emerging into the work-a-day world, to take up new jobs to help their families. Some, however, are viewed as 'bad influences' on their community traditions. Andrea Deng reports.
When a customer walked into the neat Indian, Pakistani fashion shop, Durdana Aslam, a 40-year-old Pakistani woman, her head covered in a burqa, rose slowly to her feet behind the cash register. She smiled. It was a rather shy smile that highlighted her attractive contoured eyes as she greeted her customer.
It was Aslam's third day as a shop assistant at the first job she's ever had. She was still pretty excited about her involvement into the world of business. She was enjoying meeting the customers who came in, confiding to China Daily that staying at home all the time with nothing to do was pretty boring.
"I like seeing many different women coming to the shop. I like the atmosphere here," said Aslam. "Some (customers) are Pakistanis, some are Indians. There are Hong Kong women too."
This unremarkable shop, tucked in a non-luxury shopping mall in Kwai Chung, showcases wrought trinkets, traditional clothes for Indian and Pakistani women and sandals patterned with convolute designs depicting vines and delicate flowers.
The shop itself is a social enterprise, organized by the Lady MacLehose Centre of the Hong Kong Sheng Kung Hui (SKH Lady MacLehose Centre). The center's mission is to help ethnic minorities. It provides services to working women of minority groups. All the products on sale in the shop were hand crafted by ethnic minority women in Hong Kong.
Aslam married in Pakistan, and moved to Hong Kong about three years ago. While her husband worked as a security guard on night shift, Aslam made clothes for herself at home. She enjoyed it, but day after day, after day, it got to be tedious after a couple of years. The only time she ever went out, was on weekend shopping excursions with her Pakistani friends. There wasn't much for them to talk about besides traditional fashion, she recalls: husbands, children, relatives, relatives of their husbands, and so it would go.
When Aslam decided to find a job, she had to get permission from her husband and her father. It's the culture in many areas in Pakistan. Men work outside, women stay home. Aslam's family actually is more liberal-minded. But then she had no male colleagues at the shop to raise concerns among family members and she has no children.
"They (my friends) want to stay at home, because they're busy taking care of their children. Their husbands don't allow them to work," said Aslam, who cannot speak Cantonese and was trying to explain herself in simple English.
"Some of them are not very educated. They speak neither English nor Chinese," she added, explaining why it would be difficult for her friends to find jobs.
Aslam is just one of roughly 450 Pakistani women who work in Hong Kong. According to the 2011 Population Census Thematic Report on Ethnic Minority issued by the Census and Statistics Department last week, only 12.4 percent of Pakistani women in the city are working. What's most revealing about that numbers is that 42.6 percent of these women are professionals or associate professionals, another 26.6 percent are clerical or service workers. Clearly these working women are well educated.
Even so, the percentage of working Pakistani women in the community has dwindled slightly compared to the last population census in 2006, when 16.7 percent of Pakistani women living in Hong Kong had jobs.
Lo Kai-chung, unit-in-charge of services for ethnic minorities at the SKH Lady MacLehose Centre, summarised three major reasons for such a small working population. First, the husbands won't allow it. Second, the women are called upon to take care of children - Pakistani families usually have three or four children. Third, there is a great language barrier as the women cannot speak Cantonese. Statistics show only 9.4 percent of the Pakistanis in Hong Kong can speak English and only 5.5 percent can speak Cantonese.
It is rather common that women get married at the age of 18 or 19. By the age of 23 or 24 they're usually shouldering full responsibility for taking care of three or four children. Those who are most likely to find work, Lo said, tend to have fewer children, are several years into their marriage, or have received higher education.
A large majority of Pakistanis who settle in Hong Kong hail from the villages of Punjab province with a handful from Kashmir, where people have very limited access to education resources, according to a few Pakistanis who talked to China Daily.
On top of that, many Pakistani women are in fact not willing to work, Lo said. In some of the extremely conservative areas of Pakistan, people strictly adhere to their religion, men forbid women to work - to the extent that if a woman works, her husband or her father will feel the family's honor damaged and the woman will also be condemned in the neighborhood, according to reports from The New York Times.
Most Pakistani women in Hong Kong are full-time housewives. What's worse, they rarely have substantial contacts with local people because of the language difficulty. In some cases, their husbands don't allow them to learn the language.
Nevertheless, Pakistanis are among the most financially troubled ethnic minority groups among all the ethnic minorities in Hong Kong, with 47.7 percent of working Pakistani men earning less than HK$10,000 per month, and 77.3 percent earning less than HK$15,000 as shown by the latest statistics.
Life would be unimaginable for a family of four or five in Hong Kong, relying on that income. Seema Imran, a Pakistani community worker with Christian Action, estimated about 20 to 30 percent of Pakistani men work two jobs in order to support the family, and for some, their relatives back in Pakistan.
Women's financial contributions to the family are minimal. Those who have come out to work acknowledge the necessity to help support the family as they feel the sting of the soaring rent and food prices, on top of the pressure of the hectic pace of living in Hong Kong. For the better educated women, their desire to work is understandable.
Andleeb Zarqa has worked since 2009 after the last of her three children entered middle school and she could spare the time to find a job. She works as an operator and sometimes as a translator for ethnic minority people for the SKH Lady MacLehose Centre.
"I'm an educated person. I don't want to stay at home. I didn't have many friends or activities. I want to become a practical woman and I want to better support my family," said Zarqa.
Now 37, Zarqa said she had been dependent on her husband - and her father - after the marriage for more than a decade. "My father was so nice. But I don't like to depend on him, he's an old man. I want to depend on myself, and I want to teach my children to depend on themselves," she said.
"In our culture, after marriage, we have so much responsibility," said Zarqa. She recalled submitting to an arranged marriage when she was in university back in Islamabad. She was pregnant within two months of her wedding, making it impossible for her to continue her studies.
Zarqa soon relocated to Hong Kong - following behind her husband, who was a night-shift security guard at a local clothing factory in the 1990s. They lived in a room with an attached kitchen inside the factory. The couple had nowhere better to live for four years. During those years, Zarqa gave birth to two daughters and a boy, she also learned to speak Cantonese.
Zarqa applied for several jobs, company secretary, human resources officer, sales manager and teacher. She got her first job at a kindergarten as a play group teacher and then as a primary school English teacher.
"My husband said to me, 'If you need money, I can give it to you. If you feel that you can handle it (the work) then fine. But if you encounter a problem, then no,'" said Zarqa, adding that although the income she earns may not bring much help to the family, it pays for her own expenses, at least.
"I am independent. I have (money) deposited in my own bank account and I don't have to have permission from anyone to spend on whatever things I want," said Zarqa.
Women in the community have different views about Zarqa having a part-time job. Some of her friends were astounded to learn that she was employed, and asked how she could get a job. Some of her friends showed admiration toward Zarqa for being well-educated and able to speak Cantonese. Others, however, wonder if there is a problem with the Zarqa's family.
"Some ladies said to me, 'you look so tired.' Or, 'poor lady, your husband (does) not get enough money?' They asked me who would take care of the children or whether we're having financial problems," Zarqa said.
"If other ladies do not want this kind of lifestyle, it is fine," she continued. "But I think my way is better."
Zarqa's husband sometimes gets warnings from his friends, whose wives are Zarqa's friends, asking that Zarqa stay away from their wives.
Imran, of the Christian Action, received similar responses from the Pakistani community in Yau Tsim Mong. "They say that I'm quite 'modern'," she said.
The 25-year-old woman used to work as a telecommunication engineer in Pakistan. She now works for the NGO. Her son is only 11 months old. She tries to balance her life, sometimes asking her husband or her friends to help look after the baby while she goes to work.
"People asked me why do I not have a second child, because that's a common culture. But they don't understand that I already have an 11-month-old and I have a job. I don't know if they would understand that I want to have some freedom," said Imran.
"We (my husband and I) are also thinking about what we can give to our child. If I work, my husband will not work alone. I can better support the family," Imran added.
Nevertheless, even if life becomes more difficult for Pakistanis in Hong Kong, it would also be almost impossible for some women to contribute to the family. It is just not practical for some women in their 40s to literally begin by learning the alphabet. Even for some of the educated women, they may not be able to handle the level of stress and pace of work in the Hong Kong, said Imran.
Imran is working on a self-enhancement program provided to Pakistani women, who are able to attend and practice handicraft making and so forth. There is also a family outing program for all ethnic minorities, the purpose being to help even those who have lived in Hong Kong for a long time to become more familiar with the city.
Some Pakistanis realize that they should invest in their daughters and sons' education to give them hope for a better future. Zarqa's children all attend so-called "mainstream" schools in which most of the students are Chinese. All of her children speak pretty much native Cantonese and have learned to read and write the characters well. Her two daughters are very talkative, clever and present strong personalities, unlike the more typical quiet Pakistani girls. They help other Pakistani parents with translations at school sometimes, and complain about those who only talk to people from the same ethnic community. Her 16-year-old daughter, Kaenut, has even determined herself to become a pilot, or an air hostess at the very least.
Still, they are a very small minority.
(HK Edition 12/28/2012 page4)